White Silk communion dress with Cinderella Bow
This delighted customer decided to choose style 345 for her flower girl dresses, seeking a touch of elegance and sophistication. Her vision was to have the dresses in a classic antique white, exuding a pure and angelic charm for her little flower girls. The choice of silk added a luxurious feel, creating a stunning ensemble that perfectly complemented the theme of her special first communion ceremony.
To personalize the flower girl dresses and make them even more memorable, the customer opted for delicate monogramming. The addition of the monogram added a heartfelt touch, making each dress unique and meaningful. The carefully embroidered initials beautifully adorned the dresses, symbolizing the cherished bond between the flower girls and the bride-to-be. The $40 investment in monogramming turned these already special dresses into cherished keepsakes, ensuring they would forever hold a special place in the hearts of those involved in this meaningful event.
In the end, the flower girl dresses in antique white silk, coupled with the personalized monogramming, enhanced the joyous atmosphere of the first communion celebration. The customer's thoughtful attention to detail created an unforgettable experience for everyone involved, making it a truly special and heartfelt occasion.
There were no additional charges for this flower girl dress. Optional prices are subject to change. Check menus for current prices.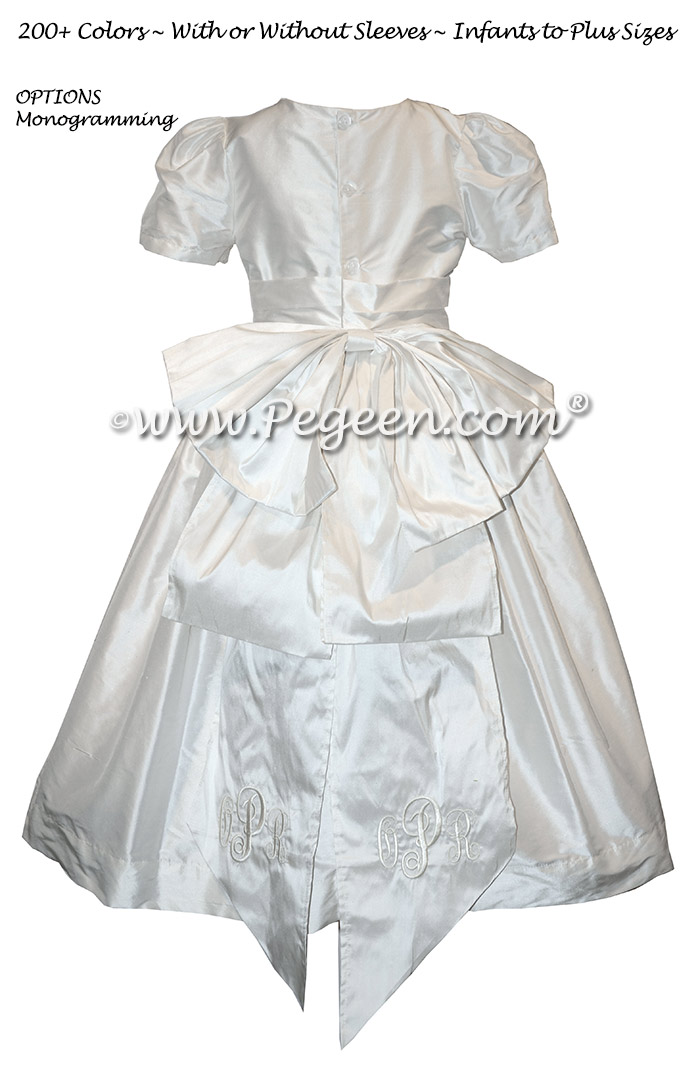 Pegeen Flower Girl Dress Company ~ 9147 State Rd 535 Orlando, FL 32836 ~ Shipping World Wide Since 1982