What Makes a Classic Flower Girl Dress, Classic?
Classic Style Flower Girl Dresses for Every Budget
Dresses for flower girls can be sophisticated yet age appropriate. Find out what your girl or girls think would be their perfect fashion, albeit this isn't ALWAYS something we advise. Trust us, we know, and we have many stories to tell, it can go wrong. For comments or ideas, we advise you to call us or chat with us online. We do believe that include a soon-to-be stepdaughter or adolescent in the decision-making process helps to smooth over any potential kinks and tears. We'll talk more about that in later in our Pegeen Tween Collection.
We only utilize the finest imported fabrics, laces, and trims when choosing our flower girl dresses. High-quality fabrics are used by a firm like ours that designs flower girl dresses. We are renowned for our silk, tulle, and lace from vendors all over the world. The greatest fabric choices along with its quality result in a stunning flower girl dress. So whether you purchase from our Classic Collection or our higher priced Couture Collection of Flower Girl Dresses we promise you will be receiving the absolutely best in the industry. Why, because we don't produce anything that our own children would wear.
Traditional, graceful, and timelessly fashionable are the characteristics of classic flower girl attire. The Pegeen Classic Flower Girl Dress Collection consists of all of our 260+ colors of silk but not quite the elaborate laces or beaded trims but using simple and delicate designs with delicate lace details, or soft tulle overlays. Traditional flower girl gowns typically fit the formality of the event. Our goal is to provide a unified, classic aesthetic that blends seamlessly with the wedding or special event's overall design and theme.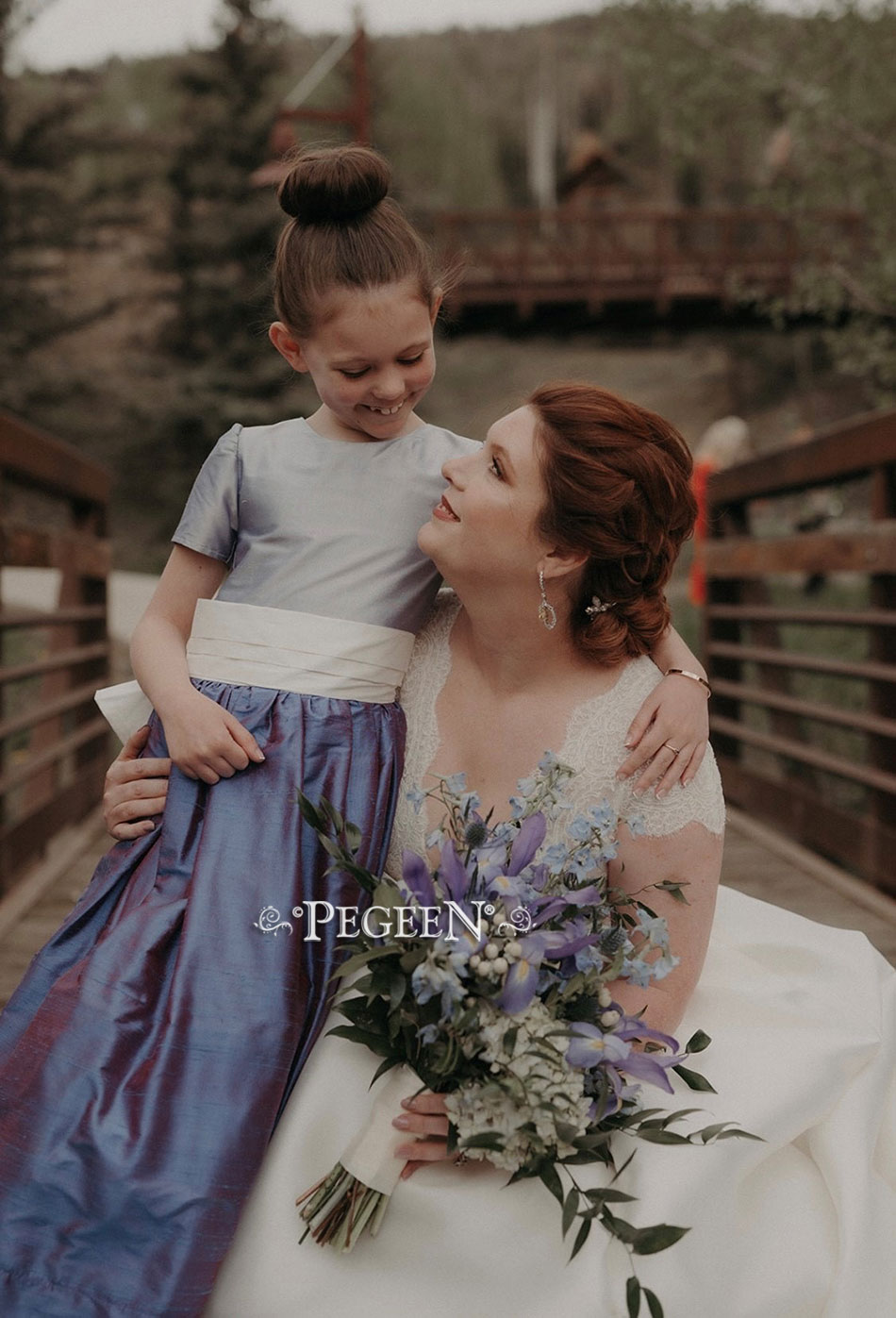 Click an image below for details on ordering
Pegeen has been providing you with the ideal clothing for each flower girl for more than 40 years. For your wedding, baptism, christening, communion, or Easter events, we specialize in providing you with the best collection of flower girl gowns. When it comes to selecting flower girl dresses for your wedding party, you have a lot of to think about. After all, it will be these adorable young girls who ensure that the event is adorned with flowers and smiles. We provide a simple method for choosing the ideal attire for each flower girl.
Our Pegeen Classic Flower Girl Dress collections come in a range of designs, materials, and hues. You may be sure that our wide selection will make your inner princess want to be a flower girl. You can mix and match silk colors, add special over skirts like tulle and the sky's the limit. We call them classic because these styles seem never to go out of style and, except for dresses that may have colors that are more trendy from season to season, we group our collection together that are under a specific price point, generally starting at approximately $165 dollars or so but considerable less than $300.
The Pegeen Classic Collection of Flower Girl Dresses are made just a carefully as our higher end couture collection, but these dresses still come with a crinoline, in three colors of silk, and can have tulle or organza trim. We keep prices as close to the pocket as possible and still deliver a dress with pure silk dupioni, full as can be and trimmed with our classic mother of pearl buttons. All classic dresses come with or without a sleeve and are typically 4" from the floor or a couple of inches above the ankle.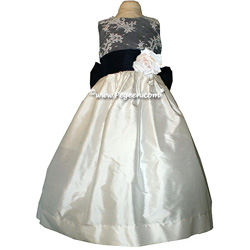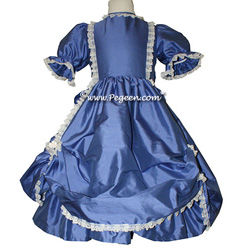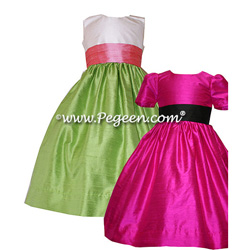 When you purchase a dress from Pegeen.com, you are not having to choose from boring white or ivory. In fact, our motto is "Anything but a white dress". You can choose up to three colors per dress—the top or bodice, the skirt, and the sash—from a vast palette of 260+ delectable colors when purchasing a flower girl dress from us. Additionally, a lot of our designs give you a choice between an organza or tulle top layer or even a flower! You can think about selecting a hue that complements the bridesmaids' dresses. Some people think about matching the flower girl's dress' color to the overall theme or just to the bride. Other options? To choose the ideal color for a flower girl dress, coordinate with the event location and your wedding theme

Dresses for flower girls can be sophisticated yet age appropriate. Find out what your girl or girls think would be their perfect fashion, albeit this isn't ALWAYS something we advise. Trust us, we know, and we have many stories to tell, it can go wrong. For comments or ideas, we advise you to call us or chat with us online. We do believe that include a soon-to-be stepdaughter or adolescent in the decision-making process helps to smooth over any potential kinks and tears. We'll talk more about that in later in our Pegeen Tween Collection.

Pegeen Flower Girl Dress Company ~ 9147 State Rd 535 Orlando, FL 32836 ~ Shipping World Wide Since 1982