What does a Couture Flower Girl Dress mean?
Pegeen Couture Flower Girl Dresses for Infants through Plus Sizes
You may ask, what does a couture or bespoke flower girl dress entail? A specific client is often the target market for couture, which is higher-end, custom-fitted clothing manufactured from the most luxurious and expensive materials. A flower girl dress is created by our couture design team is known as a couture or bespoke, distinguished by great craftsmanship, meticulous attention to detail, and the use of opulent materials and embellishments. The majority of the time, custom-made couture dresses are made for a single person and are not mass-produced. They are viewed as a representation of exclusivity and luxury. Prices start around $250 for infants and go as high as $600 or more depending on the customization.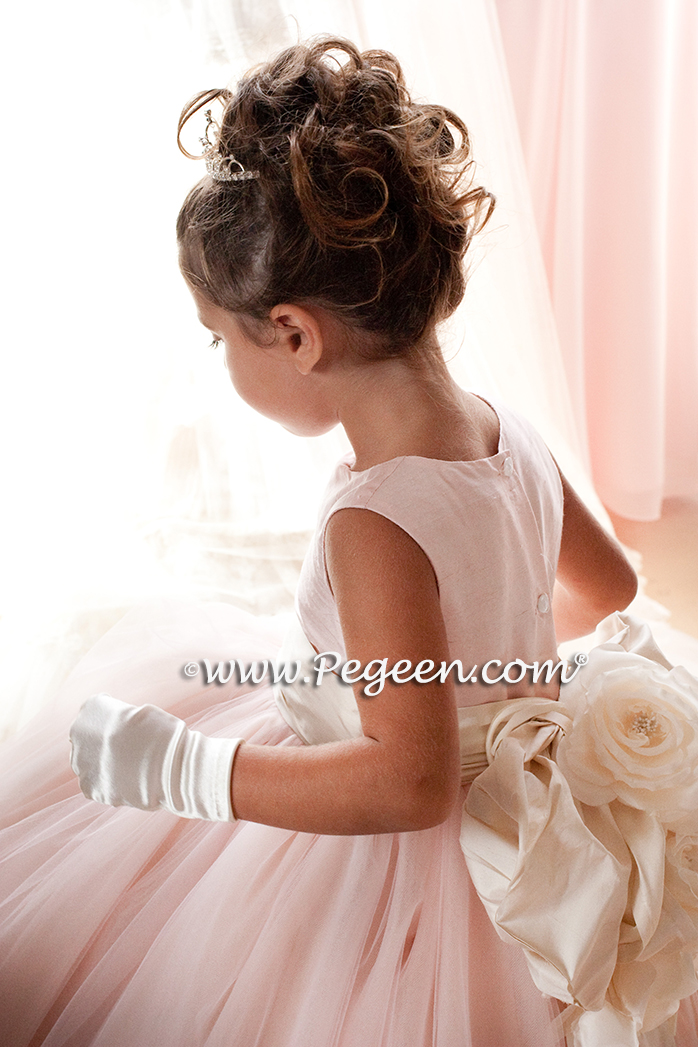 Click an image below for details on ordering
Like our Classic Collection, we only utilize the finest imported fabrics, laces, and trims when choosing our flower girl dresses. Our Couture Collection includes the Couture Line, our Fairytale Collection (including our take on Disney Princesses) and our Communion and Jr/Tween Lines. Quality fabrics are used including silk in 260+ colors, and we are renowned for our silk, tulle, and lace that we import from vendors all over the world. Additionally, the layers of tulle for instance, are much greater and we may use some heavily beaded fabrics, Swarovski crystal, pearls and rhinestones for our couture flower girl dresses. So whether you purchase from our Classic Collection or our higher priced Couture Collection of Flower Girl Dresses we promise you will be receiving the absolutely best in the industry. Why, because we don't produce anything that our own children would wear.
Below are our Couture style dresses based on the Royal Collection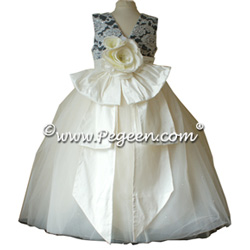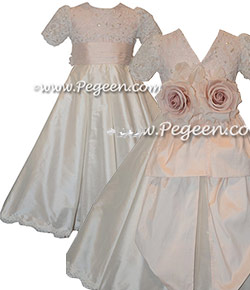 When you purchase a dress from Pegeen.com, you are not having to choose from boring white or ivory. In fact, our motto is "Anything but a white dress". You can choose up to three colors per dress—the top or bodice, the skirt, and the sash—from a vast palette of 260+ delectable colors when purchasing a flower girl dress from us. Additionally, a lot of our designs give you a choice between an organza or tulle top layer or even a flower! You can think about selecting a hue that complements the bridesmaids' dresses. Some people think about matching the flower girl's dress' color to the overall theme or just to the bride. Other options? To choose the ideal color for a flower girl dress, coordinate with the event location and your wedding theme.

Flower Girl Dresses come with a crinoline, in three colors of silk, and can have tulle or organza trim. All dresses come with or without a sleeve as well as other sleeve and neck choices and are typically 4" from the floor or a couple of inches above the ankle. However, with our Couture Collection many of the styles can be floor length at no additional cost.

Pegeen Flower Girl Dress Company ~ 9147 State Rd 535 Orlando, FL 32836 ~ Shipping World Wide Since 1982