Capture the imagination of little girls, anxious brides and moms called the Pegeen® Dress Dreamer™
Pegeen Announces the Launch of its New Tech Design Tool: The Pegeen® Dress Dreamer™
PRESS RELEASE - FOR IMMEDIATE RELEASE
Capture the imagination of little girls, anxious brides and moms called the Pegeen® Dress Dreamer™
Revolutionizing Kids' Fashion: Pegeen Unveils the Ultimate Design Tool for Moms and Brides - The Pegeen® Dress Dreamer™!
Orlando, FL April 28 2023
It isn't often that a company that has been in business for 40 years can say that they are on the cutting edge of technology in their field. But Pegeen® is excited to announce the launch of their new and improved virtual dressing room called the Pegeen® Dress Dreamer™, a design tool which allows the user to see over 1.4 billion ways (yes, we calculated the number) to customize their children's clothing using their mouse. Moms and brides can plan their children's clothing, choose the details and color combinations that brides value for their weddings from separate locations. "We were so excited about our virtual closet, we even announced it at New York Times Square."
Developed in part to solve issues due to the pandemic, the Unity based, C# program was written and designed by Pegeen's Chief Technology and Lead Engineer as a method to allow customers to choose color, sizing, skirts and sashes, bodices, sleeves and special trims like hand rolled, pure silk millinery flowers and "bling", including rhinestones and Swarovski Crystals. An added bonus for those who need modest flower girl gowns, Pegeen allows for higher neckline changes that are standard with ¾ Sleeves and Long Sleeves, available for their modest flower girl dresses, a great relief for LDS or Jewish customers.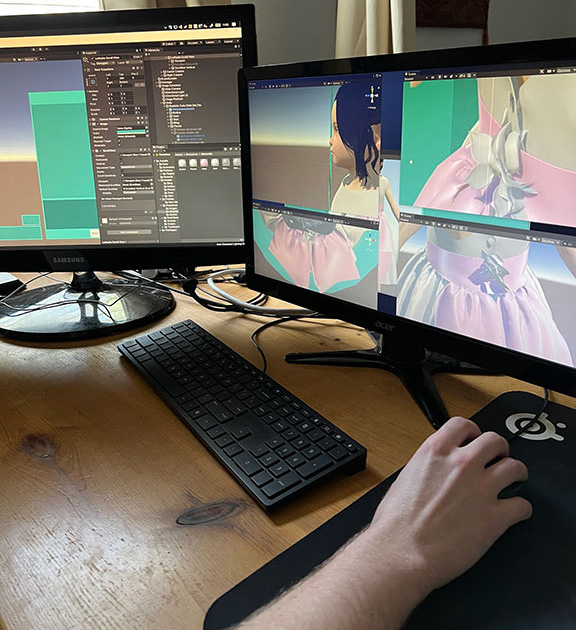 "It's so important for the customer to better visualize the outfit they will be having the child wear to a wedding, communion or special event. This new feature allows you to virtually coordinate your flower girl and ring bearers' attire," said Pegeen® chief designer and founder, Marg Hyland. "With the click of a button, you'll be able to sit down with your littlest bridal party members and show them on the screen how they will look on stage or walking down the aisle." But that's not all. Pegeen® takes this a step further with the ability for customers to component shop and design their own dress, Made-In-America, factory to consumer designs with delivery in weeks in over 260 colors of silk!
"My team brainstormed post-pandemic about what we could do to better bring our designs to our brides, ballet companies and Jewish customers looking for modest dresses for children. The pandemic shut the world down, since we sell internationally we had to change the approach. So, we went to the drawing board to decide how best to make our designs come to life, even if we were to be closed to the public (for us, business really again started with weddings and ballet companies in July of 2022). The question became, how could the future look for us?" their project manager and Chief Technology Lead, Theodore Frank asked the team. "Then we gave our thoughts and ideas to Marg and from there, as a designer, she spoke about her vision."
"I am really proud that my Engineering and Technology Lead was able to design something so far past my imagination of what I thought could be done. There will be additional add-ons soon; bodice overlays like aloncon lace or special silk treatments, a VR version of our "store" and a magic mirror which, when a customer visits our Design Studio, they can actually try on their creation by manipulating the items on the magic mirror. Our mobile version has or is about to be completed but Unity programs works best on desktop as it is a powerful program. I never imagined that something so creative and so timely could happen. Disney Springs, look out – we're focusing on you next". Yes, you heard right, it's Hyland's goal to open someday at Disney Springs and later, California. "Call me!"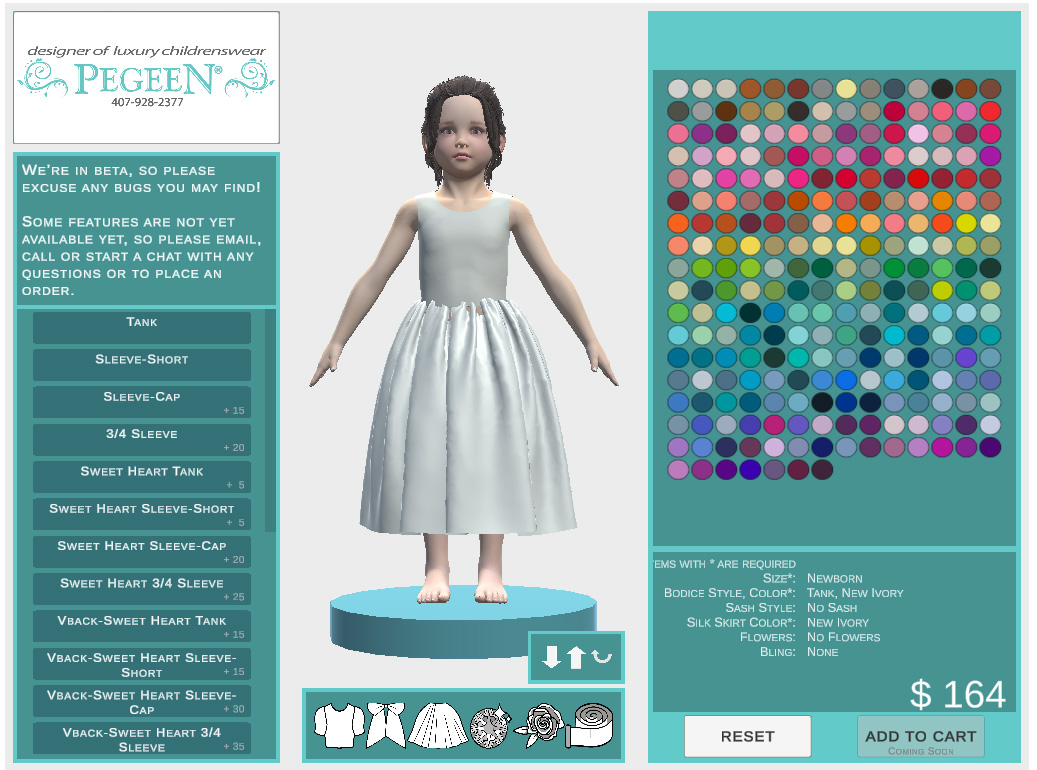 By showcasing real weddings on Pegeen's Gallery Pages a bride is able to see today's most popular color palettes with over 260 choices of color, cut and dress styles. It's the ultimate in personalizing the look of a bride's once-in-a-lifetime experience. "It's amazing how a ribbon or sash can instantly change the look by adding color and style to any dress. These versatile accents of our color swap options, various bows, and sashes as well as flower styles are designed to help coordinate the entire bridal party and are sure to flatter.

In addition to the Pegeen® Dress Dreamer™, brides and moms can be inspired though a feature on the website called "What Others Have Done". They can also look under their Flower Girl Dress Gallery, Testimonial and Real Weddings, What Others have Done, Weddings by Color, and literally 20,000 or so images of real events. In this way, the customer can see the vast variety of unique combinations of styles and colors that Pegeen is well known for. Most importantly, Pegeen® has made it easier for brides to place their on-line orders with our Live Chat or phone lines that are open every day from 8am to 10 pm and the addition of "Pegeen® Dress Dreamer™". "We like to brag that when you chat with us you are dealing with a designer not just a sales representative".

###

About Pegeen:

Pegeen.com offers several distinct lines which fall under two categories: Princess Everyday and Princess Special Days which include popular priced Pegeen "Classic", Pegeen Couture, Pegeen Tween for Jr. Bridesmaids Ring Bearers and the "Nutcracker Collection. For over 40 years, Hyland has created, customized and sold over 2 million infants' and girls' dresses and boys' outfits for weddings, cotillions, christenings, bat and bar mitzvahs, ballet costumes and many other special and formal occasions. Designed for sizing from Infants to Plus Sizes. Hyland is committed to providing couture quality at very reasonable prices. To View Styles visit https://pegeen.com/dresses

Pegeen encourages their customers to send in their photographs of their events once it is over and highlights their favorites on their website.

Pegeen.com®, headquartered in Orlando, FL, has been involved in creating beautiful yet affordable clothing for children for weddings and special occasions since 1982. We remain true to our founding mission providing factory direct, couture quality flower girl dresses at affordable prices. Every flower girl dress or ring bearer suit is made in our factory and with over 260 colors to choose from, we are proud to help you walk down the aisle.

For more Press information on PEGEEN.COM, call 407-928-2377

Pegeen Flower Girl Dress Company ~ 9147 State Rd 535 Orlando, FL 32836 ~ Shipping World Wide Since 1982