Crystal Pink Silk tulle flower girl dress with Cinderella Sash
In the realm of flower girl dresses, each creation is a unique masterpiece, carefully crafted to bring a touch of enchantment to your special day. Our recent collaboration with a discerning customer resulted in a stunning flower girl dress that's bound to capture hearts and imaginations alike. Let's delve into the details of this enchanting gown.
The foundation of this dress is crystal pink, a color that exudes a sense of delicacy and grace. It's a hue that beautifully complements various wedding themes, from whimsical fairy tales to classic romantic affairs. To elevate the dress to even greater heights of sophistication, our customer chose to add a Cinderella Bow (+20) an iconic embellishment that instantly evokes images of timeless elegance.
To infuse a touch of ethereal magic into the ensemble, we incorporated shimmer tulle (+20), which gracefully wraps the dress, creating a radiant aura that's reminiscent of a fairy tale ball. This added layer of tulle not only enhances the gown's overall appeal but also lends it a subtle twinkle, perfect for capturing the spotlight.
For the finishing touch, our customer opted for 1/4 cap sleeves (+15), adding a dainty and charming element to the dress and covered buttons (+40) and finally multiple colors of tulle in various colors (+50). These sleeves provide just the right amount of coverage while allowing the little wearer to move with ease and comfort. The result is a flower girl dress that effortlessly blends sophistication, charm, and a hint of fairy tale magic—a true testament to the endless possibilities of creating personalized, one-of-a-kind flower girl dresses at Pegeen.
In the world of wedding attire, this crystal pink flower girl dress exemplifies the artistry and creativity that go into making your dream wedding come true. It's a dress that not only complements your wedding theme but also captures the essence of love, romance, and the magical moments that make your day unforgettable. At Pegeen, we take pride in bringing your visions to life, one stitch at a time, ensuring that your flower girl shines as brightly as the love you're celebrating.
There were no additional charges for this flower girl dress. Optional prices are subject to change. Check menus for current prices.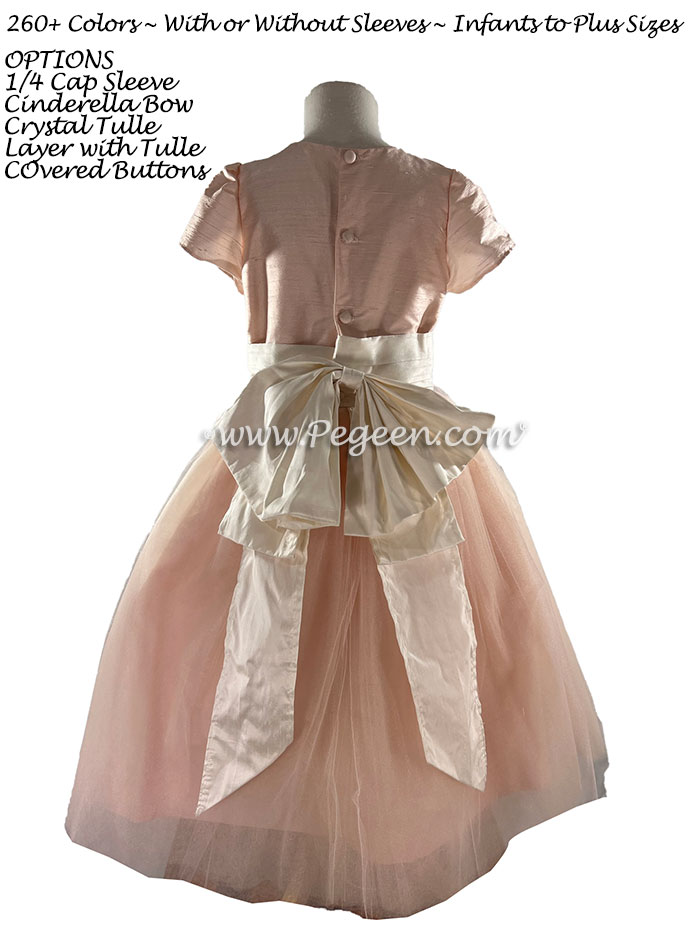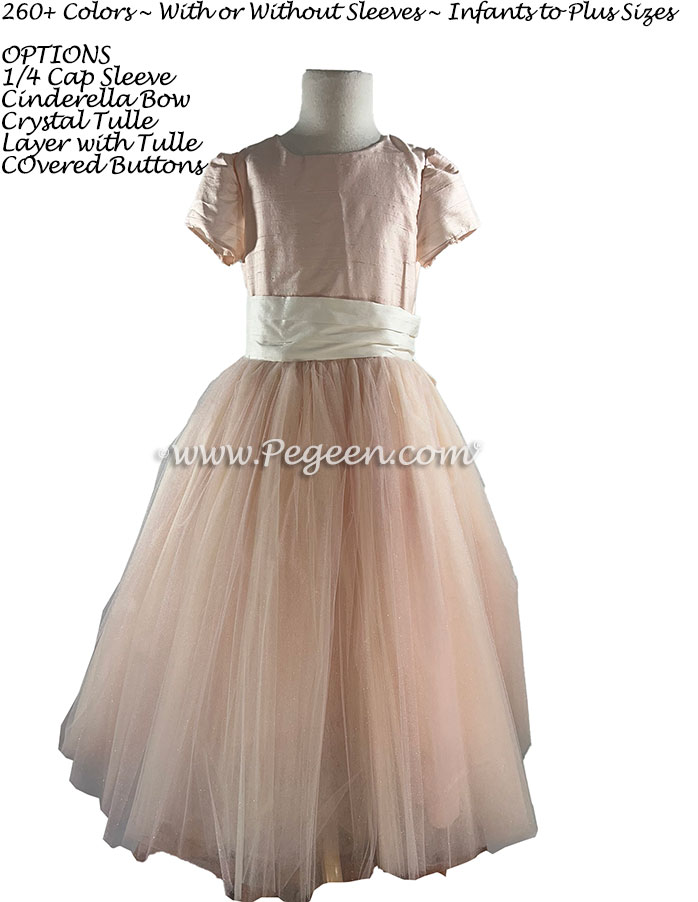 Pegeen Flower Girl Dress Company ~ 9147 State Rd 535 Orlando, FL 32836 ~ Shipping World Wide Since 1982