Plus Size Communion Dress Pegeen Heavenly White Collection
SPECIAL FIT and PLUS SIZE First Communion Dresses
Every flower girl dress we make can be done as a special fit or plus size first communion dress. Perhaps there are one or two styles that we say Junior Bridesmaids Size only and are not available in Plus Size but all the rest are. Special Fit dresses are for children who are thin and Plus Sizing is for girls who are fuller. Our Plus Size first communion dresses go to a 41 or 42" chest. Special Fits can also be done on a child who is short but full. We combine sizes and patterns for you for only a small price and are good at what we do! See more info below, left.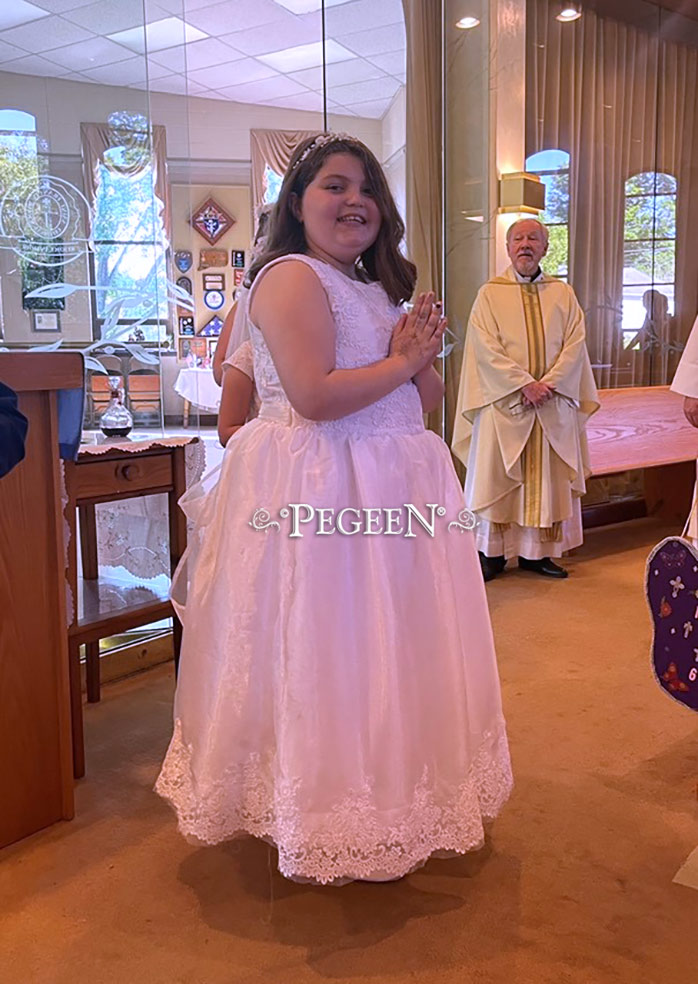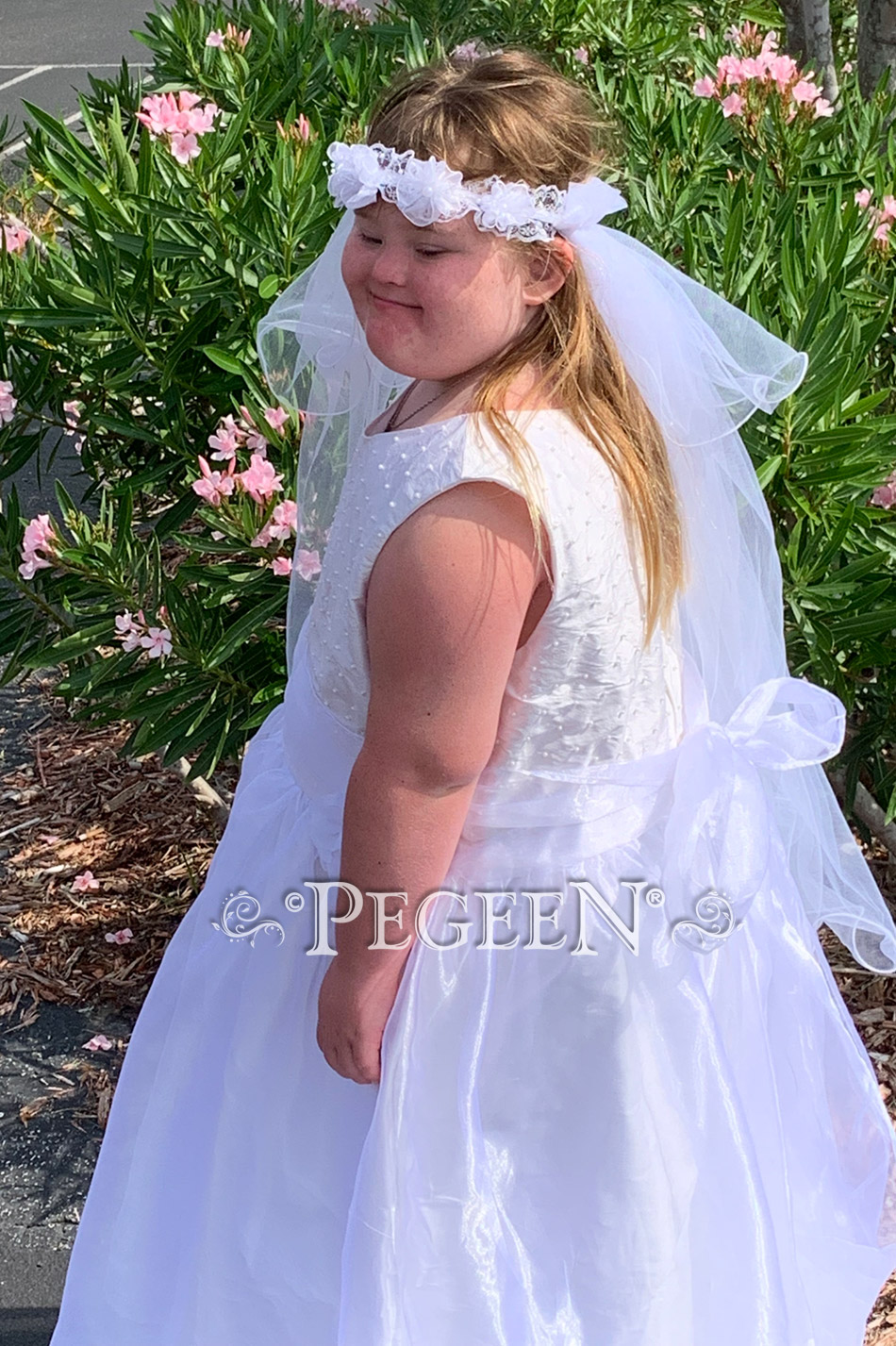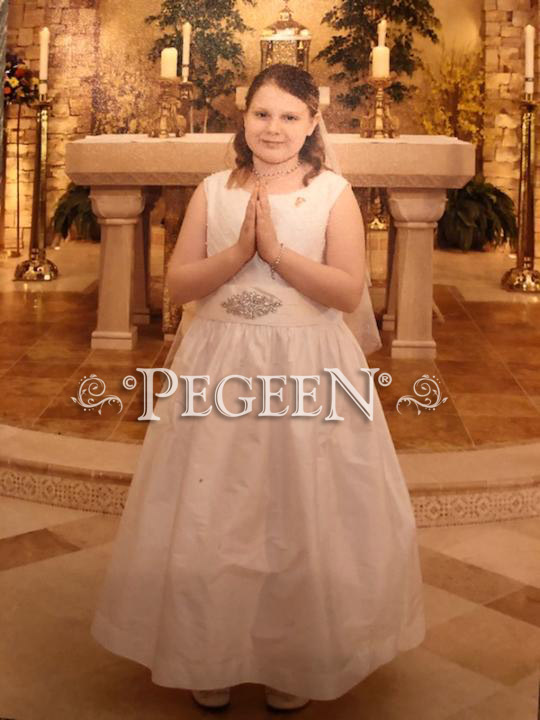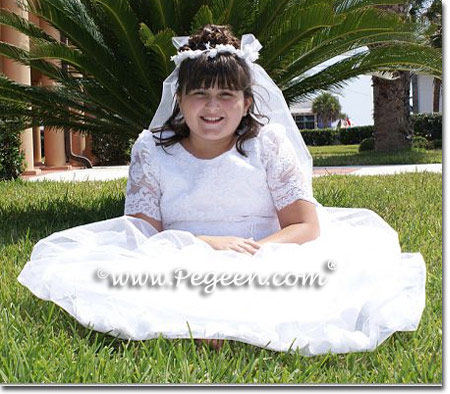 Special Fit dresses are not returnable or exchangeable
SPECIAL FIT is for girls who are just too hard to fit - sometimes they are very thin and others are stocky. a SMALL charge covers all the adjustments that we need to make. You can choose these options by choosing, as you go to order, the pull-down menu for SPECIAL SIZING. We need the height, chest, waist and hips when you go to check out.
For PLUS SIZES we will send a Bodice in the mail which is made out of a muslin material. You will try on this pattern/muslin and get back to us with any further fit issues. Be sure to have a digital camera ready when it arrives. After the fit is finalized, we use our copy of the same muslin here and proceed to make your dress.
Customize any First Holy Communion Dress or Cotillion Dress with a host of many fabrics. Our specialty is to also Custom Fit Girls Communion Dresses for Plus Size and the very thin. All of the following communion dress and boys communion suit are made in all white or all white silk. First communion dresses are available with sleeves. You may see these First Holy Communion Dresses on our online thumbnail page as well, where there are more selections. Click on smaller images below to go to recommended styles for First Communion Dresses. Plus Size Communion Dresses are available in every style. This also follows for our White Cotillion Dresses which are also available in any color and many customers request a shorter skirt length. For ideas, see our Online Flower Girl Dress Pegeen catalog to view more styles on children.
ALL DRESSES COME IN WHITE and therefore, can be used for First Communions or Cotillions. ALL PLUS SIZE FIRST COMMUNION DRESSES COME WITH OR WITHOUT SLEEVES. CLICK THUMBNAILS BELOW FOR DETAIL
IN A HURRY? Call Customer Service at 407-928-2377- you will find we are here most of the time or have the phone forwarded to our cell phone or we can return your call quickly. If you need info on Sizing or Sleeve Changes (we can add or take away sleeves usually at no charge) click an above link or just call!

If we recommend that your dress is to be made as a special fit and you decide not to go ahead with that option, it voids our Sizing Guarantee.
MEASURING & ORDERING FOR SPECIAL FITS & PLUS SIZE COMMUNION DRESSES:
When ordering for your plus size dress we HATE using the word 1/2. What that means to a child is " I am plus size" and we personally think it makes a kid frustrated and unhappy.
SO instead, we want you to take the height of your daughter THEN that indicates the FIRST size on the pull down menus. IF her chest is under 33 1/2 she is in the BODICE FIT sizing. So for instance, say she is 51" tall and has a chest of 31. SO for the first SiZE menu, choose the size 7 (don't freak out) then for the second size menu choose the 14-BF for 14 bodice fit.
Likewise, if her chest is 35 and her waist is 36.5 - therefore, she is a size 7 (first menu) Plus 1 --- then we send a bodice in the mail to you. Be sure that you send her measurements with the chest and waist as well as the height.
"Dear Pegeen Staff: It's magic in a box. You sent the bodice pattern, I tried it on, and made the changes to you via pictures and just two weeks later - MAGIC IN A BOX! My daughter's Plus Size first communion dress fit her perfectly."
Because we strive not to be too "word-y" on our website we think we may not have made this clear enough:
Put this information on the checkout page where you have to put your Address in the SPECIAL MESSAGE or COMMENTS section.
When ordering multiple dresses, please put in your comments something like "this is the measurements for the size 8 special fit".
INSTRUCTIONS FOR ORDERING: When you place your order for your Plus Size First Communion Dress there are two pull downs we want you to choose. For the first menu where it says choose size, pull the top menu for her height. For the BODICE FIT menu choose the one that best fits the child's chest OR choose the PLUS SIZE menu for chest sizes 34" and over.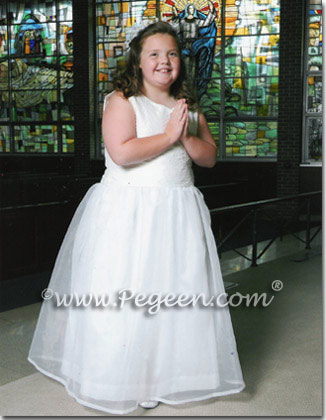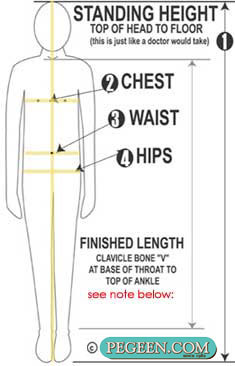 Pegeen Flower Girl Dress Company ~ 9147 State Rd 535 Orlando, FL 32836 ~ Shipping World Wide Since 1982