Nutcracker Costumes for the Party Scene by Pegeen pg 2
A little bit more of some of our Nutcracker Costumes and Dresses by our Customers
BELOW: Various Styles from Nutcracker ballet for Party Scene - Clara Dress, Costume for Fritz, Male Dancer Costumes, Women's dresses in the Nutcracker Ballet,Clara's younger sister and the Party Scene Dancers.
VIEW MORE NUTCRACKER COSTUMES AND DRESSES Page 1 - click
The plot of "The Nutcracker" centers on Clara, a small child who dreams of a life-size Nutcracker, and a magical candy castle full of new friends and a Mouse King after falling asleep during a Christmas celebration. The tale is based on E.T.A. Hoffmann's tale about a nutcracker who battles the evil Mouse King on Christmas Eve by coming to life magically. The song's creator, Tchaikovsky, started working on it in February 1891, and Carnegie Hall eventually hosted its premiere. George Balanchine created the ballet's choreography in 1954. Any young dancer would consider it an honor to be given the role of Clara in "The Nutcracker." Clara and her family, including Fritz, her annoying younger brother, have a wonderful time at the party and her friends commonly called the Party Scene Dancers open the ballet.
In the first act of "The Nutcracker," revelers mix and dance while Clara's godfather, Herr Drosselmeier, bestows gifts on them, including dancing dolls, magic tricks, a hobby horse, and the fabled wooden Nutcracker that he gave to Clara. Nathaniel, a relative of Drosselmeier, gives Clara a bed for her doll. After saying farewell to partygoers and friends later that evening, Clara falls asleep, and the true magic starts. Clara's former living room is transformed into a magical battle scenario, and her character saves the day by diverting the Mouse King, who receives a quick shoe to the head. The last blow is delivered by a life-size Nutcracker doll, who also bestows one of the Mouse King's crowns upon Clara's victorious (albeit doubtless bewildered) head. Walking to their boat amid a snowy landscape is Clara and the Nutcracker, who later reveals himself to be a prince who also resembles Nathaniel. They find up in the Land of Sweets, where wonderfully costumed characters dance their hearts out in front of them. And towards the conclusion, a reindeer-drawn sled returns them to reality.
The following costumes by Pegeen are from The Nutcracker performances around the US and Canada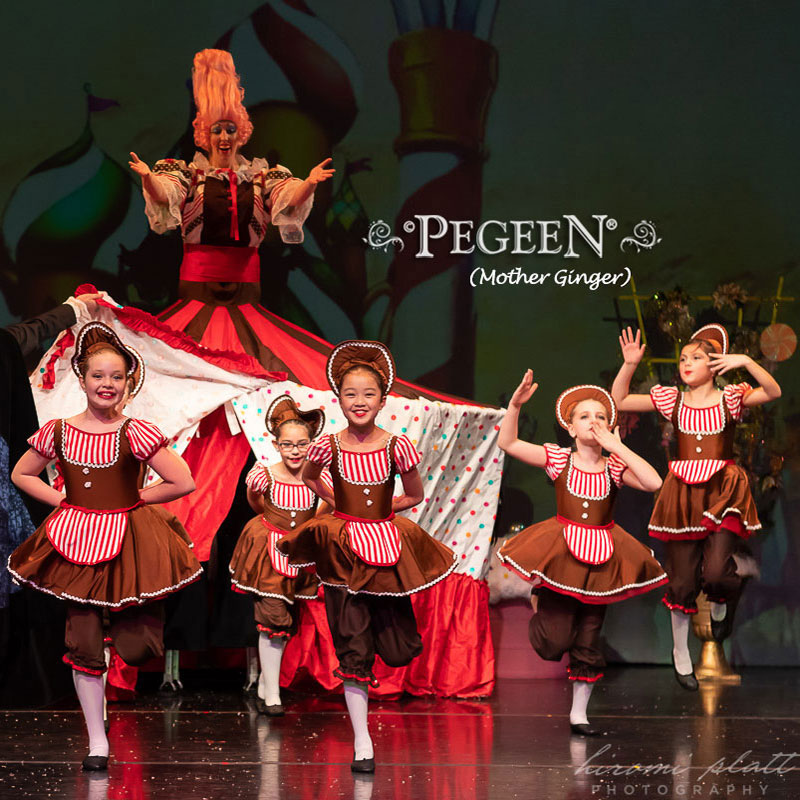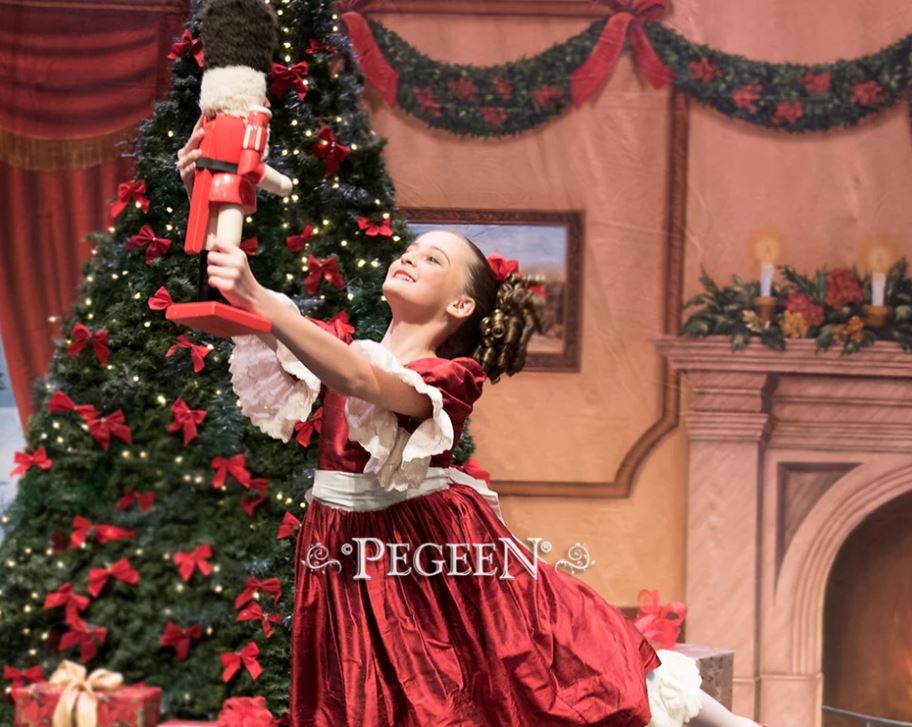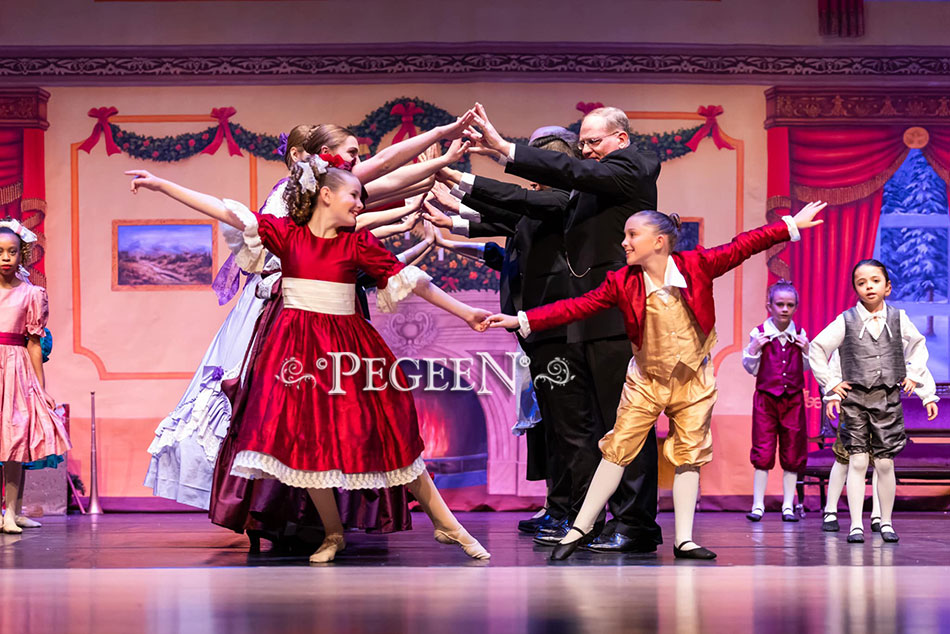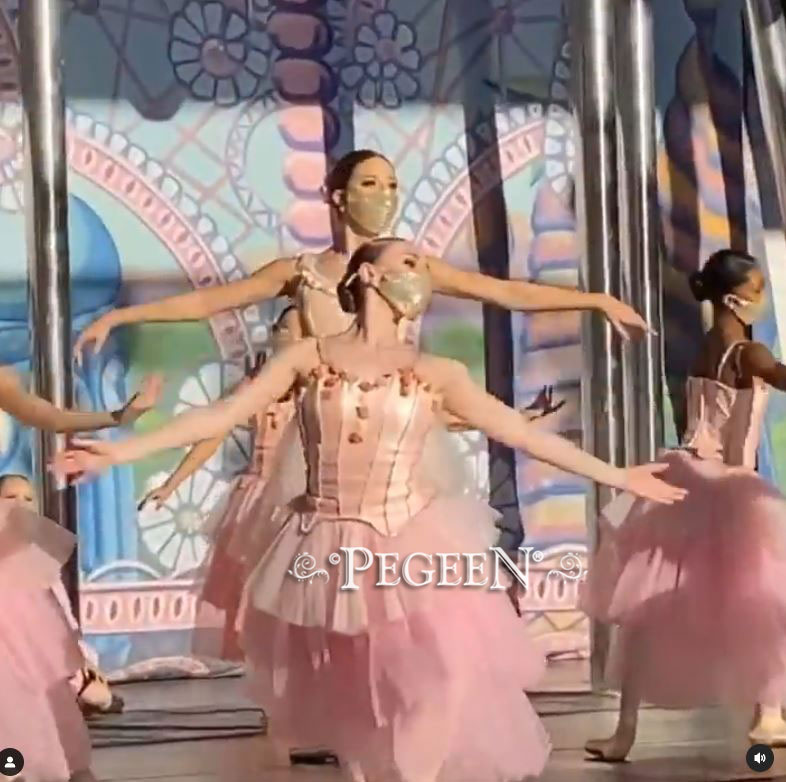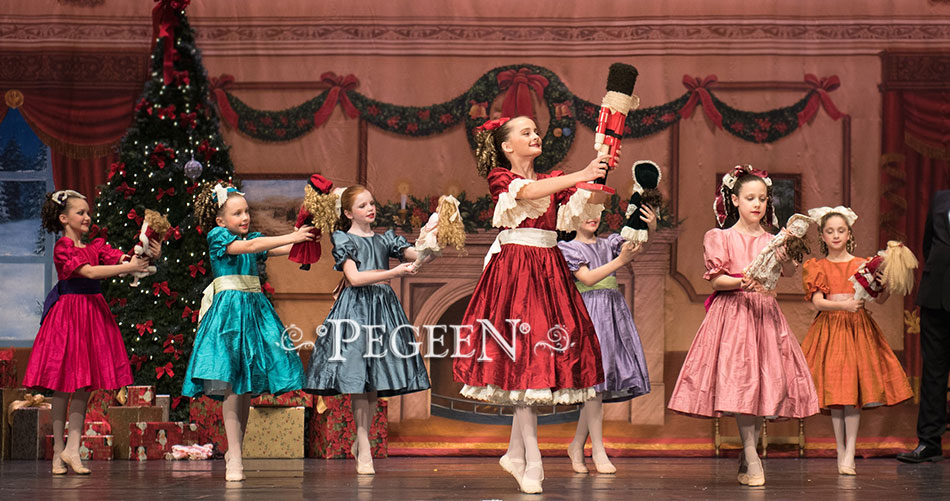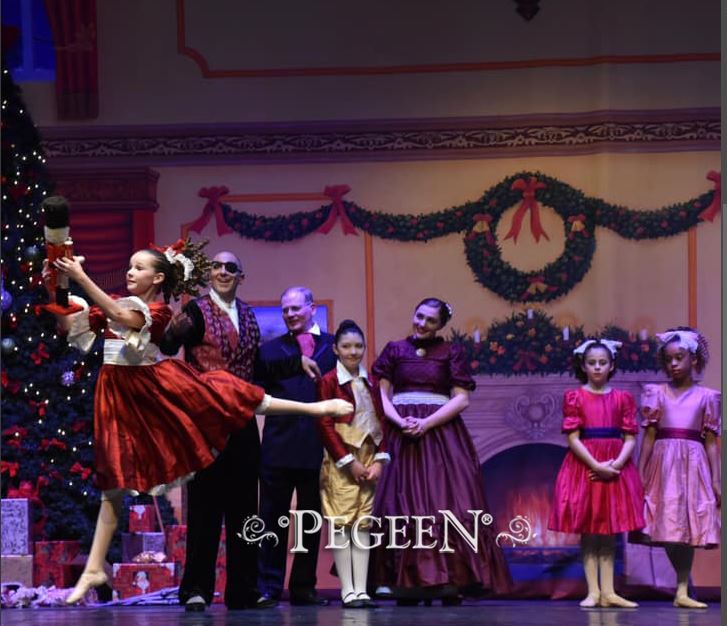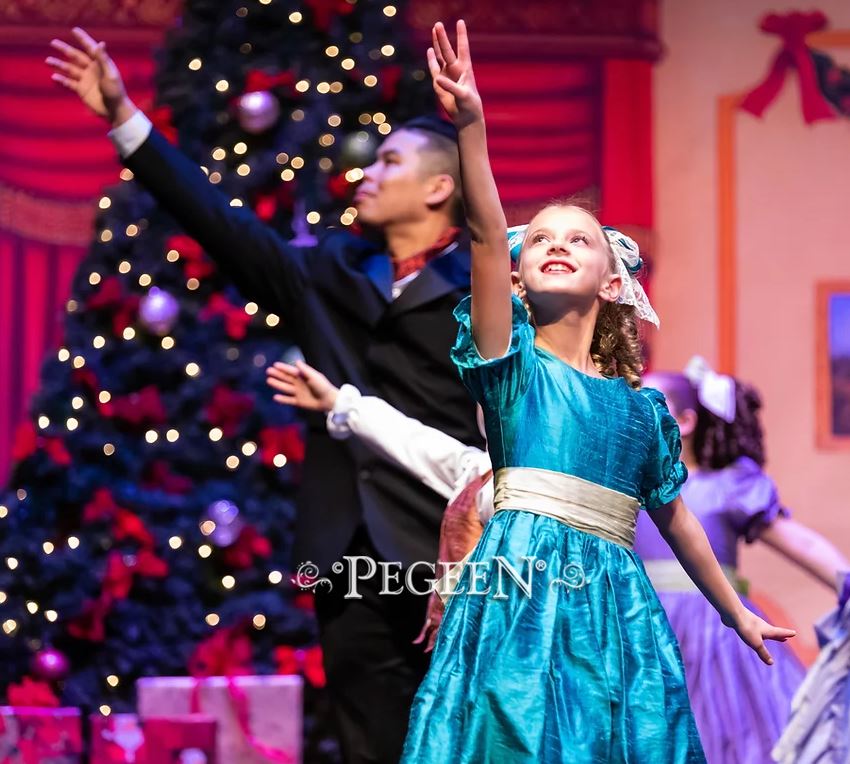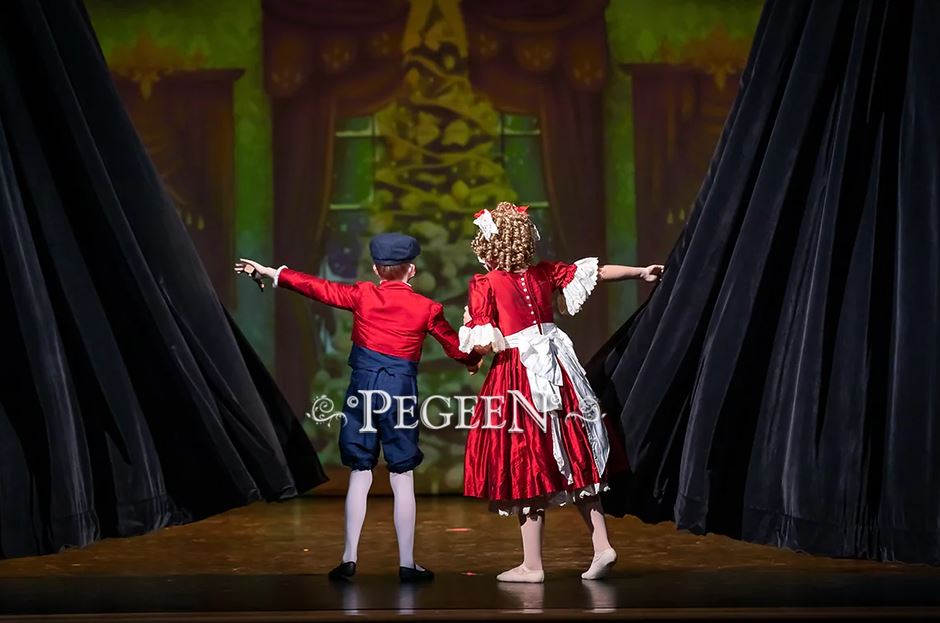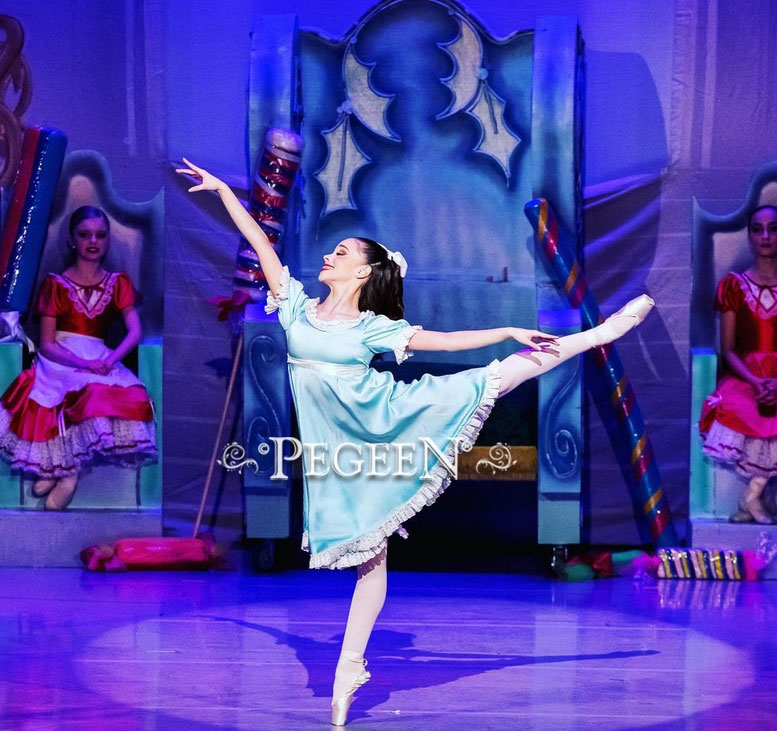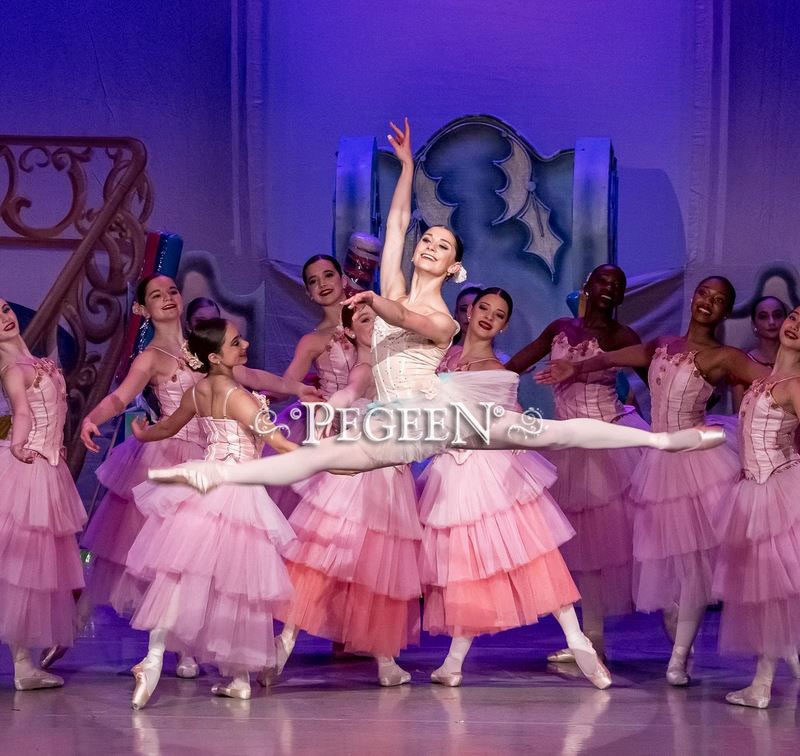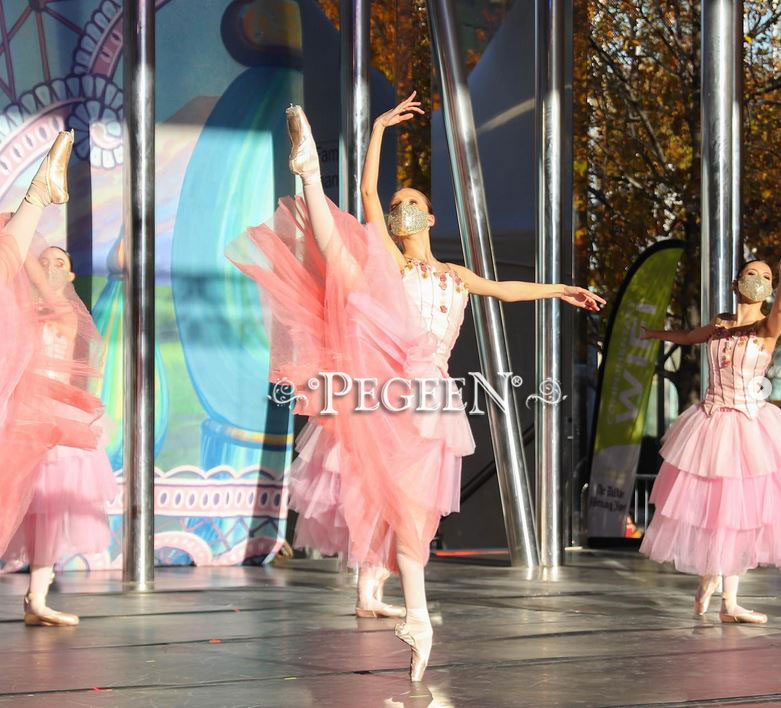 BELOW: LIsa's Dance Studio, MA - Lisa chose multiple colors of silk and matching or contrasting tulle colors for her Nutcracker performance and the party scene dancers using Pegeen's Nutcracker dress Style 703

Photo from Norwalk Metropolitan Youth Ballet

BELOW: Nutcracker ballet Clara and Party Scene Dress - Nutcracker Costume Pegeen Style 725

BELOW: Nutcracker ballet Clara and Party Scene Dress - Nutcracker Costume Pegeen Style 701

BELOW: Nutcracker ballet Clara and Party Scene Dress - Nutcracker Costume Pegeen Style 708

BELOW: Nutcracker ballet Clara and Party Scene Dress - Nutcracker Costume Pegeen Style 751

BELOW: Nutcracker ballet Clara and Party Scene Dress - Nutcracker Costume Pegeen Style 721

BELOW: Nutcracker ballet Clara and Party Scene Dresses - Nutcracker Costumes by Pegeen

BELOW: Nutcracker ballet Clara and Party Scene Dresses - Nutcracker Costumes by Pegeen

BELOW: Nutcracker ballet Clara and Party Scene Dresses - Nutcracker Costumes by Pegeen

BELOW: Nutcracker ballet Clara and Party Scene Dress - Nutcracker Costume Pegeen Style 727

BELOW: Nutcracker ballet Clara Dress - Clara Nutcracker Costume Style 727

BELOW: Nutcracker ballet Clara and Party Scene Dress - Nutcracker Costume Pegeen Style 703

BELOW: Nutcracker ballet Clara and Party Scene Dresses - Nutcracker Costumes by Pegeen

BELOW: Nutcracker ballet Snow Corps - Nutcracker Costume Romantic Tutu Style 780

BELOW: Nutcracker ballet Clara and Party Scene Dress - Nutcracker Costume Pegeen Style 727

BELOW: Nutcracker ballet Party Scene Women Style 799

BELOW: Nutcracker ballet Clara and Party Scene Dress - Nutcracker Costume Pegeen Style 745

BELOW: Nutcracker Party Scene Dresses - Left Style 799 Right Style 723

BELOW: Nutcracker ballet Clara and Party Scene Dress - Nutcracker Costume Pegeen Style 703

BELOW: Nutcracker ballet Clara and Party Scene Dresses - Nutcracker Costumes by Pegeen

BELOW: Nutcracker ballet Clara and Party Scene Dresses - Nutcracker Costumes by Pegeen

BELOW: Nutcracker ballet Party Scene Men's Styles

BELOW: Nutcracker ballet Clara and Party Scene Dress - Nutcracker Costume by Pegeen

BELOW: Nutcracker ballet Clara and Party Scene Dress - Nutcracker Costume by Pegeen

BELOW: Nutcracker On Ice Dresses and Costumes

BELOW: Nutcracker ballet Clara and Party Scene Dress - Nutcracker Costume Pegeen Style 708

BELOW: Nutcracker ballet Clara and Party Scene Dress - Nutcracker Costume Pegeen Style 721

BELOW: Nutcracker ballet Clara and Party Scene Dress - Nutcracker Costume Pegeen Style 751

BELOW: Nutcracker ballet Clara and Party Scene Dress - Nutcracker Costume Pegeen Style 727

Pegeen Flower Girl Dress Company ~ 9147 State Rd 535 Orlando, FL 32836 ~ Shipping World Wide Since 1982