Silver Gray Silk special fit flower girl dress| Pegeen
In the realm of weddings where gray is steadily gaining popularity, this particular flower girl dress emerges as a remarkable choice. Tailored for a young lady with a tall and slender frame, it was meticulously crafted as a special fit dress. This involved a thoughtful combination of sizing adjustments to ensure a flawless and tailored fit, with a +20 customization, making certain the dress draped perfectly on her.
Drawing inspiration from style 318, this customer expertly harmonized the dress design with the event's contemporary theme. Opting for the shade of silver gray, she brought a touch of modern elegance to the ensemble. The choice of color resonated beautifully with the wedding's ambiance, promising to make the flower girl a harmonious part of the sophisticated setting.
The final result was a standout flower girl dress that seamlessly blended style, customization, and color. The careful attention to fit and the selection of silver gray for the dresses created an ensemble that embodied both charm and modernity. This flower girl dress, born out of careful consideration and tasteful choices, effortlessly became an integral part of the wedding's overall aesthetic, standing out as a remarkable addition to the celebration.
There were no additional charges for this flower girl dress. Optional prices are subject to change. Check menus for current prices.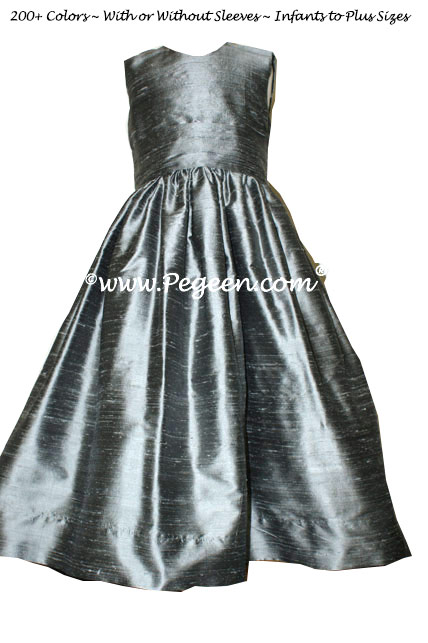 Pegeen Flower Girl Dress Company ~ 9147 State Rd 535 Orlando, FL 32836 ~ Shipping World Wide Since 1982