Flower girl dresses in Medium Gray and pink petals | Style 331
Working with the bride by creating the perfect flower girl dresses, our customer embarked on a unique journey, selecting Style 331 as the canvas for her vision. Her distinctive choice involved the use of medium gray silk for both the bodice and skirt lining, an exquisite decision that introduced a sense of modern sophistication and elegance. The medium gray silk formed a sleek and versatile backdrop, setting the stage for a harmonious and elegant ensemble.
Adding a touch of whimsy and charm, the bride sought to incorporate pink shades of petals into the design, infusing the dresses with a delightful floral motif. The choice of these pink petals introduced a soft and romantic element to the ensemble, creating a look that exuded natural beauty and grace. The combination of the medium gray silk and the pink petal accents resulted in a harmonious blend of tradition and innovation, promising to make a statement as the flower girls walked down the aisle.
There were no additional charges for this flower girl dress. Optional prices are subject to change. Check menus for current prices.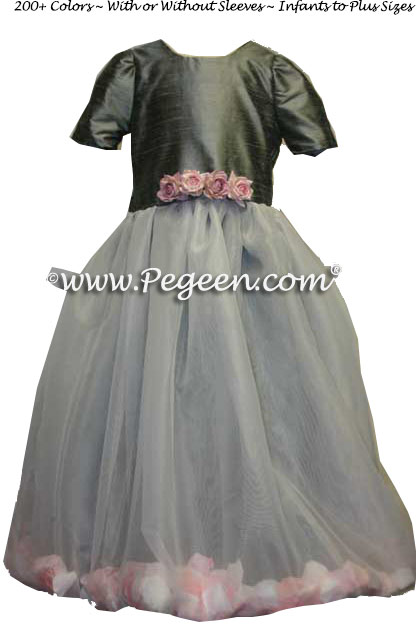 Pegeen Flower Girl Dress Company ~ 9147 State Rd 535 Orlando, FL 32836 ~ Shipping World Wide Since 1982