Flower Girl Dress Style 345 in Toffee and Antigua Taupe
For a breathtaking destination wedding in Curacao, this exquisite dress was crafted based on the timeless elegance of Style 345. The bride's vision came to life with the stunning combination of Toffee and Antigua Taupe silk for the dress, perfectly complementing the tropical ambiance of the island. The rich Toffee hue added warmth and sophistication, while the subtle Antigua Taupe silk brought a touch of softness and finesse.
To elevate the dress to a whole new level of beauty, two Noelle Roses were delicately added, creating an enchanting focal point. These elegant floral embellishments enhanced the dress with their grace and charm, making it truly one-of-a-kind. As the bride walked down the aisle in her dream destination, the dress shimmered in the warm sunlight, capturing the hearts of all who beheld its beauty. It was a moment of pure magic, where the love between the couple and the beauty of the surroundings perfectly aligned, creating an unforgettable memory to be cherished forever. There were no additional charges for this flower girl dress. Optional prices are subject to change. Check menus for current prices.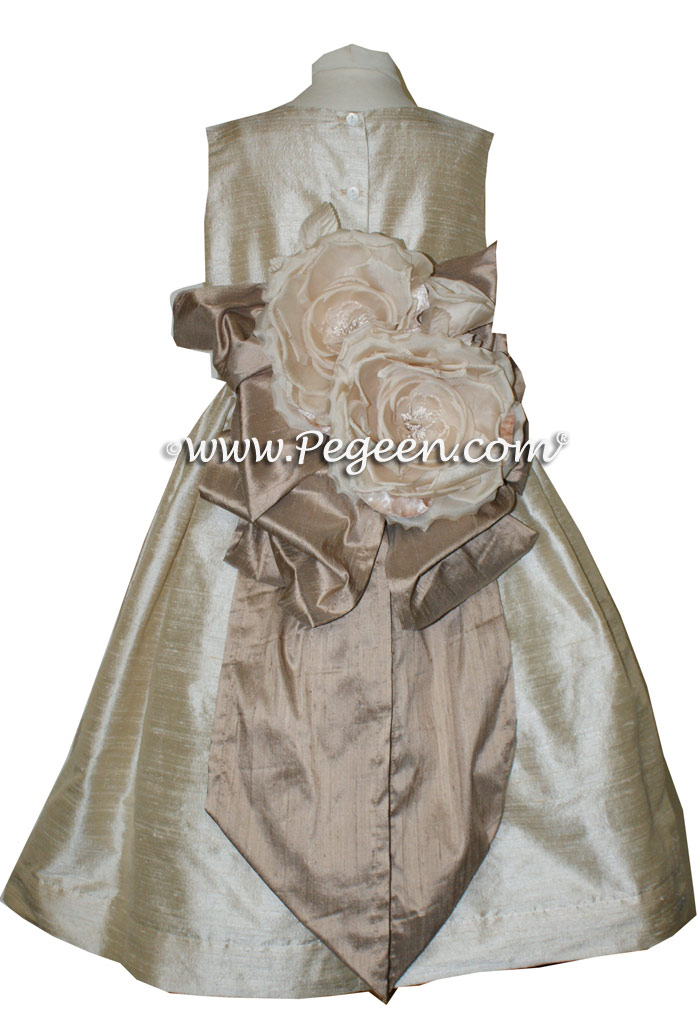 Pegeen Flower Girl Dress Company ~ 9147 State Rd 535 Orlando, FL 32836 ~ Shipping World Wide Since 1982