Flower girl dresses in Wheat and Antigua Taupe Style 345
This exquisite flower girl dress drew its inspiration from the elegant style 345. The chosen color palette featured a combination of Wheat and Antigua Taupe silk, setting a harmonious tone for the dress. The Wheat silk brought a warm and inviting hue, while the Antigua Taupe added a touch of sophistication and charm.
The dress's design beautifully complemented the overall wedding theme, evoking a sense of grace and timeless beauty. The subtle interplay of colors and the luxurious silk fabric enhanced the dress's allure, making it a perfect choice for the young flower girl to wear on that special day. The combination of Wheat and Antigua Taupe silk created a stunning visual effect that left everyone captivated.
With the custom touch of style 345, the flower girl dress truly became a standout piece at the wedding. Its unique blend of colors and exquisite silk fabric made it a cherished memento of the joyous celebration, ensuring that this dress would be cherished for years to come. The bride's choice of style and colors demonstrated a keen eye for detail and a commitment to creating a magical atmosphere for her special day.
There were no additional charges for this flower girl dress. Optional prices are subject to change. Check menus for current prices.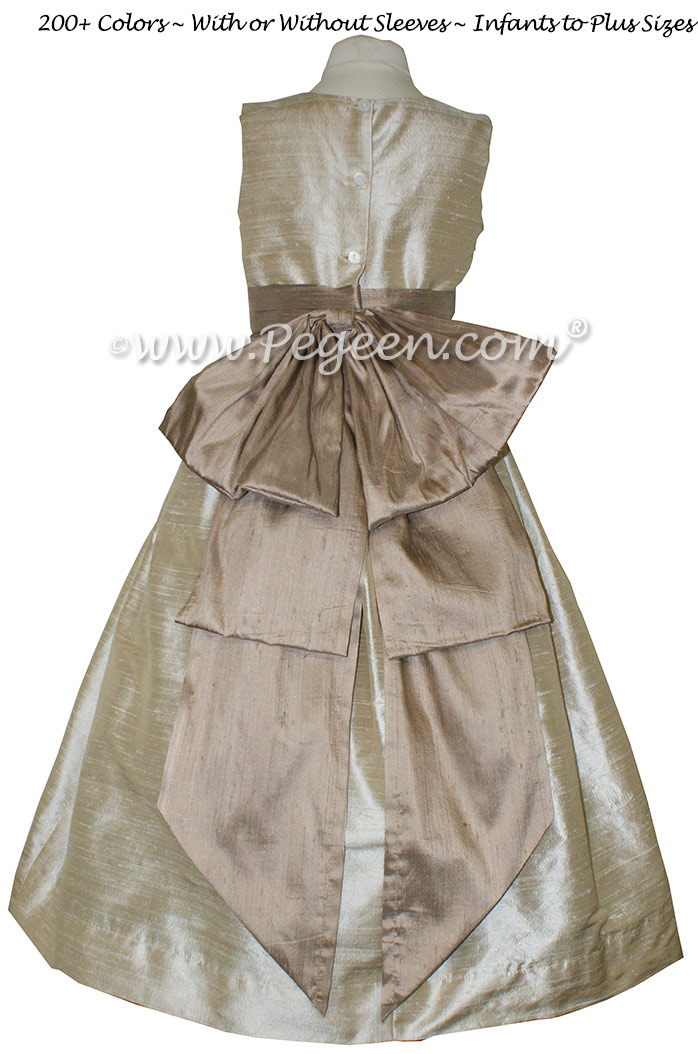 Pegeen Flower Girl Dress Company ~ 9147 State Rd 535 Orlando, FL 32836 ~ Shipping World Wide Since 1982