Flower Girl Dress in Grapefruit Gold and Sorbet with V-Back
Crafting a wedding that seamlessly blends style and personal touches is an art, and this customer's choices exemplified this artistry perfectly. She began her journey with Pegeen by selecting our Classic Style 345 as the canvas for her flower girl dresses, setting the stage for a design that would perfectly complement her vision.
For the skirt of these enchanting flower girl dresses, she opted for a delightful shade: grapefruit. This choice exuded a sense of freshness and vibrancy that perfectly mirrored the joyful spirit of the occasion. The grapefruit skirt became a canvas for vivid color, promising to add a playful and eye-catching element to the wedding.
To complete the look and harmonize with her bridesmaids, who donned Jim Hjelm dresses in the shade of papaya, the customer chose a sorbet sash. This choice not only created a seamless transition from the bridesmaids' dresses to the flower girl attire but also added an extra layer of depth and coordination to the overall color scheme. The sorbet sash served as a visual bridge, uniting the various elements of the wedding party's attire.
But the customization didn't end there. The customer also opted for a V-Back design, which came at an additional cost of $10. This thoughtful addition added a touch of sophistication and modernity to the classic silhouette of Style 345. The V-Back design was a nod to contemporary elegance, ensuring that these flower girl dresses would be both timeless and on-trend.
These flower girl dresses, with their grapefruit skirts, sorbet sashes, and V-Back design, were a testament to the power of customization in making a wedding truly unique and memorable. They showcased the customer's dedication to infusing her personality and style into every aspect of her special day. These dresses were not just garments; they were a reflection of the bride's creativity and her commitment to creating a wedding day that was not only beautiful but also filled with meaningful details.
There were no additional charges for this flower girl dress. Optional prices are subject to change. Check menus for current prices.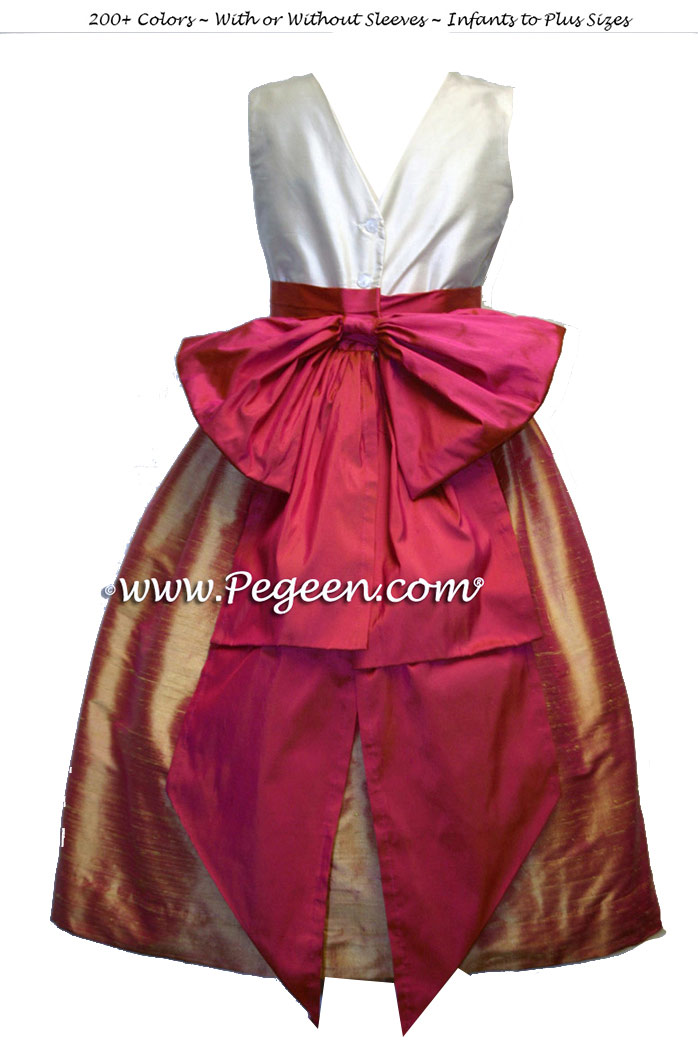 Pegeen Flower Girl Dress Company ~ 9147 State Rd 535 Orlando, FL 32836 ~ Shipping World Wide Since 1982