Flower Girl Dress in Green and Purple - An Irish Wedding
Creating a wedding that reflects both the couple's love story and the unique surroundings is a beautiful endeavor, and this customer's choice exemplified this sentiment perfectly. For her flower girl dresses, she decided to go with the charming and versatile Style 345 as the foundation. However, what made these dresses truly extraordinary was her choice of colors, which seemed to perfectly harmonize with the stunning landscape of Ireland.
For the base of these enchanting flower girl dresses, she opted for a shade of green that was nothing short of spectacular: grass. This choice was not only inspired but also poetic, as it beautifully echoed the lush and vibrant green landscapes of Ireland. It was as if the dresses were designed to pay homage to the breathtaking countryside that would serve as the backdrop for the couple's special day.
To complete the look, the customer selected grape as the sash color. This choice added a lovely contrast to the rich green base, creating a visual symphony of colors that was both eye-catching and harmonious. It was as if the dresses were artfully showcasing the colors of the Irish countryside, from the rolling green hills to the vineyards that dotted the landscape.
These flower girl dresses were more than just garments; they were a reflection of the couple's deep connection to Ireland and their commitment to creating a wedding that was not only beautiful but also meaningful. The colors of grass and grape didn't just complement the country's colors; they celebrated them, adding an extra layer of magic to an already picturesque setting. It's a reminder that weddings can be a beautiful canvas to blend personal meaning with natural beauty, and these dresses did just that, making them a truly unforgettable part of the couple's Irish wedding experience.
There were no additional charges for this flower girl dress. Optional prices are subject to change. Check menus for current prices.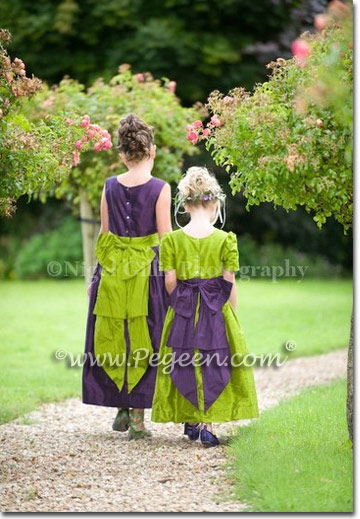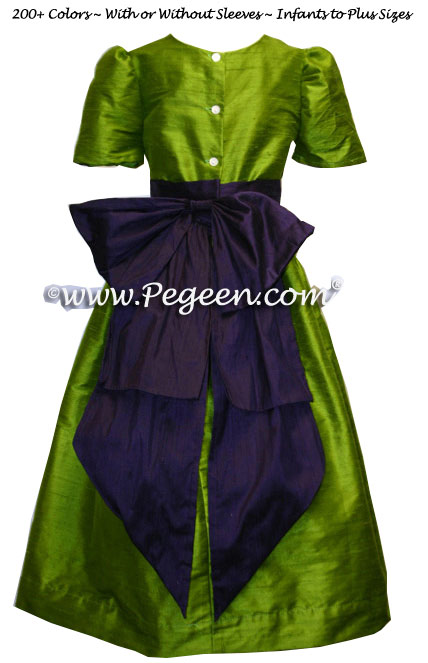 Pegeen Flower Girl Dress Company ~ 9147 State Rd 535 Orlando, FL 32836 ~ Shipping World Wide Since 1982