Infant silk flower girl dress, sequin top, aqua skirt Style 355
Every wedding has its unique charm, and it often lies in the thoughtful details that the bride envisions. In this case, our customer had a distinct vision in mind, and it was an absolute pleasure to bring it to life. She chose to start with our elegant and timeless Style 355 as the foundation for her flower girl dresses.
The color palette she selected was a breathtaking choice: waterfall aqua, often referred to as Tiffany blue. This shade exudes an air of freshness and sophistication, instantly evoking the image of pristine blue waters. It was a choice that perfectly aligned with the romantic and dreamy atmosphere she wished to create for her special day.
However, it wasn't just the color that made these dresses extraordinary. To add an extra layer of enchantment, the customer opted for silk bows in the same delightful shade, beautifully adorning each dress. These silk bows not only added a touch of elegance but also served as a visual anchor, drawing attention to the bodice.
Speaking of the bodice, this is where the magic truly happened. Our customer wanted to elevate the dresses to a whole new level of elegance. To achieve this, she chose to have antique white diamond crystals meticulously hand-sewn onto the bodices. This intricate detail brought a subtle sparkle and a touch of opulence, transforming the bodice into a canvas of radiant beauty.
These flower girl dresses were more than just garments; they were a reflection of a bride's vision and the dedication to creating an unforgettable wedding day. They exemplified the idea that every detail, from the choice of color to the placement of crystals, can be an opportunity to add a personal touch and create memories that will be cherished forever. In the end, these dresses were a testament to the power of customization and the magic it can bring to a special day.
There were no additional charges for this flower girl dress. Optional prices are subject to change. Check menus for current prices.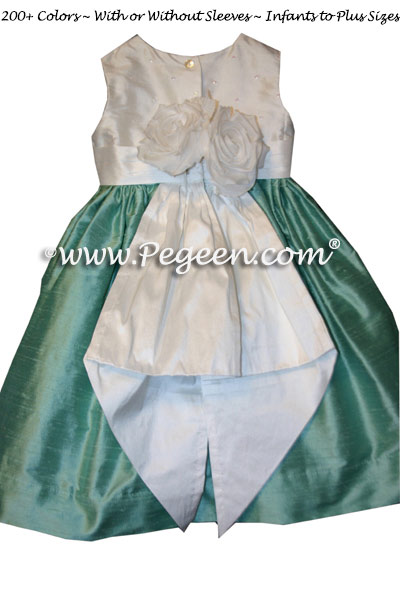 Pegeen Flower Girl Dress Company ~ 9147 State Rd 535 Orlando, FL 32836 ~ Shipping World Wide Since 1982