Flower Girl Dress with sequins, long sleeves in pink and green
In the world of wedding planning, it's often the little details that bring a bride's vision to life, and this particular customer had a vision that was both unique and delightful. She selected our versatile and timeless Style 355 as the canvas for her flower girl dresses, and from there, her creativity took center stage.
To add a touch of vibrancy and depth to these already elegant dresses, the customer decided to incorporate a third color. The result was a striking raspberry sash that gracefully cinched the waist. This addition not only brought a pop of color but also a sense of contrast, creating a dynamic visual appeal. The raspberry sash was a subtle yet impactful choice that perfectly complemented the overall aesthetic of the dresses.
But the customization didn't stop there. To ensure that the flower girls were comfortable and perfectly suited to the season, the customer opted for 3/4 sleeves. This decision added an extra layer of sophistication and versatility to the dresses, making them suitable for a range of weather conditions. The sleeves not only provided coverage but also framed the dress beautifully, enhancing the overall silhouette.
This level of customization is a testament to the bride's commitment to ensuring that every aspect of her wedding day reflects her unique vision. These dresses, with their raspberry sashes and 3/4 sleeves, were more than just attire; they were a reflection of the bride's creativity and her dedication to creating a memorable and comfortable experience for her flower girls. It's a reminder that even seemingly small details can have a significant impact on the overall look and feel of a wedding. These dresses were a perfect embodiment of the magic that can happen when personalization meets creativity.
There were no additional charges for this flower girl dress. Optional prices are subject to change. Check menus for current prices.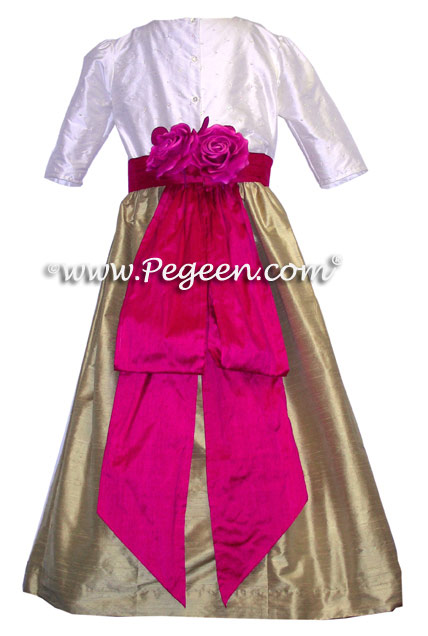 Pegeen Flower Girl Dress Company ~ 9147 State Rd 535 Orlando, FL 32836 ~ Shipping World Wide Since 1982