Flower girl dresses Style 355 in Hibiscus and light pink
One of our valued customers embarked on a creative journey with Pegeen to craft the perfect flower girl dresses, and the results were truly enchanting. Starting with our timeless Style 355 as the canvas for her vision, she carefully curated every detail to achieve a look that would perfectly complement her special day.
For the base of these exquisite flower girl dresses, she chose a delicate light pink sequinned silk, a choice that would undoubtedly add a touch of sparkle and sophistication to the attire. The sequinned silk bodice shimmered with every movement, reflecting the joy and magic of the occasion.
To complete the look, our customer opted for an antique white sash that gracefully cinched the dresses at the waist, creating a timeless and elegant silhouette. The antique white sash provided a beautiful contrast to the soft pink sequins, resulting in a harmonious blend of classic and contemporary elements.
One of the most captivating aspects of these dresses was the hibiscus skirt, a choice that infused a burst of vibrant color and energy into the ensemble. The hibiscus skirt added a playful and tropical twist, symbolizing the beauty of new beginnings and growth, making it a perfect fit for a wedding celebration.
In crafting these flower girl dresses, every detail was meticulously considered and thoughtfully combined to create a look that was both sophisticated and whimsical. The choice of materials and colors reflected the bride's unique vision, and the end result was a set of dresses that not only complemented the wedding theme but also added a touch of magic to the entire occasion. It's moments like these that remind us of the power of customization and the beauty of turning dreams into reality.
There were no additional charges for this flower girl dress. Optional prices are subject to change. Check menus for current prices.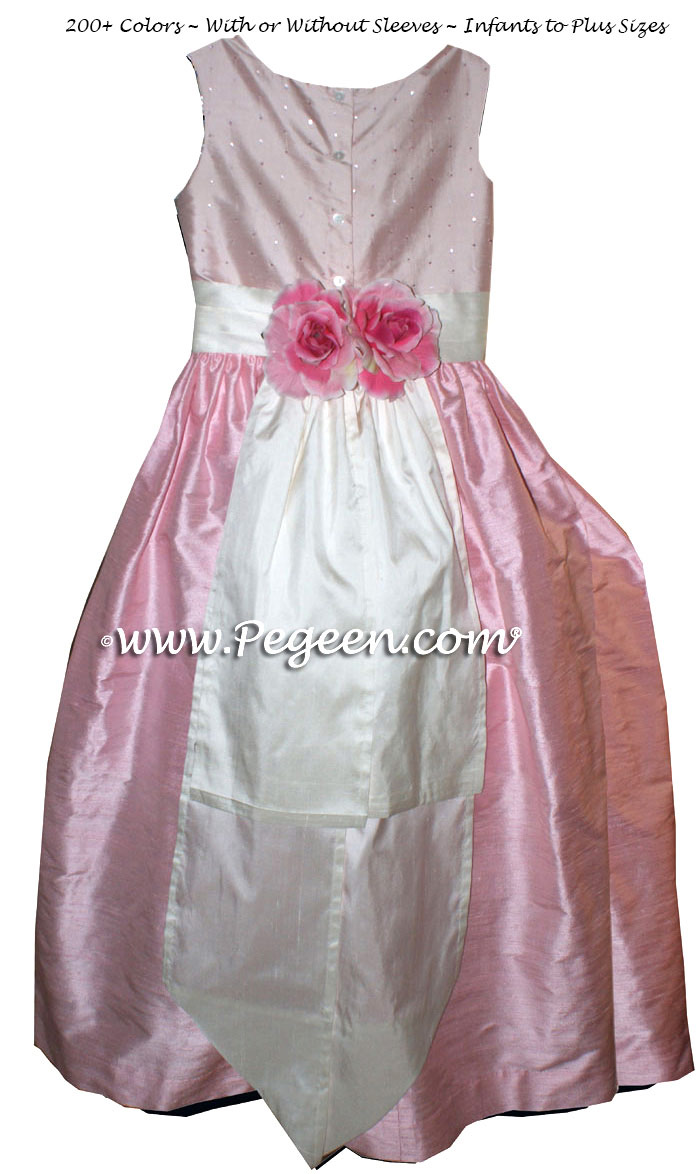 Pegeen Flower Girl Dress Company ~ 9147 State Rd 535 Orlando, FL 32836 ~ Shipping World Wide Since 1982