Flower girl dresses in Ivory and orange with sequins
This particular customer had a unique vision in mind for her Junior Bridesmaid Dresses, and at Pegeen, we are always excited to bring these visions to life. She chose our elegant Style 355 as the foundation for these special dresses. However, to make them truly distinctive, she decided to incorporate a vibrant burst of orange into the design. This creative addition not only added a pop of color but also allowed her to infuse a personal touch into the attire. To achieve this, she opted for special color flowers that would perfectly complement the dress, creating a stunning contrast. The result was a captivating ensemble that perfectly embodied her vision.
Making these customizations was a thoughtful process that reflected the bride's desire to ensure every detail was perfect for her flower girl. The addition of the orange flowers not only added a visually striking element but also conveyed a deeper significance, possibly symbolizing a favorite color or a special connection to the theme. It's in these personal touches that the true magic of customizing dresses lies. Our team at Pegeen took great care to seamlessly integrate these special color flowers into the dress, ensuring that they were not only beautiful but also comfortable for the young wearer.
It's worth noting that while these alterations added $36 to the cost of each dress, the result was priceless. These dress became not just a garment, but a piece of art that embodied the bride's unique vision and the love and care she put into every aspect of her special day. At Pegeen, we take pride in not only offering exquisite dresses but also in working closely with our customers to make sure their dreams come true. This customization was a testament to our commitment to providing tailored solutions and ensuring that every dress is not just a dress but a memory in the making.
There were no additional charges for this flower girl dress. Optional prices are subject to change. Check menus for current prices.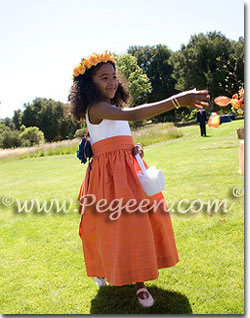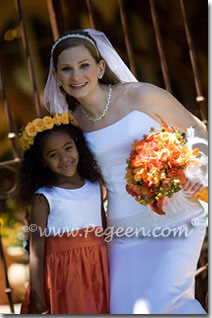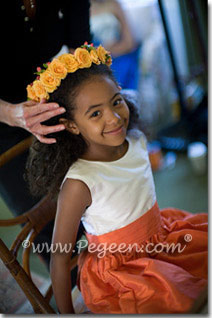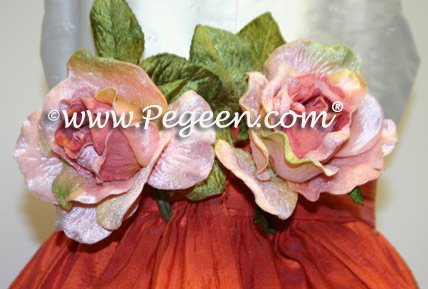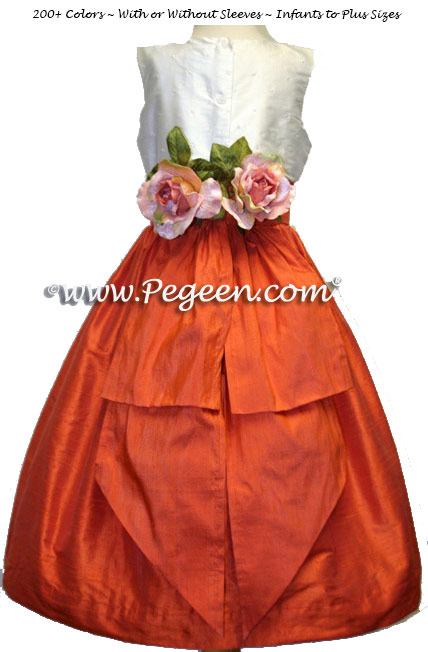 Pegeen Flower Girl Dress Company ~ 9147 State Rd 535 Orlando, FL 32836 ~ Shipping World Wide Since 1982