Black and shock pink silk and tulle flower girl dress
Centering her flower girl dresses on the distinct style 356 in Black, this customer embraced a bold and contrasting vision for the upcoming event. With an eye for making a statement, she opted for a striking Shock Pink sash that would undoubtedly capture attention. This choice of color injected vibrancy and energy into the ensemble, creating an eye-catching focal point against the black backdrop.
To further elevate the uniqueness of the design, the customer decided on black tulle for the flower girl dress. This choice added an extra layer of drama and depth to the outfit, imbuing it with an air of sophistication. The black tulle's graceful movement and textural richness promised to create a memorable visual effect as the flower girl walked down the aisle.
The result was a captivating and extraordinary ensemble that blended the elegance of black with the electrifying allure of Shock Pink. The combination of style 356's classic silhouette with the daring color choices showcased the customer's daring sense of style. The flower girl dresses, featuring the Shock Pink sash and black tulle, would undoubtedly make a lasting impression and contribute to the event's unique atmosphere.
There were no additional charges for this flower girl dress. Optional prices are subject to change. Check menus for current prices.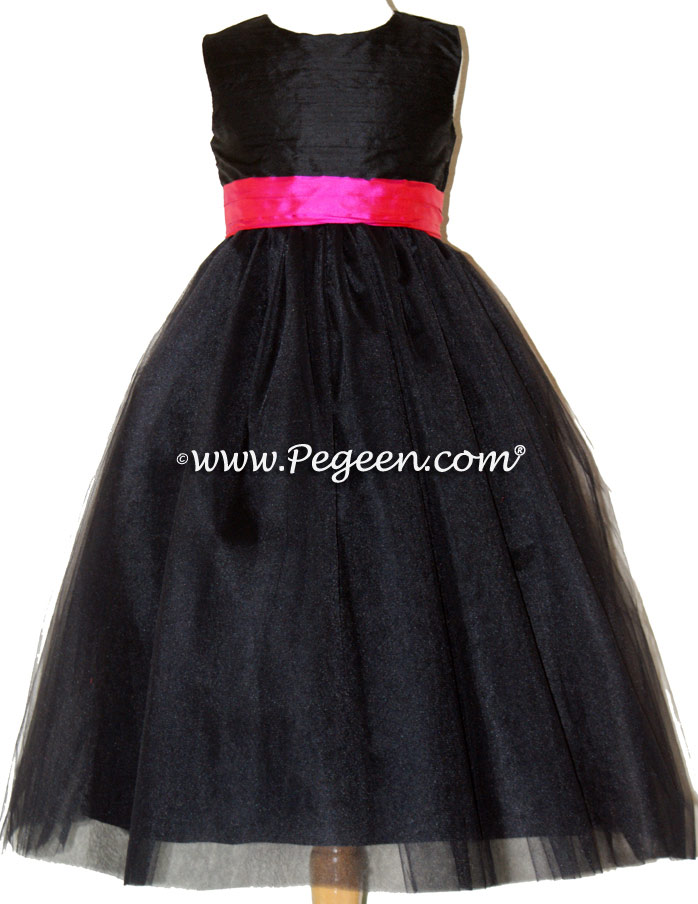 Pegeen Flower Girl Dress Company ~ 9147 State Rd 535 Orlando, FL 32836 ~ Shipping World Wide Since 1982