Chocolate brown & pumpkin orange silk flower girl dresses
In this lovely custom order, the customer decided to base her flower girl dresses on the classic and versatile style 356. Seeking a warm and inviting color combination, she opted for a rich chocolate hue as the base color, exuding elegance and charm. To add a pop of vibrant energy, she selected a striking pumpkin orange for the sash, creating a captivating contrast that beautifully complemented the overall theme of the wedding.
The dresses, adorned with the delightful combination of chocolate and pumpkin orange, radiated a sense of coziness and cheerfulness, perfectly suiting the autumnal ambiance of the special occasion. The deep, luscious tones of chocolate brought a touch of sophistication, while the lively pumpkin orange contributed a sense of playfulness and celebration. The flower girls, donned in these tastefully crafted ensembles, added a unique charm to the wedding procession, capturing the hearts of guests with their adorable presence.
With the alluring blend of chocolate and pumpkin orange, these flower girl dresses exemplified the perfect harmony of sophistication and warmth. The customer's choice in colors truly reflected her vision for a memorable wedding day, leaving a lasting impression on all who witnessed the magical celebration. The dresses embodied the spirit of love and joy, accentuating the happiness shared by the bride, groom, and their loved ones on this extraordinary day of union and new beginnings.
There were no additional charges for this flower girl dress. Optional prices are subject to change. Check menus for current prices.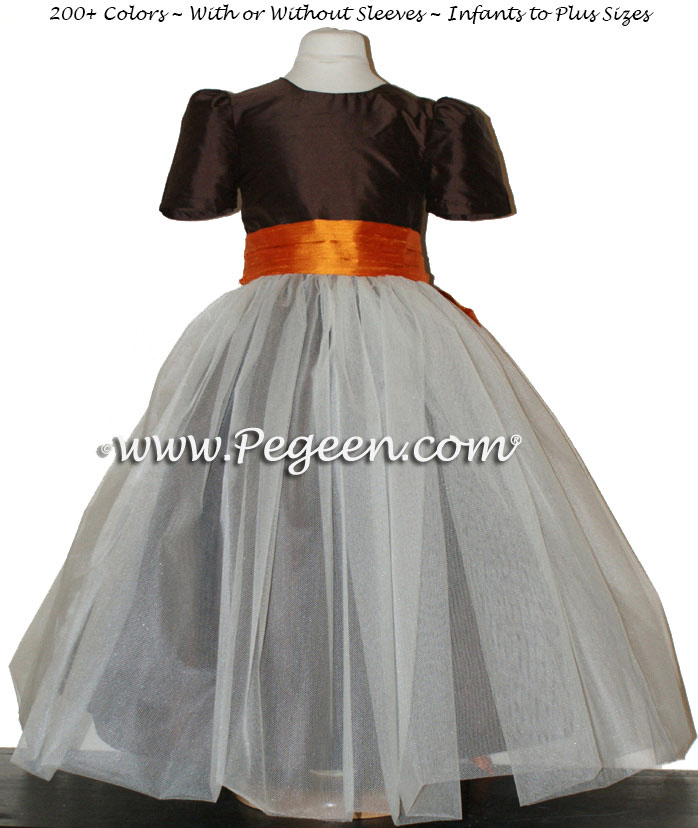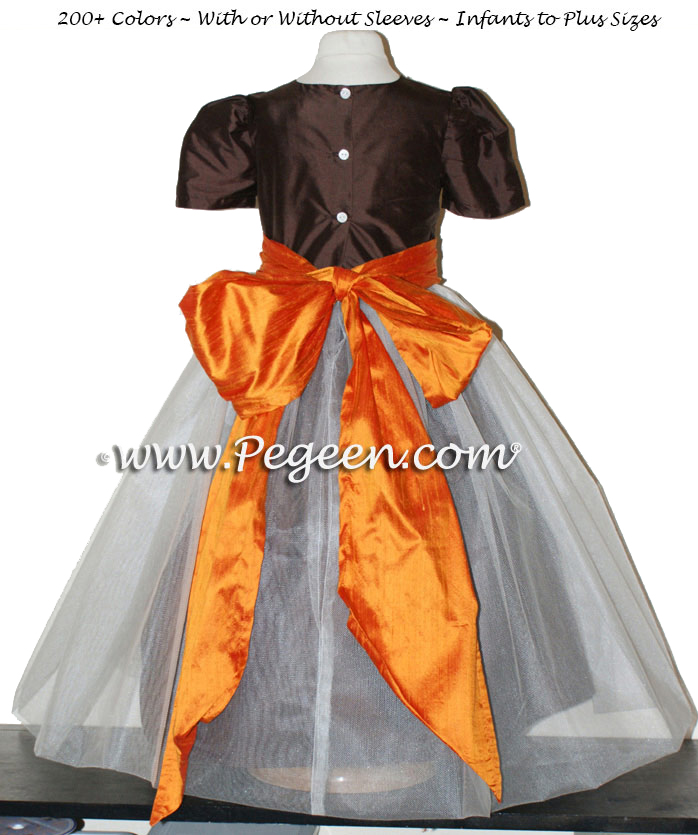 Pegeen Flower Girl Dress Company ~ 9147 State Rd 535 Orlando, FL 32836 ~ Shipping World Wide Since 1982