Jasmine Green and Navy Tulle Silk Flower Girl Dress
Our bride had a vision of enchantment for her special day, and she knew exactly how she wanted her flower girl dresses to complement the overall theme. With style 356 as the canvas, she began to weave her dream into reality. The captivating combination of navy tulle and a delicate jasmine sash created a mesmerizing contrast that would make the flower girls look like they stepped out of a fairy tale.
To elevate the ethereal charm of the dresses, the bride decided to add an extra layer of navy tulle to the skirt, creating a graceful cascade that would flow with every step the little princesses took. The final result was breathtaking, as the gowns exuded a sense of elegance and sophistication that perfectly aligned with the wedding's magical ambiance.
The flower girl dresses were more than just charming outfits; they were an essential part of creating a cherished memory for the bride, her flower girls, and all the guests who were fortunate enough to witness the beauty and grace of this enchanting moment. The choice of style 356, combined with the intricate details, truly made the flower girls feel like the stars of the show, adding an extra touch of enchantment to an already magical wedding day.
There were no additional charges for this flower girl dress. Optional prices are subject to change. Check menus for current prices.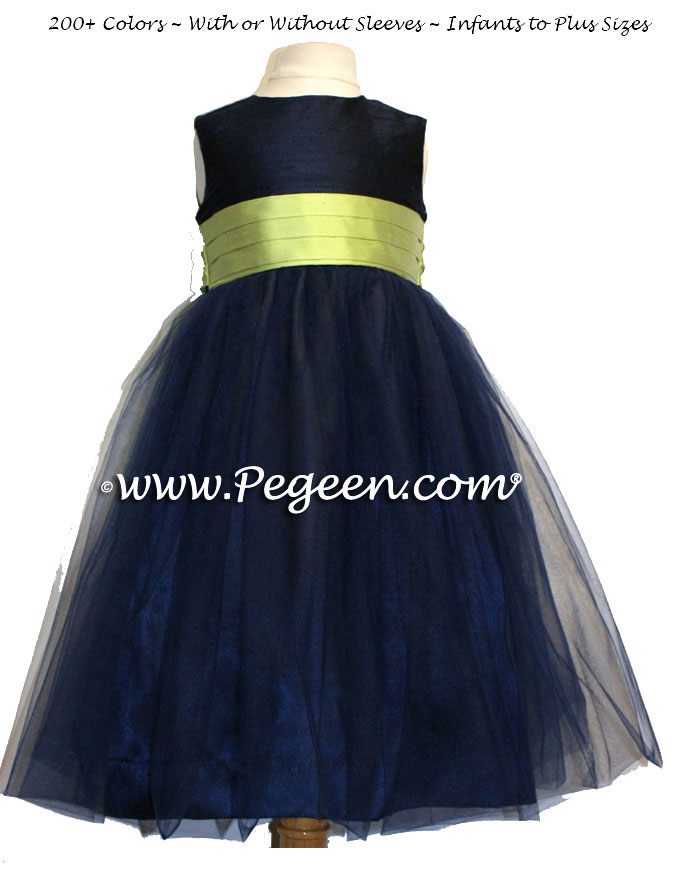 Pegeen Flower Girl Dress Company ~ 9147 State Rd 535 Orlando, FL 32836 ~ Shipping World Wide Since 1982