Custom Flower Girl Dress in Tiffany and Lime Tulle Style 356
This bride wanted three flower girl dresses - to compliment the green and teal theme. For the dresses she used style 356 and two different looks for her flower girl dresses and wanted to create a truly unique and customized look. For the two older girls, she wanted antique white with the lime green sash. For the toddler dress, instead of the traditional skirt, she decided to swap it with a delicate and ethereal tulle overlay, adding a touch of whimsy and elegance to the dresses. Additionally, she carefully selected a specific color that perfectly complemented the overall theme and aesthetic of the wedding. The skilled team at Pegeen worked closely with the customer to bring her vision to life, ensuring that all of her requested changes and modifications were seamlessly incorporated into the design. The end result was a stunning collection of flower girl dresses that were not only beautiful and stylish but also perfectly tailored to the customer's preferences and individuality.
There were no additional charges for this flower girl dress. Optional prices are subject to change. Check menus for current prices.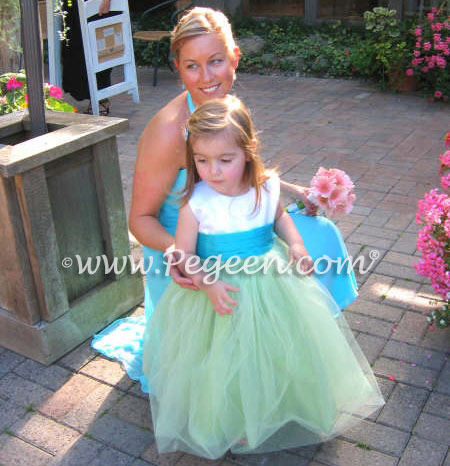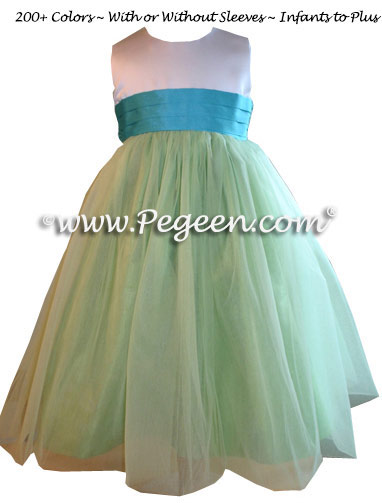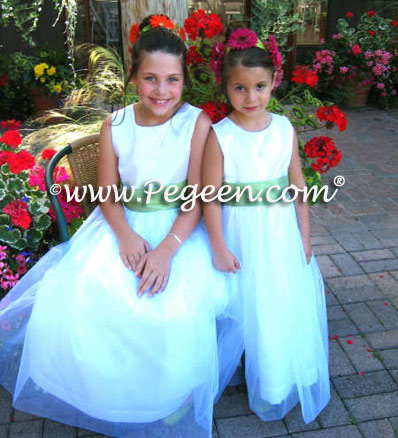 Pegeen Flower Girl Dress Company ~ 9147 State Rd 535 Orlando, FL 32836 ~ Shipping World Wide Since 1982