Tulle Style 356 Flower Girl Dress in Ivory and Navy silk
In search of timeless elegance and grace, this customer's choice led her to Style 356, where navy tulle silk flower girl dresses would weave magic into her special day. The navy base, like a midnight sky, was adorned with a new ivory sash, creating a delightful contrast that enchanted all who beheld it. Determined to add a dash of whimsy and individuality, she opted for navy tulle to cascade gracefully over the skirts, accentuating the fairy-like charm of the dresses.
Embracing the opportunity to customize, the customer playfully upgraded to a ruffled sash, adding an extra $10 worth of charm to each dress. The result was a delightful transformation, as the dresses now boasted a touch of fun and texture, mirroring the jubilant spirit of the occasion. With Style 356 as the canvas, and the customer's creative vision as the brush, the flower girl dresses became a captivating masterpiece that radiated elegance, enchantment, and joy throughout the celebration.There were no additional charges for this flower girl dress. Optional prices are subject to change. Check menus for current prices.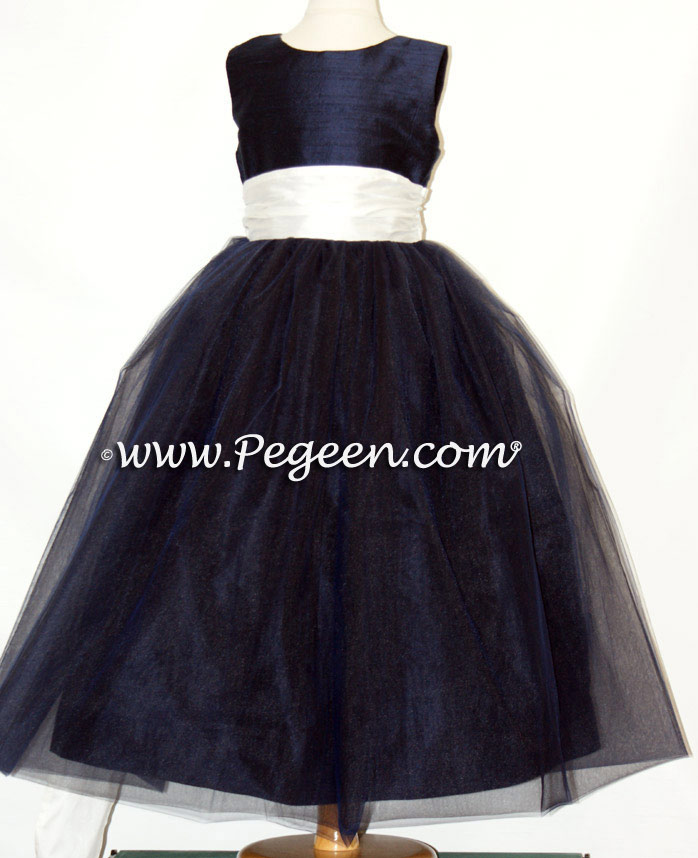 Pegeen Flower Girl Dress Company ~ 9147 State Rd 535 Orlando, FL 32836 ~ Shipping World Wide Since 1982