Antique White Damask Tulle Custom Flower Girl Dresses
Entranced by the timeless elegance of Style 356, this customer embarked on a journey to create captivating flower girl dresses that embodied a classic charm. Opting for a pure and sophisticated look, she chose Antique White as the color theme for the entire ensemble. The choice exuded a sense of purity and innocence, resonating with the essence of blossoming youth.
To add a touch of refinement and intricacy, the customer opted for a damask bodice, which gracefully adorned the dresses with delicate patterns. This enchanting addition elevated the dresses to new heights of sophistication, turning each flower girl into a living work of art. The result was an ensemble that emanated an aura of timeless beauty, leaving the guests spellbound by the sheer elegance and grace of the little attendants. Embodying the epitome of grace and style, the flower girl dresses captured the hearts of all who beheld them, symbolizing the purity and hope that flowers bring to every celebration.There were no additional charges for this flower girl dress. Optional prices are subject to change. Check menus for current prices.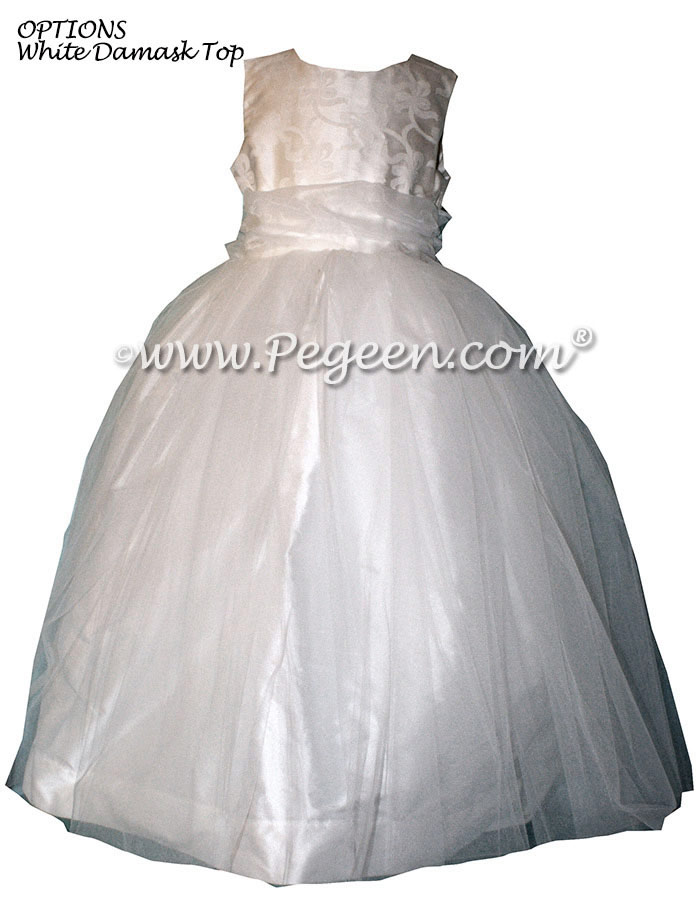 Pegeen Flower Girl Dress Company ~ 9147 State Rd 535 Orlando, FL 32836 ~ Shipping World Wide Since 1982