Flower Girl Dresses in Wisteria and Ivory Silk Style 359
In the pursuit of timeless elegance, a discerning customer embarked on a customization journey, selecting Style 359 as the canvas for her flower girl dresses. Opting for a delicate and refined color palette, the customer chose the enchanting hue of wisteria for the sash, infusing the ensemble with a sense of romance and sophistication. This choice not only introduced a subtle pop of color but also created a harmonious contrast against the chosen base color. For the base, the customer selected the timeless and versatile new ivory silk, creating a soft and luxurious foundation that would exude classic charm.
The wisteria sash gracefully accentuated the waist, adding a touch of whimsy and visual interest to the flower girl dresses inspired by Style 359. The delicate shade of wisteria complemented the new ivory silk, creating a perfect balance between subtlety and sophistication. Style 359, known for its graceful silhouette and classic design elements, seamlessly embraced the customer's vision, ensuring that the flower girl dresses would radiate timeless beauty. This thoughtful combination of wisteria and new ivory showcased the customer's keen eye for color coordination, resulting in an ensemble that captures the essence of refined elegance.
As a final touch to elevate the enchantment, the customer opted for an organza overskirt, introducing an ethereal layer that enhanced the overall movement and appeal of the flower girl dresses. This whimsical addition not only added a delicate texture but also created a sense of airiness and lightness, transforming the dresses into ethereal creations that perfectly suited the occasion. The wisteria sash, new ivory silk base, and the organza overskirt harmonized seamlessly, creating a bespoke ensemble that not only met but exceeded the customer's expectations.
There were no additional charges for this flower girl dress. Optional prices are subject to change. Check menus for current prices.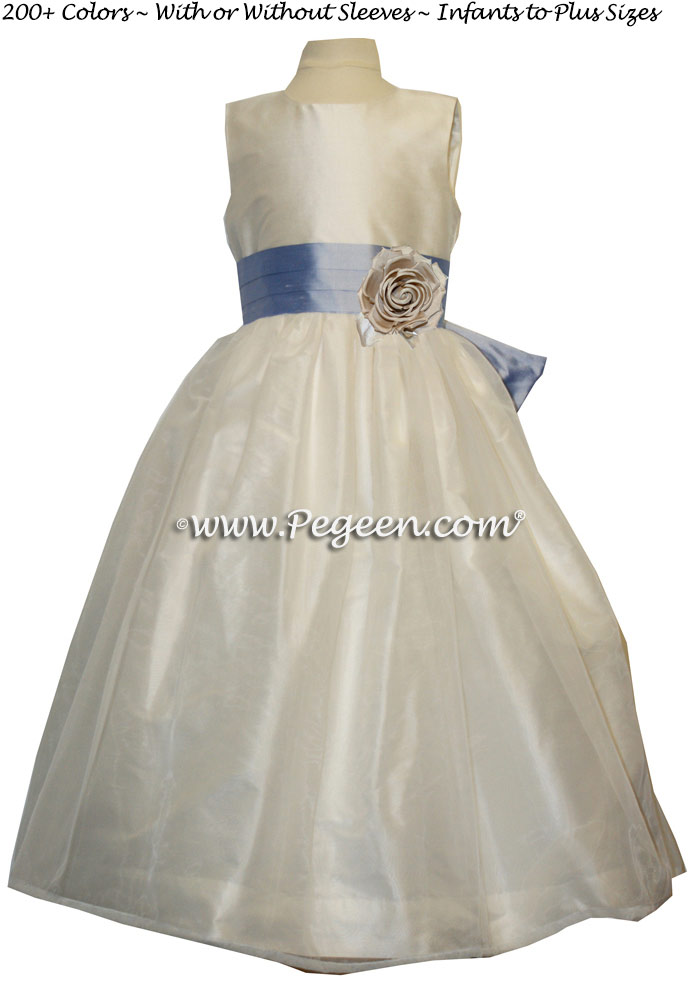 Pegeen Flower Girl Dress Company ~ 9147 State Rd 535 Orlando, FL 32836 ~ Shipping World Wide Since 1982