Bisque and Navy tulle flower girl dresses Style 326
In the delightful journey of creating flower girl dresses that encapsulate both charm and sophistication, a thoughtful customer selected Style 326 as the ideal canvas for her vision. The chosen color palette, a unique and special combination of Bisque and Navy in silk, set the stage for an ensemble that radiates elegance and timeless grace. The selection of Bisque introduced a soft and delicate hue, creating a foundation that resonates with innocence and purity. Paired with Navy, the ensemble takes on a sophisticated and regal aura, offering a blend of colors that ensures the flower girl dresses make a lasting impression.
Tailored for a little toddler, the flower girl dresses based on Style 326 were crafted with meticulous attention to detail to ensure comfort and style. The choice of Bisque and Navy in silk not only adds a luxurious touch but also provides a smooth and gentle texture suitable for a young wearer. Style 326, known for its versatility, seamlessly adapted to the needs of the little one, ensuring that the flower girl dresses are both adorable and age-appropriate. This thoughtful combination of design and color showcases the customer's commitment to creating a special and memorable ensemble for her little toddler to shine in.
The Bisque and Navy silk dresses for the flower girl, inspired by Style 326, become a visual symphony of sophistication and sweetness. The duo of colors, carefully chosen for their harmony, adds a touch of magic to the wedding celebration. This bespoke creation not only fulfills the customer's vision but also highlights the adaptability and versatility of Style 326, ensuring that the little toddler becomes a delightful and charming presence in the bridal party.
There were no additional charges for this flower girl dress. Optional prices are subject to change. Check menus for current prices.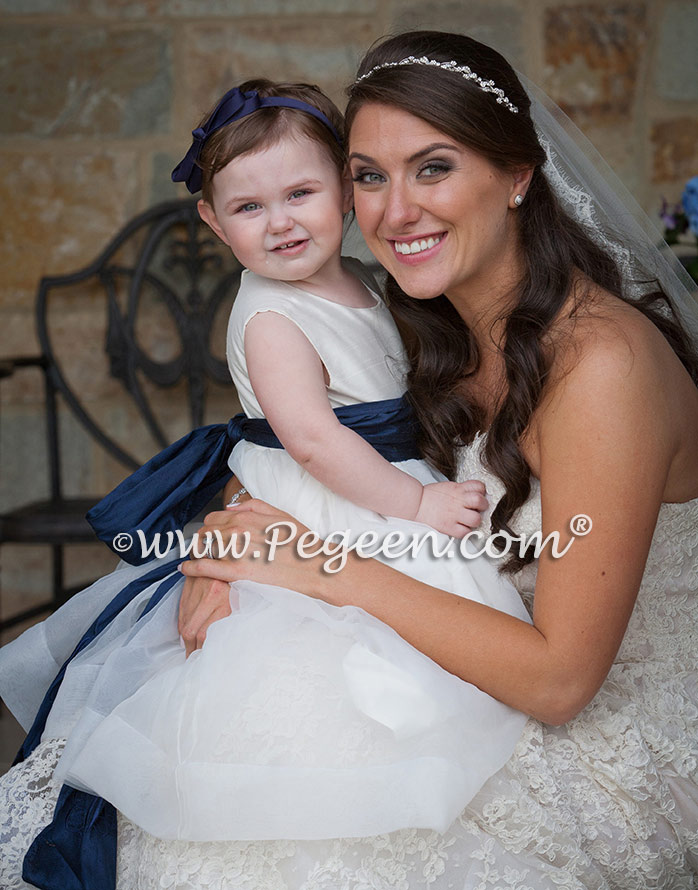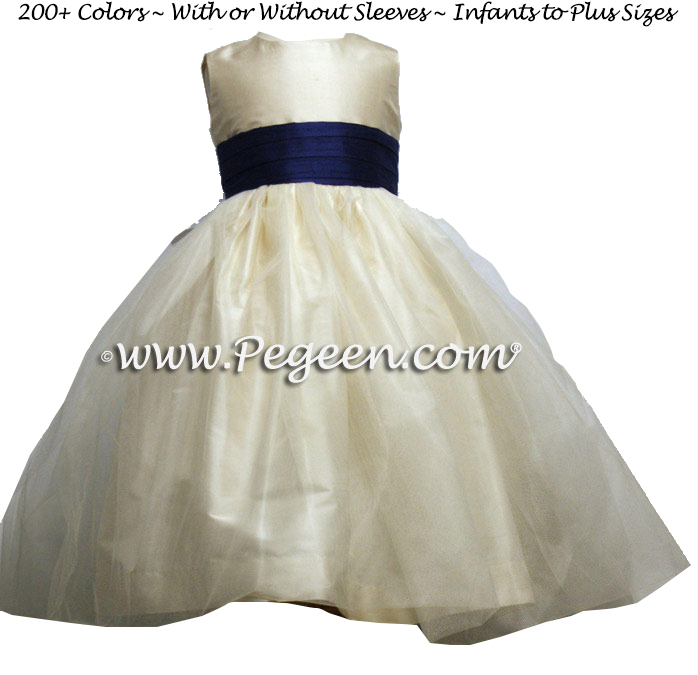 Pegeen Flower Girl Dress Company ~ 9147 State Rd 535 Orlando, FL 32836 ~ Shipping World Wide Since 1982