Jr. Bridesmaid Dress in Aqualine Silk Style 388
In the pursuit of refined elegance, our customer embarked on a journey to craft a distinctive Jr. Bridesmaid dress based on the timeless Style 388. Seeking a color that would encapsulate both freshness and sophistication, the customer opted for a captivating aqualine as the base hue. This choice set the stage for a dress that would seamlessly blend modern chic with a touch of classical charm, creating an ensemble that not only complements the bridal party but also stands out as a tasteful and unique piece.
The aqualine base color, reminiscent of serene ocean waters, added a touch of tranquility and grace to the Jr. Bridesmaid dress. This shade exuded a sense of calmness and versatility, making it an ideal canvas for various wedding themes. Style 388, known for its versatility in design, embraced the aqualine hue effortlessly, creating a dress that resonates with the customer's vision of understated beauty and timeless style. The resulting ensemble is a celebration of both the individuality of the wearer and the adaptability of our designs.
In celebrating the culmination of this collaboration between the customer's creativity and the design elements of Style 388, the Jr. Bridesmaid dress in aqualine emerged as a unique expression of refined sophistication. This bespoke creation not only honors the chosen color but also showcases the adaptability and versatility that define our commitment to delivering personalized and exceptional attire for every special occasion.
There were no additional charges for this flower girl dress. Optional prices are subject to change. Check menus for current prices.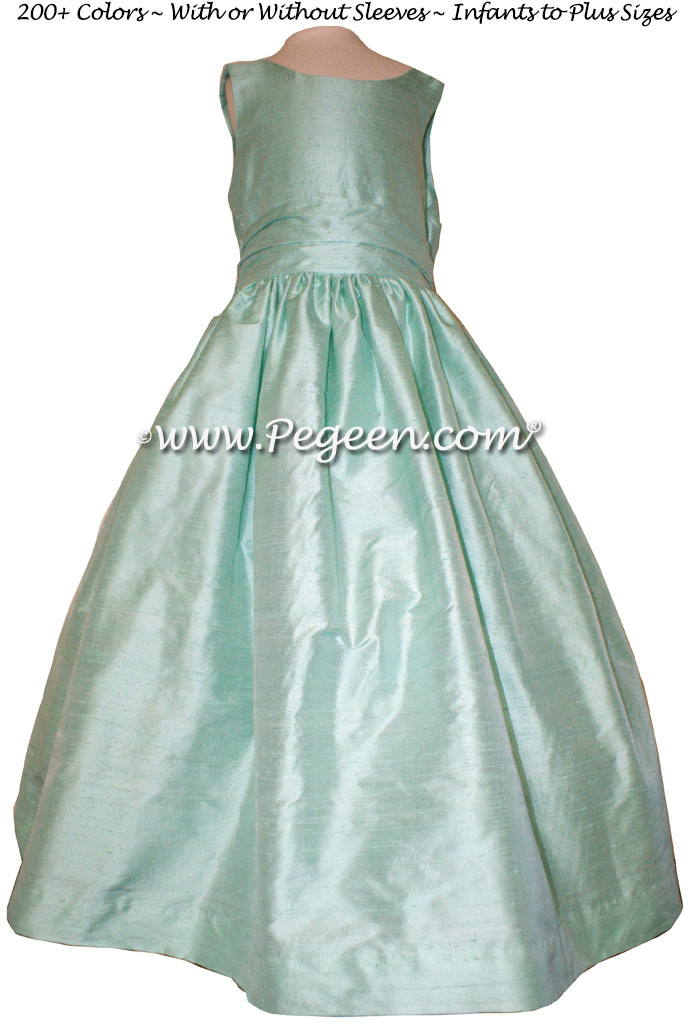 Pegeen Flower Girl Dress Company ~ 9147 State Rd 535 Orlando, FL 32836 ~ Shipping World Wide Since 1982