Blush pink and brown silk flower girl dress | Style 398
In the pursuit of a refined and sophisticated aesthetic for her flower girl dresses, a discerning customer embarked on a creative journey inspired by Style 398. The customer's vision unfolded with a distinct choice for the bodice, opting for the rich and luxurious semi-sweet (dark brown) silk. This choice set the tone for an ensemble that exudes timeless elegance, adding a touch of depth and warmth to the overall design. The semi-sweet silk bodice became a focal point, creating a sophisticated foundation for the flower girl dresses that would seamlessly integrate with the wedding's color palette.
To enhance the delicate and feminine elements of the dresses, the customer selected a blush pink for both the sash and skirt. This thoughtful choice introduced a soft and romantic touch, creating a harmonious interplay of colors that adds a sense of purity and grace to the ensemble. The blush pink sash and skirt became the perfect complement to the semi-sweet silk bodice, creating a balanced and visually stunning composition. This combination of dark brown and blush pink not only reflects the customer's keen eye for design but also highlights the adaptability of Style 398 to bring her unique vision to life.
As a result of this collaboration between the customer's creativity and the design elements of Style 398, the flower girl dresses emerged as a sophisticated and timeless addition to any wedding celebration. The semi-sweet silk bodice paired with the blush pink sash and skirt creates a dress that captures the essence of refined beauty, ensuring that the little ones in the bridal party make a lasting impression with their elegance and grace.
There were no additional charges for this flower girl dress. Optional prices are subject to change. Check menus for current prices.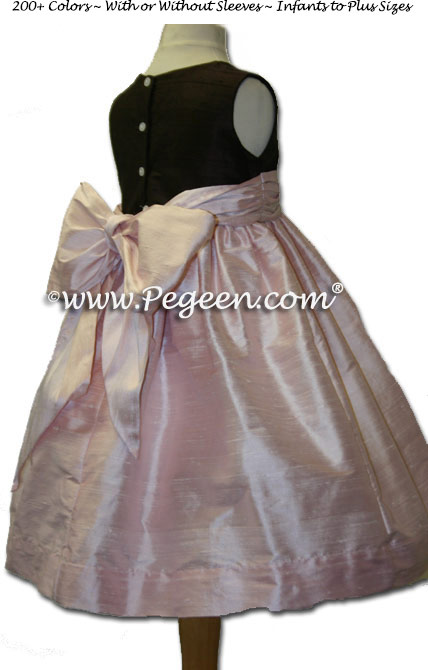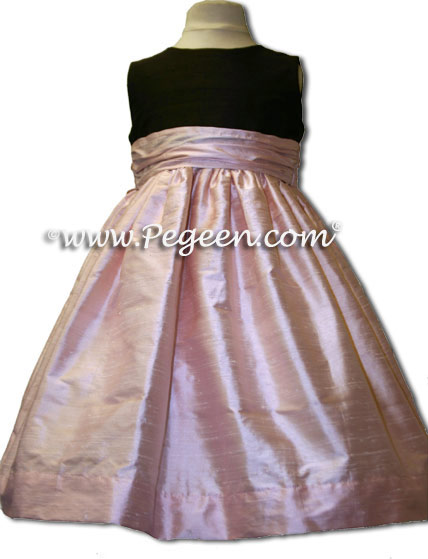 Pegeen Flower Girl Dress Company ~ 9147 State Rd 535 Orlando, FL 32836 ~ Shipping World Wide Since 1982