Jr Bridesmaids Dresses in Goldenrod Yellow Style 388
In a radiant burst of creativity, our valued customer embarked on a bespoke journey, selecting the captivating goldenrod yellow silk as the base for her dress inspired by Style 388. The choice of goldenrod yellow infused the ensemble with a warm and vibrant glow, creating a striking visual impact that radiates joy and positivity. Complementing this bold base, the customer opted for a bustle of buttercream, introducing a delicate and contrasting layer that adds depth and dimension to the overall design. This thoughtful combination of goldenrod yellow and buttercream transforms the dress into a luminous masterpiece, capturing the essence of the customer's unique style.
Style 388, known for its versatile design elements, proved to be the perfect canvas for this creative endeavor. The dress features a self-tie in the back, adding a touch of individuality and adaptability to the garment. This charming detail not only enhances the overall aesthetic but also ensures a personalized fit, allowing the wearer to tailor the dress to their comfort and style preferences. The self-tie element becomes both a functional and decorative aspect, contributing to the overall allure of the dress and highlighting the customer's attention to detail.
In celebrating the culmination of this collaborative design process, the goldenrod yellow silk base, buttercream bustle, and the self-tie detail of Style 388 harmoniously come together. The result is a bespoke dress that not only meets but exceeds the customer's expectations, showcasing the seamless integration of their vision with the versatile and adaptable design elements of our styles.
There were no additional charges for this flower girl dress. Optional prices are subject to change. Check menus for current prices.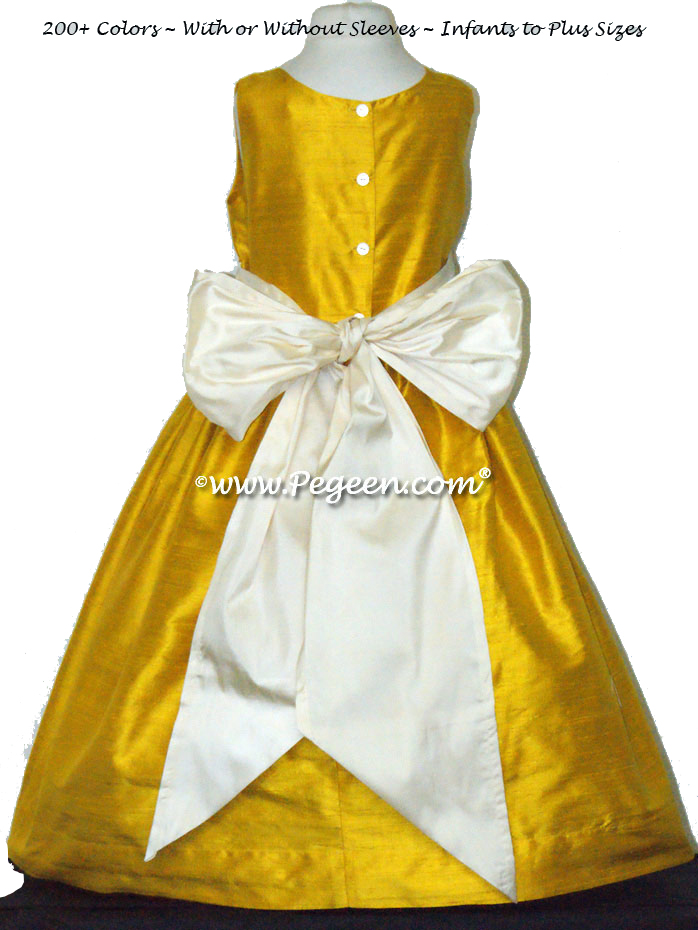 Pegeen Flower Girl Dress Company ~ 9147 State Rd 535 Orlando, FL 32836 ~ Shipping World Wide Since 1982