Flower Girl Dresses in White & Pure Gold | Style 394
For this special occasion, the customer's vision came to life as they opted for a timeless combination of colors. Antique white was selected for the delicate sash and tulle, evoking an air of elegance. The pure gold silk dress added a touch of opulence, harmonizing beautifully with the chosen theme.
Embracing simplicity and sophistication, the flower girl dress was carefully crafted to reflect the customer's unique preferences. The subtle interplay between antique white and pure gold created a striking contrast that radiated charm and grace. With meticulous attention to detail, the dress seamlessly blended these shades, resulting in a truly captivating ensemble.
A hallmark of the collaboration was the absence of additional charges, reflecting Pegeen's commitment to delivering exceptional quality without compromising on budget. The customer's choice of colors and design demonstrated a keen eye for aesthetic balance, ensuring the flower girl dress would perfectly complement the occasion. With antique white, pure gold, and careful craftsmanship, the dress became a focal point of beauty, reflecting the customer's impeccable taste.
Optional prices are subject to change. Check menus for current prices.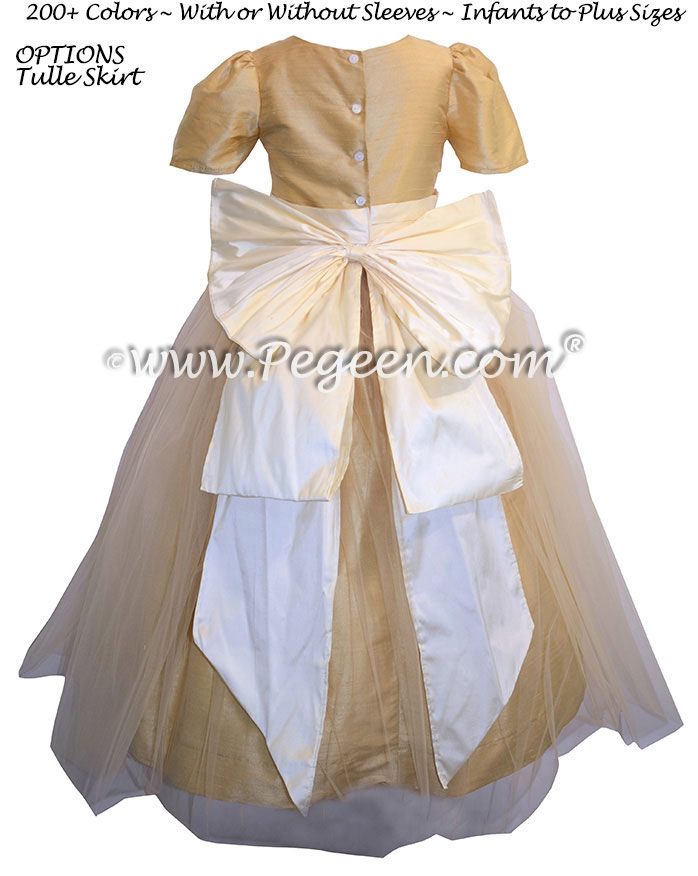 Pegeen Flower Girl Dress Company ~ 9147 State Rd 535 Orlando, FL 32836 ~ Shipping World Wide Since 1982