Organza, Navy and Denim Blue Silk Flower Girl Dress
When envisioning her flower girl dresses, this customer's choice was clear: she found her inspiration in style 394, which served as the perfect canvas for her creative vision. To bring her concept to life, she embarked on a thoughtful customization journey. For the base of the dresses, she opted for a distinctive denim fabric that added a touch of casual charm to the ensemble. The denim bottom promised a unique and memorable look that would stand out while perfectly suiting the occasion.
To further craft an enchanting attire, she chose an antique white bodice. This elegant shade provided a refined contrast to the denim bottom, introducing an element of sophistication to the dresses. The combination of denim and antique white established a harmonious balance between casual and elegant, resulting in a visually captivating ensemble that reflected the customer's taste.
Completing the customization, she decided on a navy back bow, adding a pop of color that tied the dresses to the event's color scheme. The navy bow served as a striking focal point, drawing attention to the back of the dresses and creating a delightful element of visual interest. This thoughtful detail brought together the various components of the dresses, resulting in a well-coordinated and charming ensemble that seamlessly integrated denim, antique white, and navy.
In summary, the customer's choice to base her flower girl dresses on style 394 led to a truly exceptional result. The incorporation of denim, antique white, and a navy back bow showcased her attention to detail and creativity. This one-of-a-kind ensemble embodied a perfect blend of casual and elegant, making the dresses a wonderful addition to the special occasion.
There were no additional charges for this flower girl dress. Optional prices are subject to change. Check menus for current prices.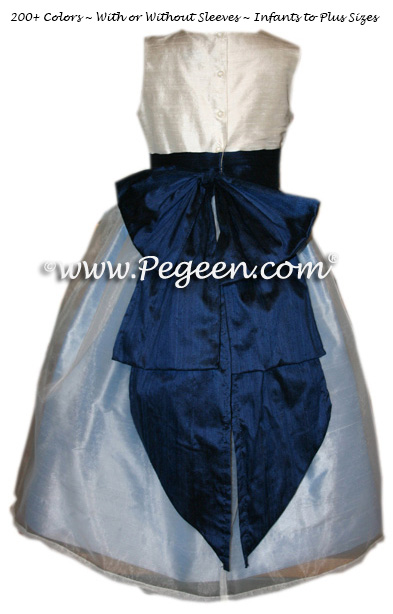 Pegeen Flower Girl Dress Company ~ 9147 State Rd 535 Orlando, FL 32836 ~ Shipping World Wide Since 1982