Flower Girl Dress in Tangerine Orange with Aloncon Lace
This particular customer embarked on the journey to create a set of exquisite couture flower girl dresses, selecting our versatile Style 402 as the foundation. Her keen eye for design and detail was evident in her choice of Tangerine Orange and New Ivory silk, carefully coordinated to complement the French Alençon lace and tulle ensemble worn by her junior bridesmaids. This intricate couture dress featured a stunning 12 layers of tulle and silk, resulting in a sumptuously full and luxurious design that promised to make a statement.
The customization didn't end with the fabric choices. The bride opted to add sleeves to the dresses, a thoughtful addition that came at no extra charge. The beauty of this decision lay in its flexibility; the sleeves could be lined for a more polished look or unlined for a delicate, ethereal touch. To enhance the overall elegance and grandeur, a beaded and sequined Alençon lace detail was introduced at an additional cost of $85. This exquisite embellishment imparted a rich, ornate quality to the dresses, ensuring they would be truly captivating.
Moreover, the customer had a vision of a subtle, captivating shimmer, which was achieved through the incorporation of Crystal Tulle, a choice that came at a modest additional cost of +$20. This feature added a delicate glimmer and sheen, elevating the dresses to a level of enchantment.
There were no additional charges for this flower girl dress. Optional prices are subject to change. Check menus for current prices.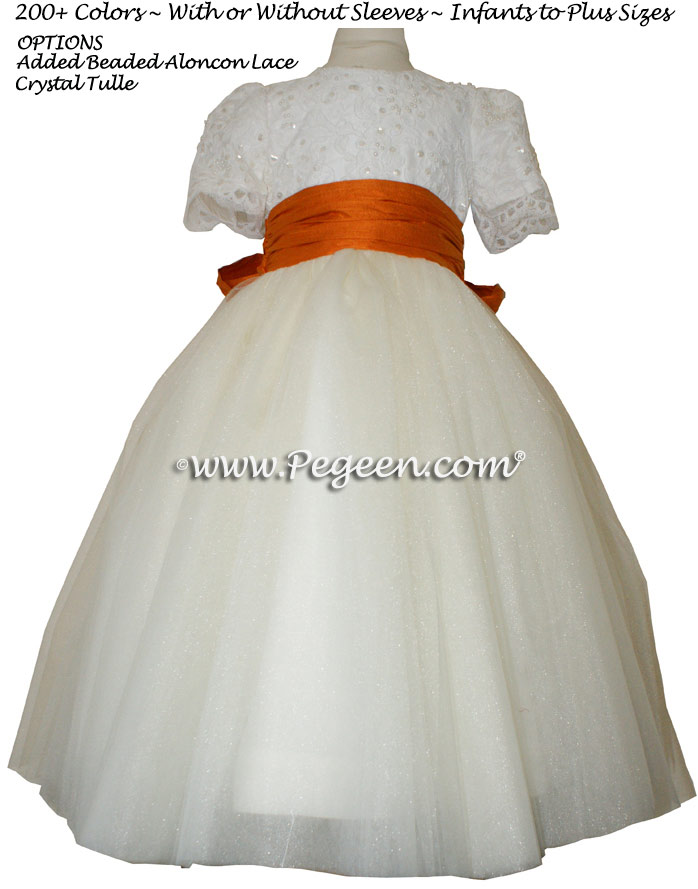 Pegeen Flower Girl Dress Company ~ 9147 State Rd 535 Orlando, FL 32836 ~ Shipping World Wide Since 1982