Style 413 Blue and White flower girl dress with Aloncon Tulle
When Lisa, a cherished repeat customer, approached us with the delightful task of creating two flower girl dresses, each catering to a different age group, we knew something magical was in the making. With her clear vision and our expertise, the result was nothing short of enchanting.
For the older junior bridesmaid, we selected our sophisticated Style 413 as the canvas for her dress. To set the stage for elegance, we chose a serene Antique White as the foundation color, providing a classic backdrop for the masterpiece in the making. Lisa envisioned a touch of Dusk Blue to grace this creation, adorning it with a Cinderella Sash. This exquisite sash, priced at +$20, added an extra layer of grandeur to the ensemble.
But the artistry didn't stop there. To truly elevate the design, we incorporated a Sweetheart Neck (+$5), infusing an element of timeless sophistication into the dress. This subtle yet impactful addition framed the neckline beautifully, transforming the dress into a symbol of grace and charm.
The pièce de résistance was our decision to upgrade to the Beaded and Sequined Alençon Lace (+$35). This lace, with its delicate shimmer and intricate detailing, was the perfect choice to add a touch of opulence to the dress. Every stitch and bead told a story of elegance and style, a story that would be forever cherished in the memories of Lisa's daughter's wedding.
The younger flower girl's dress, a companion to the junior bridesmaid's ensemble, shared the same Dusk Blue Cinderella Sash, ensuring a harmonious link between the two dresses. Lisa's vision had come to life - a vision where her daughter's wedding was adorned with distinctive, age-appropriate flower girl dresses that were truly captivating.
This creation is a living testament to the enchanting results that can be achieved when a customer's unique vision merges with our commitment to crafting exquisite, one-of-a-kind flower girl dresses. At Pegeen, we take immense pride in helping transform your dreams into reality, one carefully placed stitch at a time. It's not just about dresses; it's about creating enduring memories and making every moment magical.
There were no additional charges for this flower girl dress. Optional prices are subject to change. Check menus for current prices.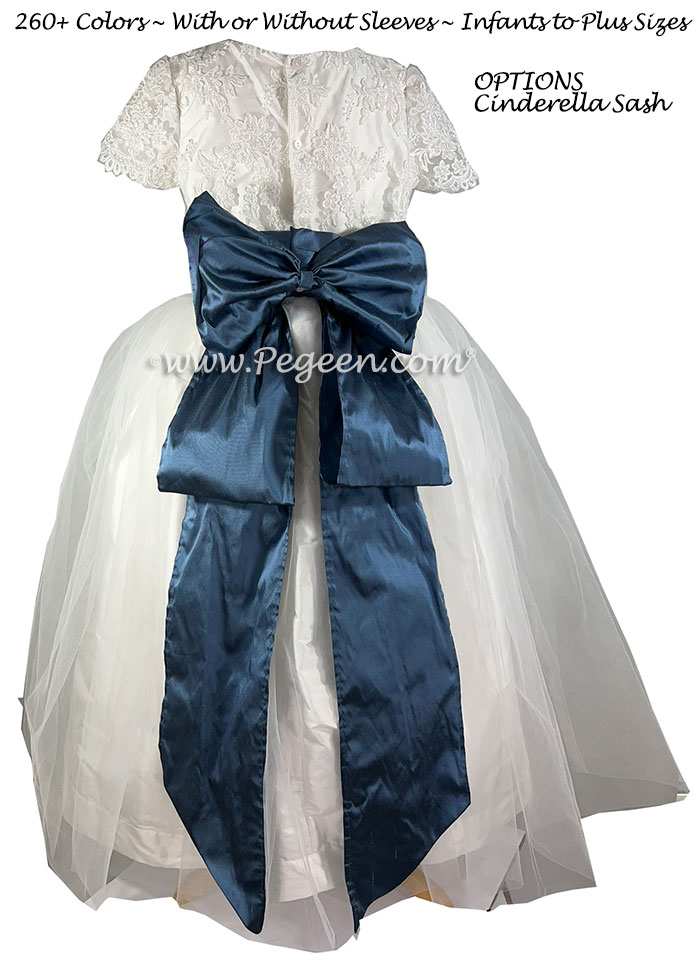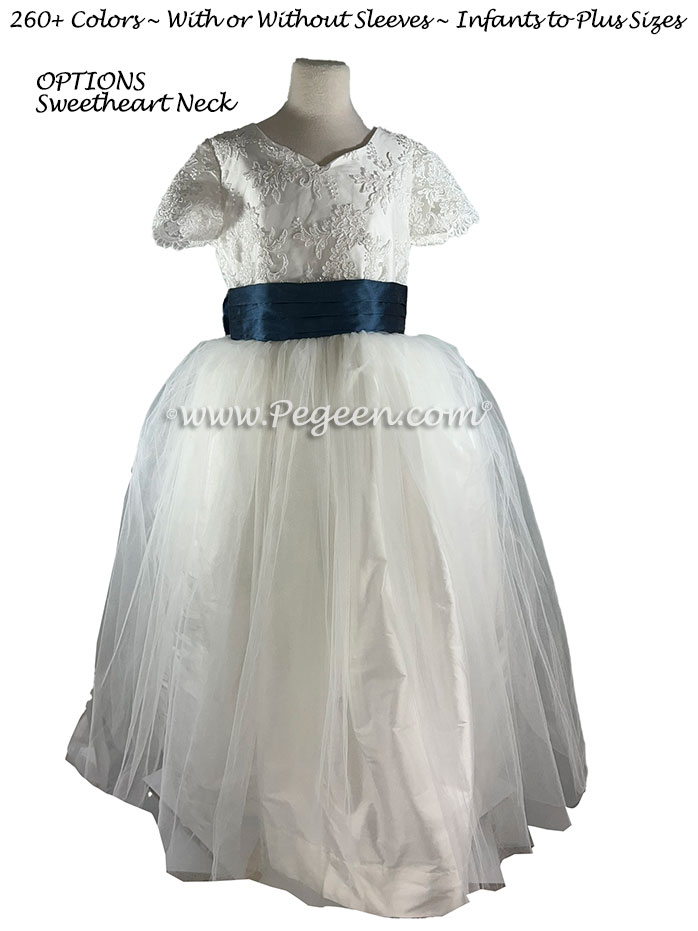 Pegeen Flower Girl Dress Company ~ 9147 State Rd 535 Orlando, FL 32836 ~ Shipping World Wide Since 1982