Ivory Silk Princess Kate Flower Girl Dress with Pleating
In the quest for regal elegance with a touch of versatility, a discerning customer turned to our couture Style 601, a splendid creation from the regal collection aptly named Princess Kate. This particular choice signifies a commitment to sophistication and timeless design, making it a perfect canvas for crafting exquisite flower girl dresses. Inspired by a vision that transcends the traditional wedding setting, the customer selected bisque as the base color, evoking a sense of subtle warmth and sophistication. To add a touch of depth and richness, Adriatic blue was chosen for the sash, creating a visually striking and harmonious combination.
The bisque and Adriatic blue color palette transforms the flower girl dresses into a work of art that transcends its wedding origin. Bisque, with its soft and neutral tone, establishes a refined foundation that is both versatile and elegant. Adriatic blue, in turn, introduces a regal and majestic element, infusing the ensemble with a sense of drama and sophistication. Style 601, renowned for its intricate detailing and royal aesthetic, seamlessly embraces the chosen colors, resulting in flower girl dresses that exude both grace and grandeur. This thoughtful combination of bisque and Adriatic blue showcases the customer's discerning taste, creating an ensemble that is equally suited for a theatrical performance as it is for a wedding celebration.
To cater to the specific needs of The Nutcracker Ballet performance, a few customizations were made to ensure the dresses aligned seamlessly with the production's requirements. These alterations not only showcase the adaptability of Style 601 but also demonstrate our commitment to bringing the customer's vision to life. Whether gracing a wedding aisle or a grand theatrical stage, the flower girl dresses crafted from Princess Kate's regal collection serve as a testament to the timeless beauty and versatility of exquisite couture.
There were no additional charges for this flower girl dress. Optional prices are subject to change. Check menus for current prices.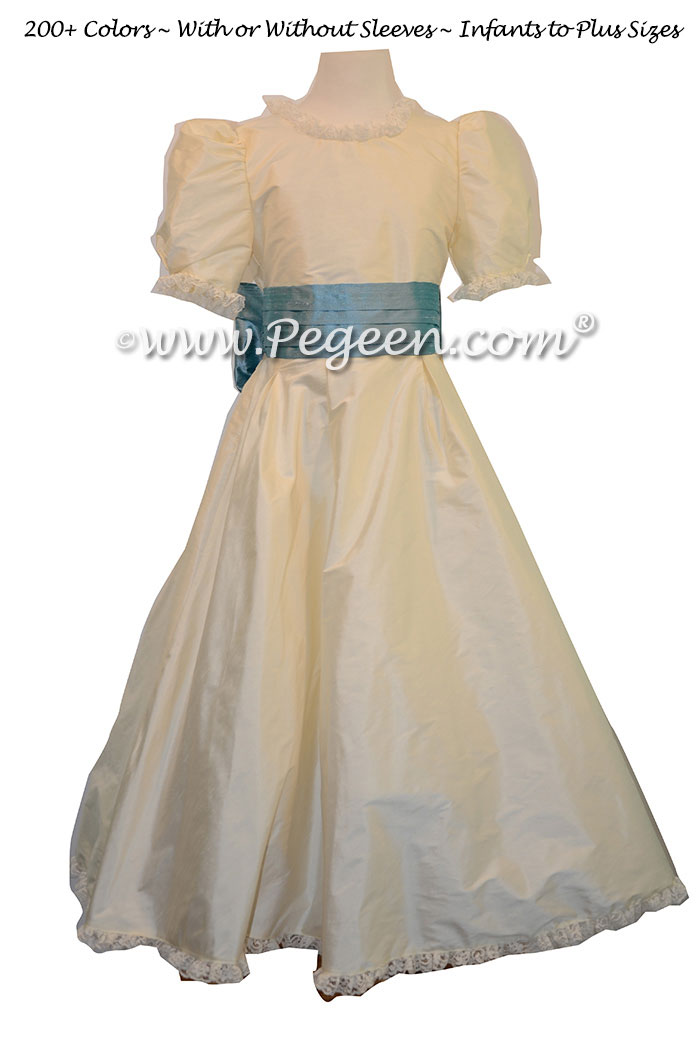 Pegeen Flower Girl Dress Company ~ 9147 State Rd 535 Orlando, FL 32836 ~ Shipping World Wide Since 1982