Black Silk flower girl dresses with Dew Drop Tulle
In the world of flower girl dresses, the choice of style and color can make all the difference. This customer's selection of style 697 sets the stage for a timeless and elegant look. The decision to go with a Black bodice top adds a touch of sophistication to the ensemble, making it stand out in a crowd of traditional choices. The contrast created by the black bodice against the white Alençon lace, adorned with intricate beading and sequins, creates a visually captivating effect.
The black and white color combination not only adds a classic touch but also allows the dress to seamlessly fit into a variety of wedding themes and color palettes. The Alençon lace, with its delicate beading and sequins, brings a sense of opulence and luxury to the design. It's a testament to the customer's keen eye for detail and their desire to create a flower girl dress that combines timeless elegance with a touch of modern flair.
.There were no additional charges for this flower girl dress. Optional prices are subject to change. Check menus for current prices.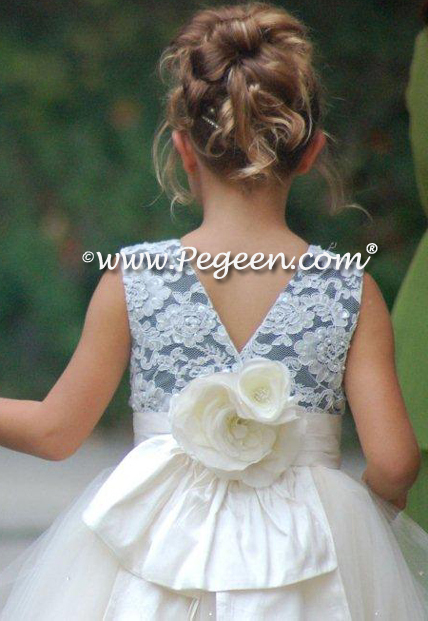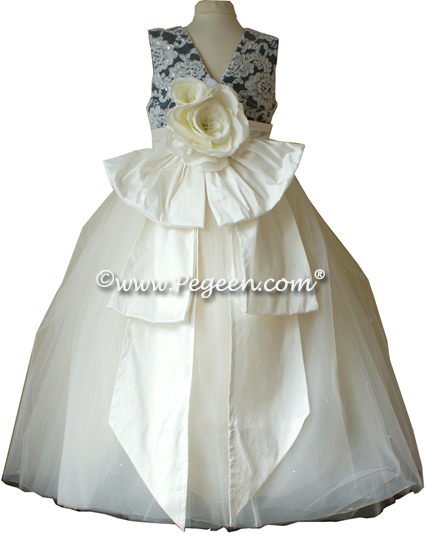 Pegeen Flower Girl Dress Company ~ 9147 State Rd 535 Orlando, FL 32836 ~ Shipping World Wide Since 1982