Blue and White Silk, Aloncon Lace and Tulle Flower Girl Dress
When Lisa, a cherished repeat customer, entrusted us with the delightful task of crafting two distinct flower girl dresses for different age groups, we sensed the makings of something truly enchanting. Combining her clear vision with our expertise, the outcome was nothing short of magical.
For the younger flower girl, we chose the sophisticated Style 697 as the foundation for her dress. To infuse an air of elegance, we opted for a serene Antique White as the primary color, providing a timeless canvas for our creative work. Lisa had envisioned a touch of Dusk Blue to align with the bridesmaids' attire. The dress was adorned with a Cinderella Sash, a Sweetheart Neckline, ten layers of delicate tulle, and exquisite Alençon Lace. All of which are included in the price. This lace, with its intricate shimmer and delicate detailing, was the ideal choice to imbue opulence into the dress. Each stitch, sequin, and bead wove a story of elegance and style, a narrative that would forever resonate in the cherished memories of Lisa's daughter's wedding.
The younger flower girl's dress, designed as a companion to the junior bridesmaid's ensemble, shared the same Dusk Blue Cinderella Sash, ensuring a seamless connection between the two dresses. Lisa's vision had brilliantly come to life—a vision where her daughter's wedding was adorned with distinct, age-appropriate flower girl dresses that were undeniably captivating.
This creation stands as a living testament to the enchanting results that unfold when a customer's unique vision converges with our unwavering commitment to crafting exquisite, one-of-a-kind flower girl dresses. At Pegeen, we take immense pride in our role in transforming your dreams into reality, one meticulously placed stitch at a time. It's not merely about dresses; it's about crafting enduring memories and making every moment a spellbinding experience.
There were no additional charges for this flower girl dress. Optional prices are subject to change. Check menus for current prices.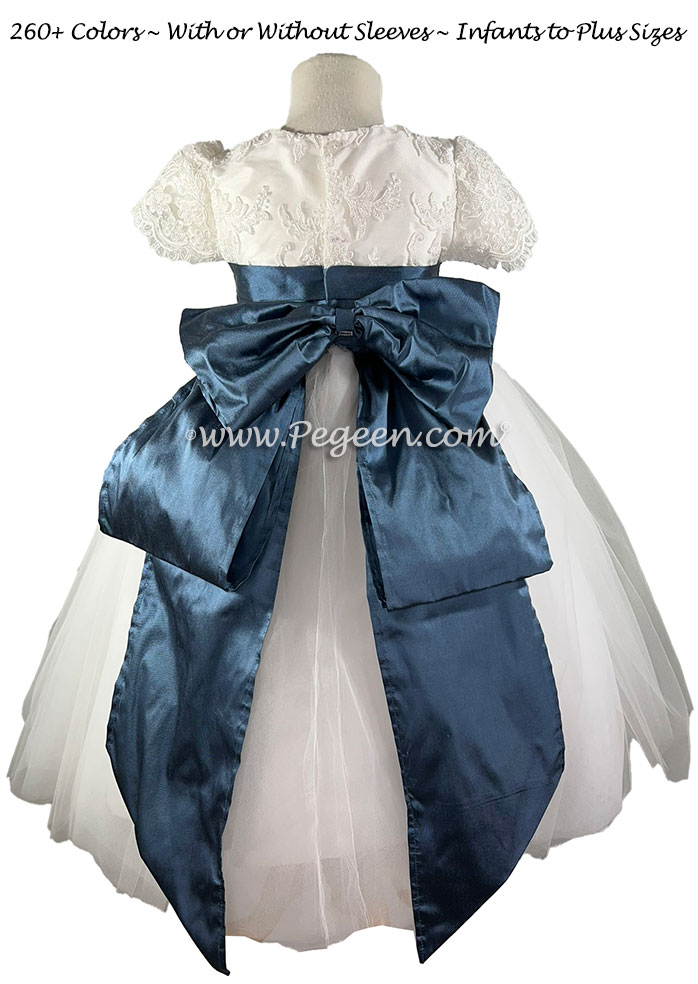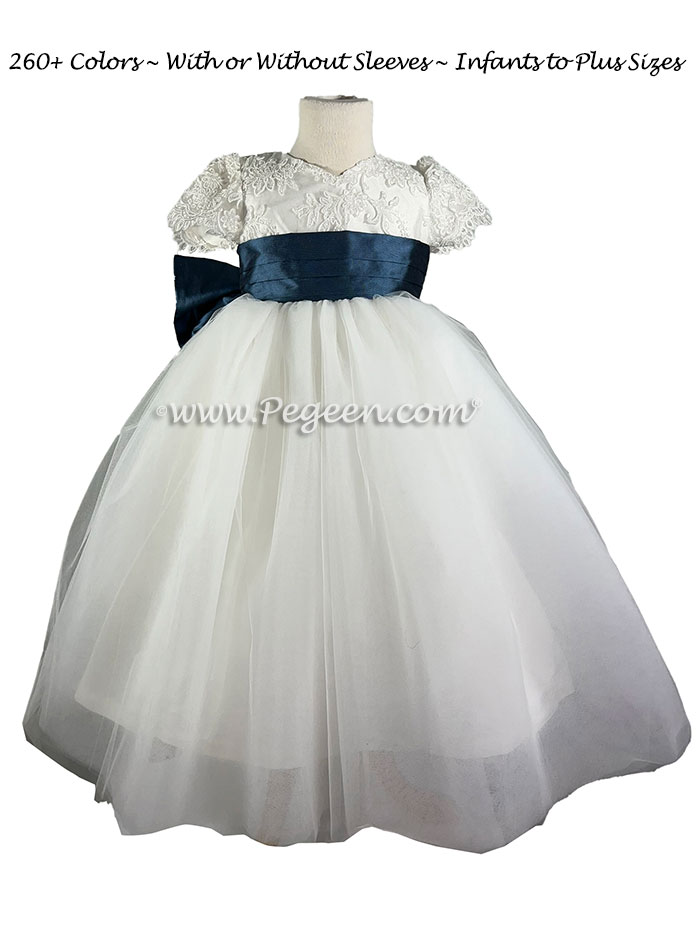 Pegeen Flower Girl Dress Company ~ 9147 State Rd 535 Orlando, FL 32836 ~ Shipping World Wide Since 1982