Nutcracker Waltz of the Flowers Romantic Tutu in Velvet
The selection of a dress is more than just a choice; it's the beginning of a beautiful journey, and for this customer, that journey was centered around the enchanting Style 786 from the Nutcracker's Collection. The Nutcracker is known for its magical moments, and the "Waltz of the Flowers" is one of its most romantic and captivating scenes. To do justice to the essence of this magical moment, the customer opted for a tutu that would be as timeless as the ballet itself.
The choice of green velvet and pink multi-tiered tulle for this tutu was a stroke of brilliance. The rich green velvet exuded a sense of elegance and depth, while the pink tulle, with its multiple tiers, added an air of whimsy and enchantment. The combination of these two materials created a tutu that was not just a costume but a storytelling device, allowing the wearer to step into the world of the Nutcracker and become a part of the ballet's timeless magic. It was a dress that captured the grace and charm of the "Waltz of the Flowers," promising to transport the audience to a world of romance and enchantment.
There were no additional charges for this flower girl dress. Optional prices are subject to change. Check menus for current prices.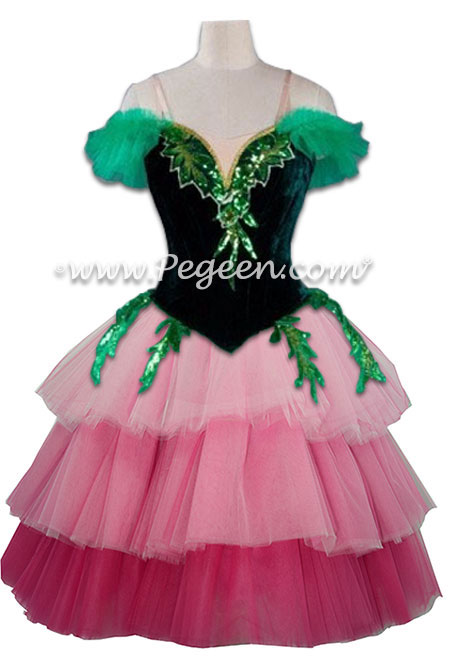 Pegeen Flower Girl Dress Company ~ 9147 State Rd 535 Orlando, FL 32836 ~ Shipping World Wide Since 1982