Aloncon Lace, Custom Pink Tulle Flower Girl Dress
This discerning customer embarked on a creative journey with us to design her ideal flower girl dresses, and the result was nothing short of enchanting. Drawing inspiration from our Style 921, she added her unique touch to make these dresses truly spectacular.
The primary theme of these dresses was a delicate play of pink shades that exuded a sense of softness and charm. Each layer of tulle was carefully chosen to create a harmonious blend of hues, transforming the dresses into a mesmerizing cascade of pinks. The use of various shades of pink tulle added depth and dimension to the overall look, making the dresses stand out as a visual masterpiece.
For the bodice, our customer opted for a luxurious alençon lace in an elegant ivory shade. This choice not only added a touch of vintage sophistication but also created a striking contrast against the pink tulle layers. The ivory lace bodice served as a beautiful canvas for the intricate floral patterns, which were nothing short of breathtaking. To tie the look together, a sash in New Ivory was added. This subtle yet elegant choice acted as a bridge between the ivory bodice and the pink tulle, harmonizing the overall color scheme. The New Ivory sash provided a touch of simplicity amidst the layers of tulle, allowing the intricate lace bodice to shine.
One of the most remarkable aspects of Pegeen's offerings is the freedom to personalize your flower girl dresses. Our customer's choice of up to three different tulle colors, combined with the vast selection of over 260 silk shades, showcases the endless possibilities for creating a one-of-a-kind dress that perfectly matches your wedding vision. In the world of custom flower girl dresses, this creation serves as a testament to the beauty of collaboration between a discerning bride and our skilled designers. The result is a set of flower girl dresses that are not just garments but works of art, each telling a unique story of elegance, charm, and personal style.
There were no additional charges for this flower girl dress. Optional prices are subject to change. Check menus for current prices.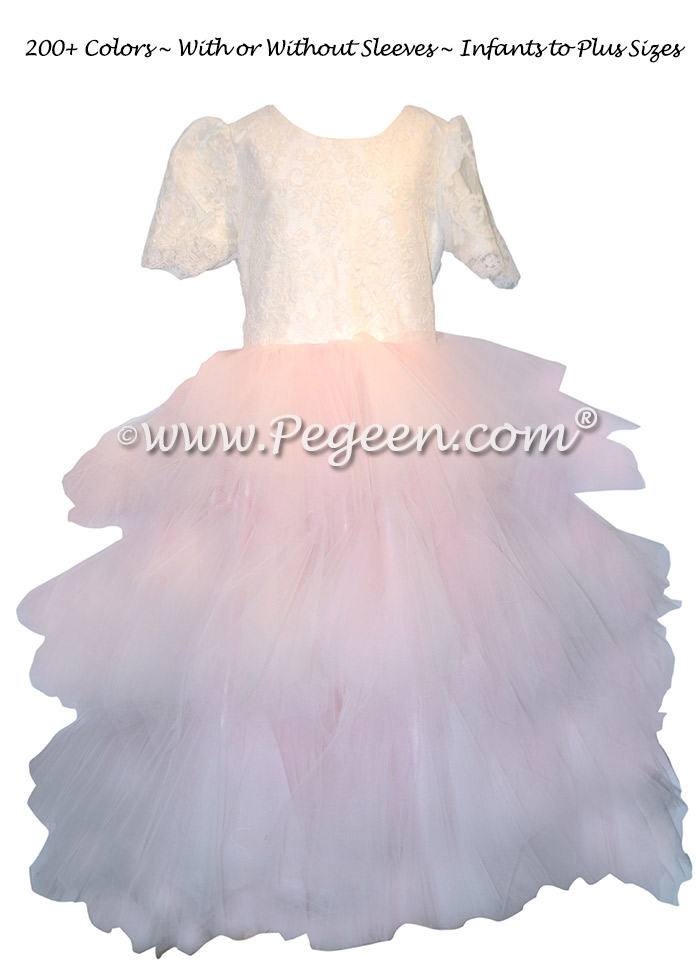 Pegeen Flower Girl Dress Company ~ 9147 State Rd 535 Orlando, FL 32836 ~ Shipping World Wide Since 1982