Flower Girl Dress to Match Ann Taylor in Ivory & Arial Blue
In the creation of her flower girl dresses, this customer opted for the elegant foundation of style 398, a choice that serves as the canvas for a truly personalized and charming ensemble. Her vision unfolded with a specific color palette, choosing Arial Blue for the skirt to infuse a sense of serenity and sophistication into the design. The selection of Arial Blue not only adds a calming touch but also creates a visually appealing contrast when paired with the chosen New Ivory sash.
The choice of New Ivory for the sash adds a touch of purity and timelessness to the flower girl dresses, creating a harmonious balance with the Arial Blue skirt. The interplay of these two colors not only showcases the customer's keen sense of style but also reflects a thoughtful consideration for a color combination that exudes elegance. The New Ivory sash serves as a subtle yet impactful detail, enhancing the overall aesthetic of the dresses and ensuring they align seamlessly with the broader color scheme of the wedding.
In summary, this customer's selection of style 398, with an Arial Blue skirt and New Ivory sash, is a testament to her desire for a sophisticated and personalized look for the flower girl dresses. The chosen color combination strikes a perfect balance, resulting in an ensemble that is both timeless and visually enchanting.
There were no additional charges for this flower girl dress. Optional prices are subject to change. Check menus for current prices.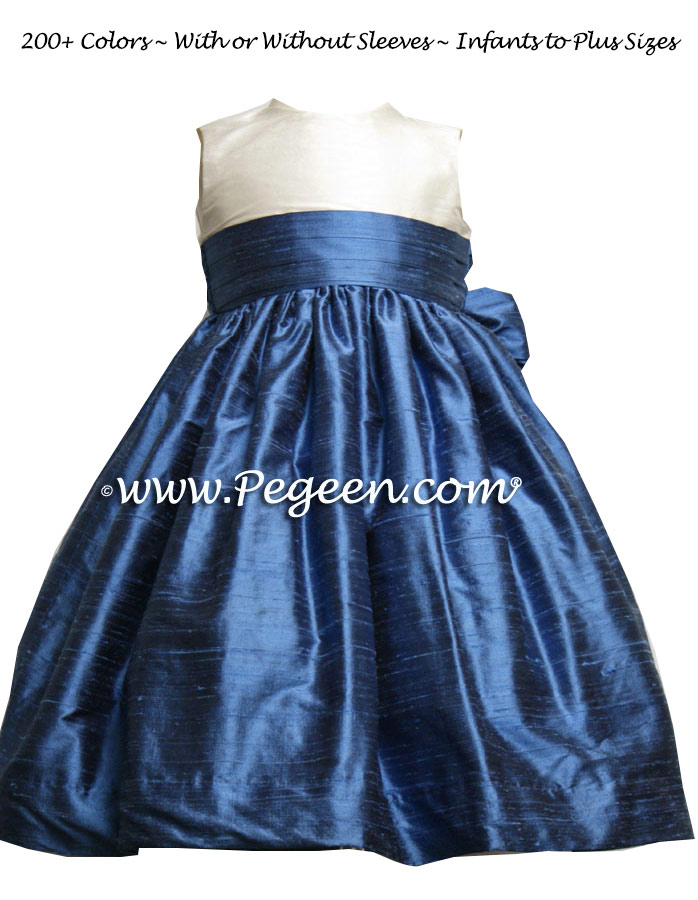 Pegeen Flower Girl Dress Company ~ 9147 State Rd 535 Orlando, FL 32836 ~ Shipping World Wide Since 1982