White and Burgundy Flower Girl Dress with petals
In the pursuit of crafting unique and captivating flower girl dresses, this customer embarked on a creative journey with Style 331 as the foundation. This elegant choice set the stage for a remarkable ensemble that would make the flower girls truly stand out on the special day. However, the customization didn't end with the dress style alone. A special and delightful touch was added with the incorporation of a set of petals, a feature that introduced a whimsical and charming element to the dresses, giving them a distinctive and unforgettable character.
Pegeen's attention to detail extended to the color choices as well. The top of the dresses was crafted in white satin, creating a pristine and timeless backdrop that exuded purity and grace. To add depth and a touch of richness, the sash was made from burgundy silk, a choice that introduced a bold and sophisticated contrast. This careful coordination of colors ensured that the flower girl dresses would be an embodiment of elegance and charm.
There were no additional charges for this flower girl dress. Optional prices are subject to change. Check menus for current prices.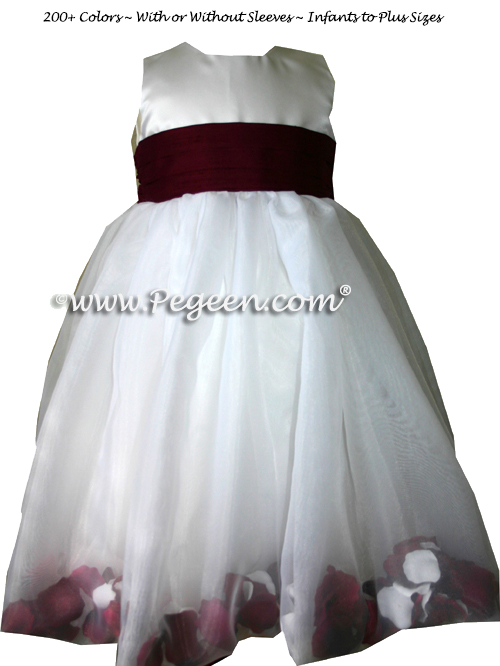 Pegeen Flower Girl Dress Company ~ 9147 State Rd 535 Orlando, FL 32836 ~ Shipping World Wide Since 1982