Flower Girl Dress Style 383 in Creme and Burgundy Silk
In the realm of personalized elegance, a discerning customer envisioned a truly unique flower girl dress, setting the stage for a design inspired by style 383. To bring her vision to life, the customer opted for a base color of blush, imparting a soft and romantic hue that laid the foundation for a dreamy and enchanting aesthetic. The choice of blush as the primary color set the tone for a celebration of innocence and grace, creating a canvas for further embellishments that would make the dress truly exceptional.
To enhance the visual allure, the customer sought to accentuate the blush base with cranberry details. This infusion of cranberry added a touch of warmth and sophistication, creating a captivating interplay of colors that elevated the overall design. The careful balance between the blush and cranberry elements brought a sense of harmony to the dress, ensuring that every detail contributed to a cohesive and visually stunning ensemble.
Adding a whimsical flourish, the customer envisioned ivory and blush flowers adorning the back of the flower girl dress. This delicate embellishment not only provided a charming focal point but also infused a sense of nature-inspired beauty into the design. The ivory and blush flowers served as a graceful nod to the organic world, creating a captivating juxtaposition against the blush backdrop and cranberry accents.
There were no additional charges for this flower girl dress. Optional prices are subject to change. Check menus for current prices.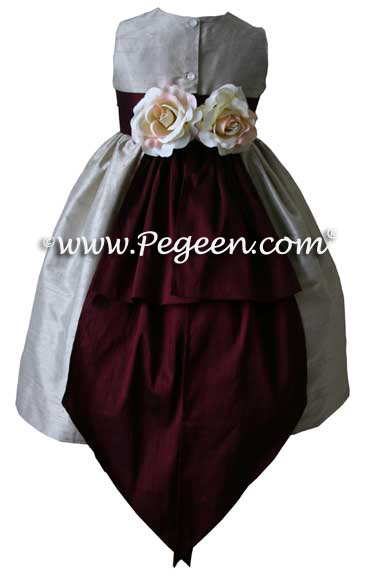 Pegeen Flower Girl Dress Company ~ 9147 State Rd 535 Orlando, FL 32836 ~ Shipping World Wide Since 1982