Coral and Ivory Monogrammed flower girl dress Style 398
When it comes to weddings and special occasions, every detail matters. The flower girl, with her delicate presence, holds a significant role in creating a magical atmosphere. To add an extra touch of elegance and personalization, consider choosing a monogrammed flower girl dress. These custom dresses not only make your little one feel special but also create lasting memories that will be cherished for years to come.
A monogrammed flower girl dress is a beautiful way to showcase your attention to detail. The dress can be adorned with the initials or name of the flower girl, making it a truly unique and personalized garment. This special touch adds an element of exclusivity and creates a connection between the dress and the wearer. With a monogrammed flower girl dress, you have the opportunity to select every aspect of the design. From the fabric to the style and color, you can tailor the dress to perfectly match the theme and ambiance of your special day. Whether you prefer a classic A-line silhouette or a whimsical tulle skirt, the options are endless. This customization ensures that the dress complements the overall aesthetic of the event and reflects your unique vision.

A monogrammed flower girl dress is more than just a garment; it becomes a treasured keepsake that holds the memories of a joyous occasion. The photographs captured during the ceremony and celebration will forever showcase the beauty and grace of your flower girl, adorned in her personalized dress. These moments will evoke nostalgia in the years to come, reminding you of the love and happiness shared on that special day. A monogrammed flower girl dress adds a touch of elegance, personalization, and uniqueness to any special occasion. It creates lasting memories that will be cherished by both the flower girl and the entire family. Make your day truly unforgettable by selecting a custom dress that reflects the love and joy of the occasion.
This customer chose to base her flower girl dresses on style 398 and wanted sunset (coral) and new ivory. The only charge for the dress was the monogramming. In ivory or white $40 for three initials. This can be either on the Tails of Sashes OR on the Bodice Only. For the tails, Price is included for 2 tails. For the Bodice, since the monogramming of the flower girl dress is a bit larger, Price is included for the Front only. There were no additional charges for this flower girl dress. Optional prices are subject to change. Check menus for current prices.
We can not do it on front sashes.
If you want the monogram to be done in a color, the price is $40 for 3 initials.
Bodice choices are 200 in-stock colors of silk.
Monogramming can be done on most of our styles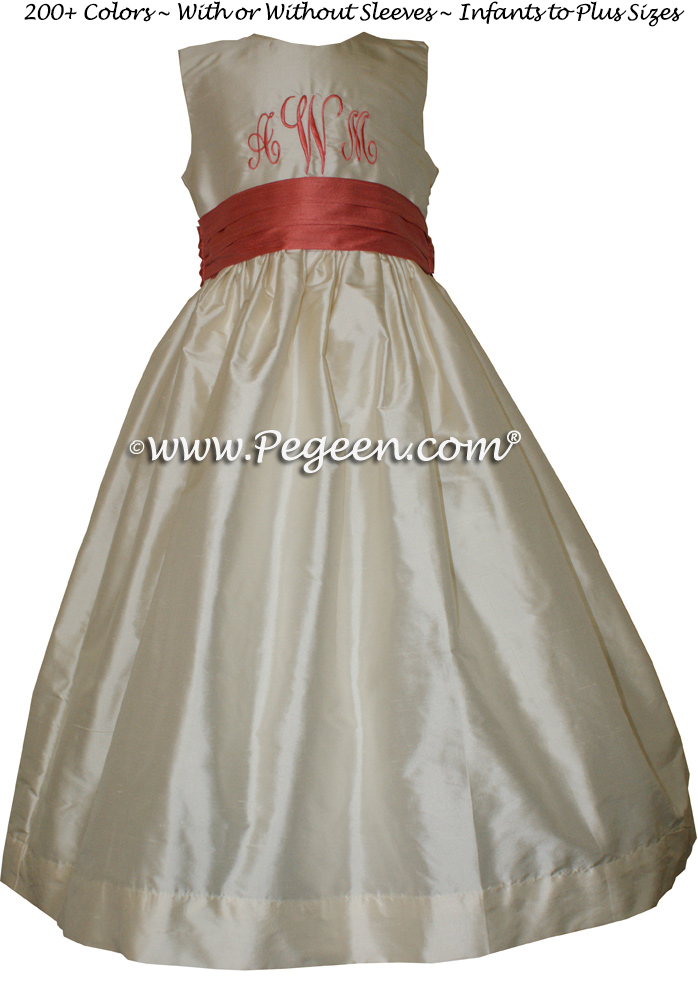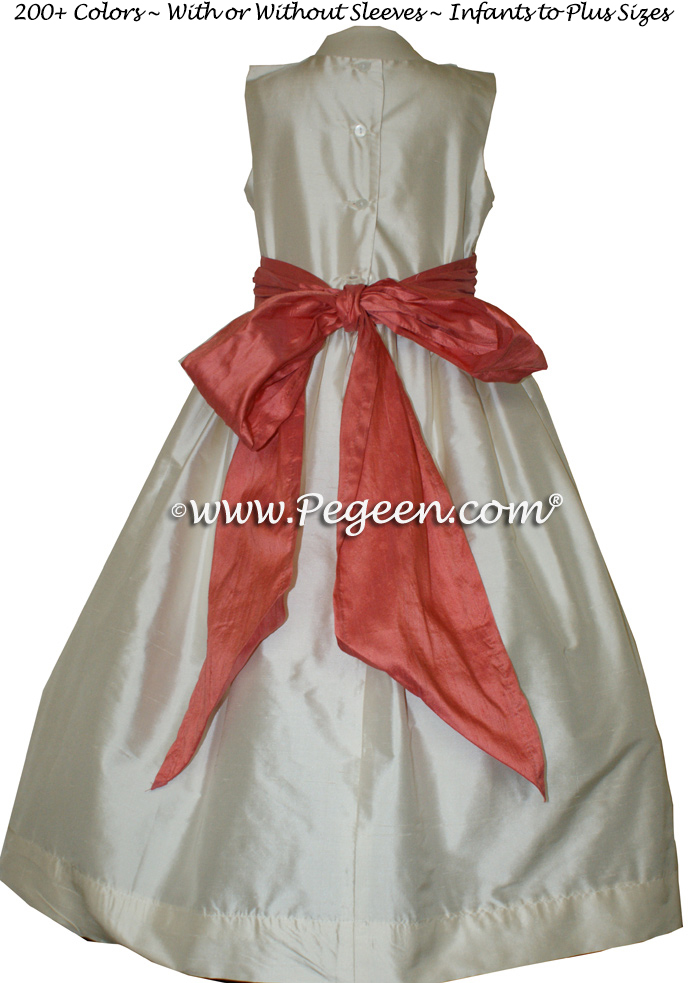 Pegeen Flower Girl Dress Company ~ 9147 State Rd 535 Orlando, FL 32836 ~ Shipping World Wide Since 1982