Nutcracker Clara Dress in Baltic Blue and Spice | Pegeen
For a ballet school recital, a customer approached us in need of a unique dress for her daughter's role in the Nutcracker suite, distinct from the character of Clara. Inspired to create something extraordinary, we embarked on a creative journey. The result was a stunning ensemble that captured the essence of the performance. The dress was expertly crafted, blending various elements to reflect the elegance and magic of the Nutcracker ballet.
To bring the vision to life, we chose a captivating iridescent teal for the bodice, a shade that shimmered like the enchanting world of the ballet. To complement this, we opted for a rich and warm spice hue for the sash and skirt. These colors not only added depth to the dress but also echoed the festive and vibrant atmosphere of the ballet. As a finishing touch, we meticulously adorned the skirt and sleeves with sequinned lace, creating an exquisite overskirt that exuded elegance and grace.
This dress, a masterpiece of design, is now a part of our esteemed Nutcracker Collection, specifically curated to enhance the beauty of ballet performances. It beautifully combines the magic of the Nutcracker ballet with the charm of a ballet school recital, ensuring that every step taken on stage is accompanied by an aura of elegance and enchantment.
There were no additional charges for this costume. Optional prices are subject to change. Check menus for current prices.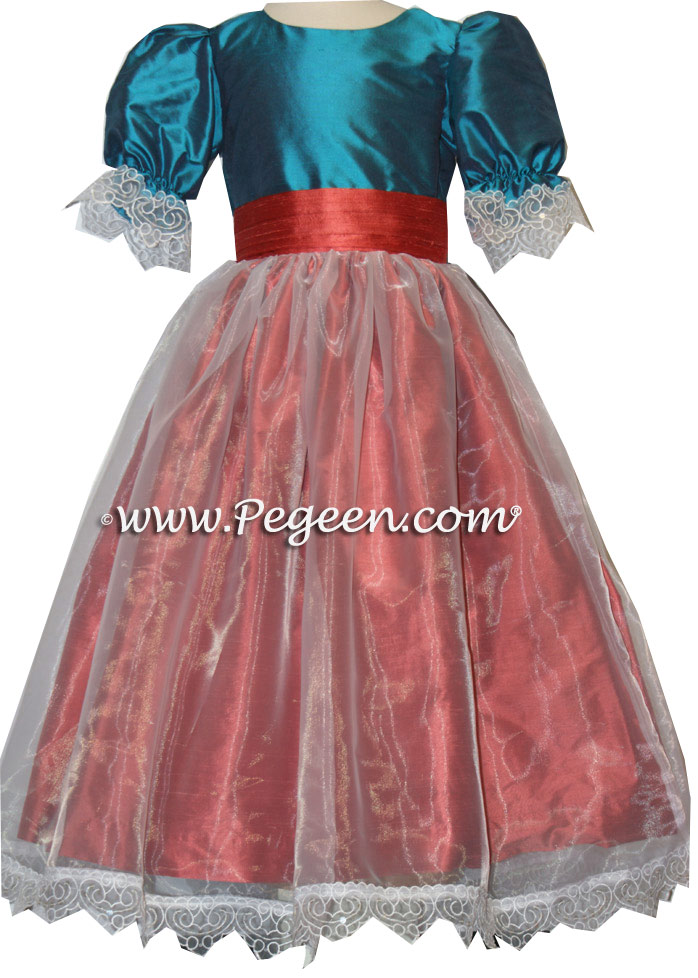 Pegeen Flower Girl Dress Company ~ 9147 State Rd 535 Orlando, FL 32836 ~ Shipping World Wide Since 1982