Toddler Flower Girl Dress in Powder Blue and Black Silk
Our bride came decided on a beautiful color combination for her adorable toddler flower girl dress, based on style 398. She opted for a charming powder blue base color, perfectly complemented by a sleek black silk sash. The combination created a striking contrast that added a touch of elegance to the overall look. These custom-made dresses were designed to make the little flower girl shine on the special day, showcasing her cuteness and style. The unique color scheme and attention to detail made these dresses truly stand out, capturing the hearts of everyone in attendance.
There were no additional charges for this flower girl dress. Optional prices are subject to change. Check menus for current prices.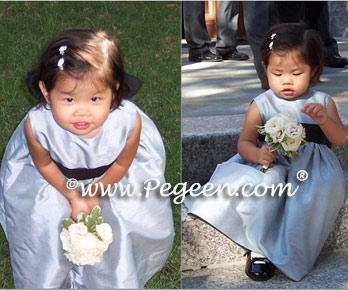 Pegeen Flower Girl Dress Company ~ 9147 State Rd 535 Orlando, FL 32836 ~ Shipping World Wide Since 1982