Our Pegeen Signature Flower Girl Dress 2011
---
Each year we are proud to present our flower girl dress of the year. The 2011 winner (style 402) was featured in all of our national advertisements for 2012 during Pegeen' s 30 year celebration. She used a color we call ballet pink and a bisque sash and with our Pegeen Signature Bustle and flowers +90 and crystal tulle +20. The bride also added multi layered color skirt +50 which was in a variety of different colors of tulle added to the base price of the tulle. This however can be eliminated due to the new color of blush tulle that will make only a minor change in the look.
Degas Style Tulle Flower Girl Dress Style 402 with Pegeen Signature Bustle which includes 2 Trailing Roses in Ballet Pink Silk, Bisque silk and Layered tulle and Crystal Tulle.
Flower girl dress of The Year - Style 402 in Ballet Pink and Bisque
Like what you see? Over 100 styles of flower girl dresses - in over 200+ colors of silk from $150 - $500
All custom created in our own Design Studio since 1982 from infants to plus sizes. Shipping World Wide SHOP DRESSES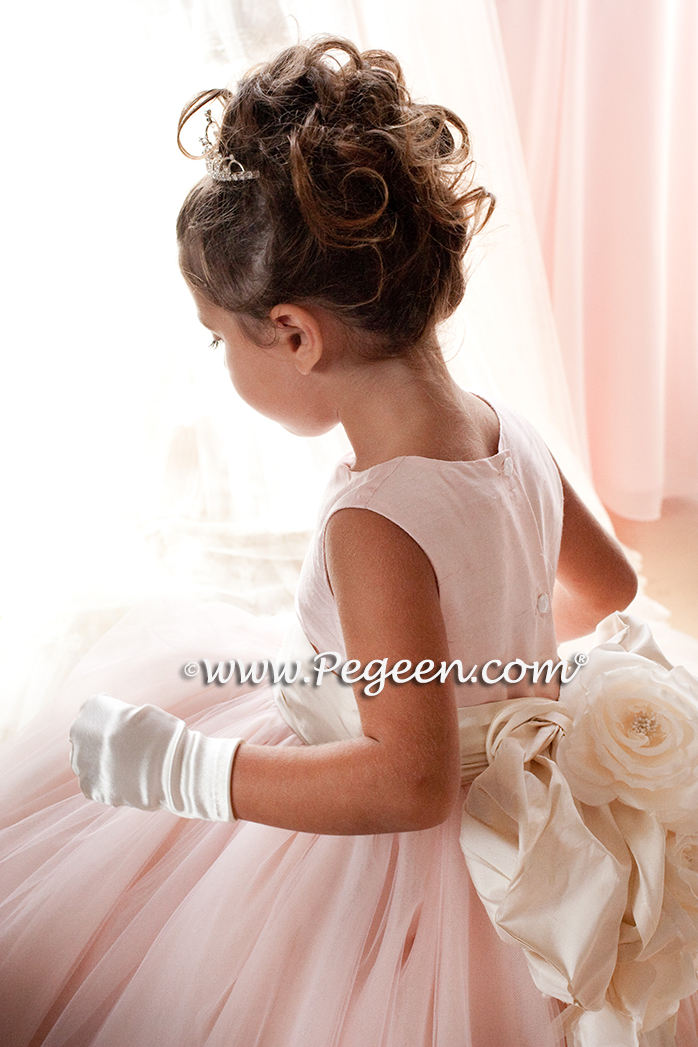 There were so many lovely photos - view the second page!!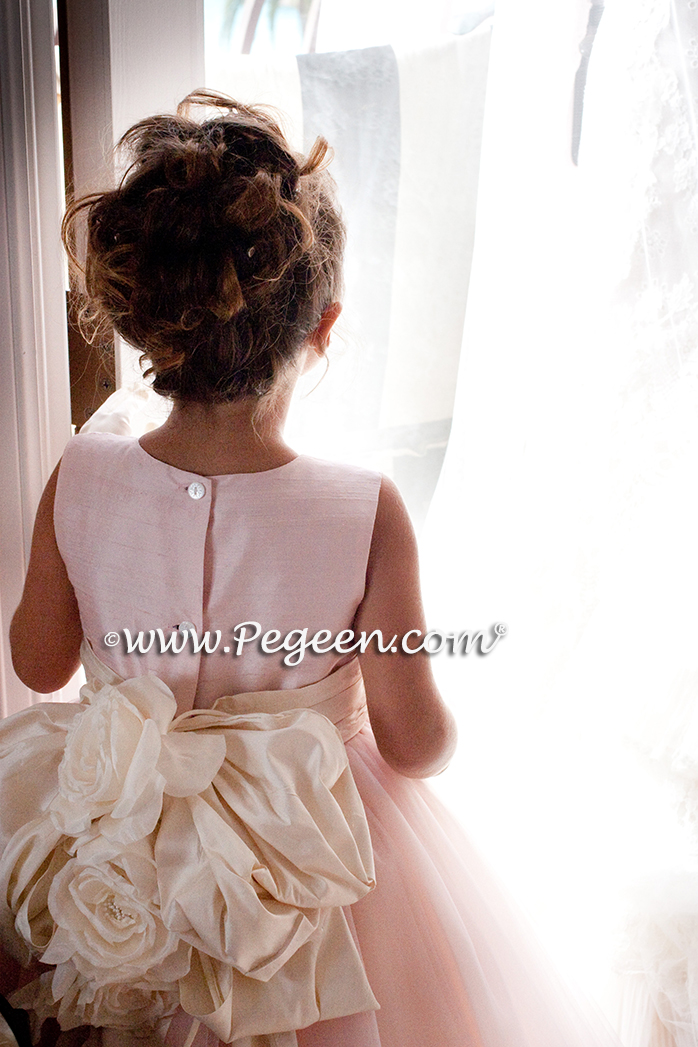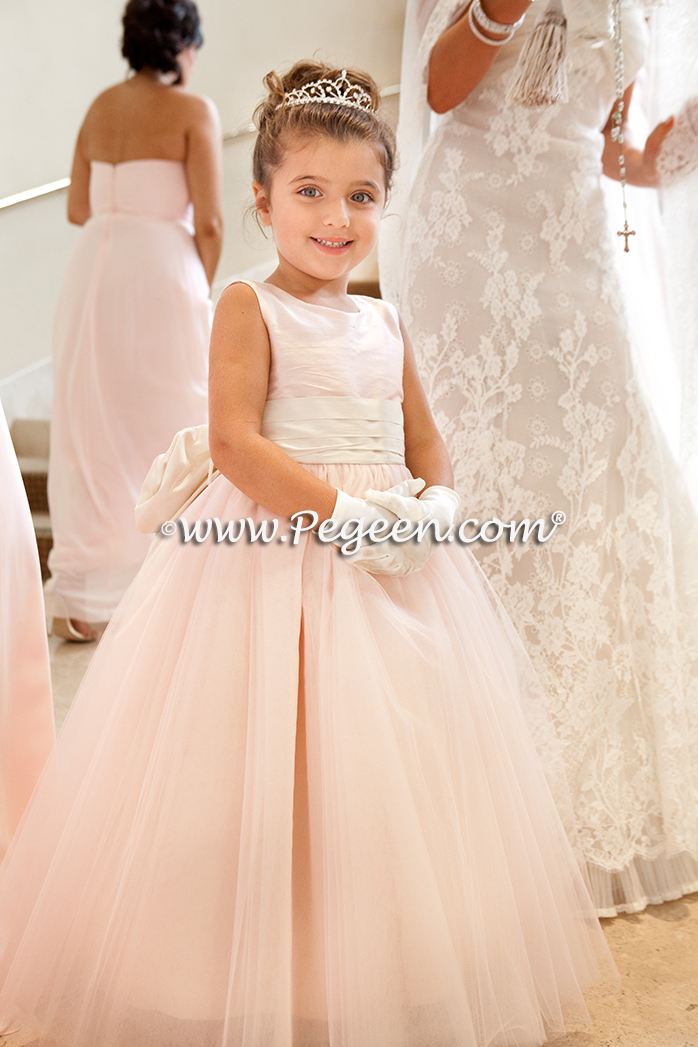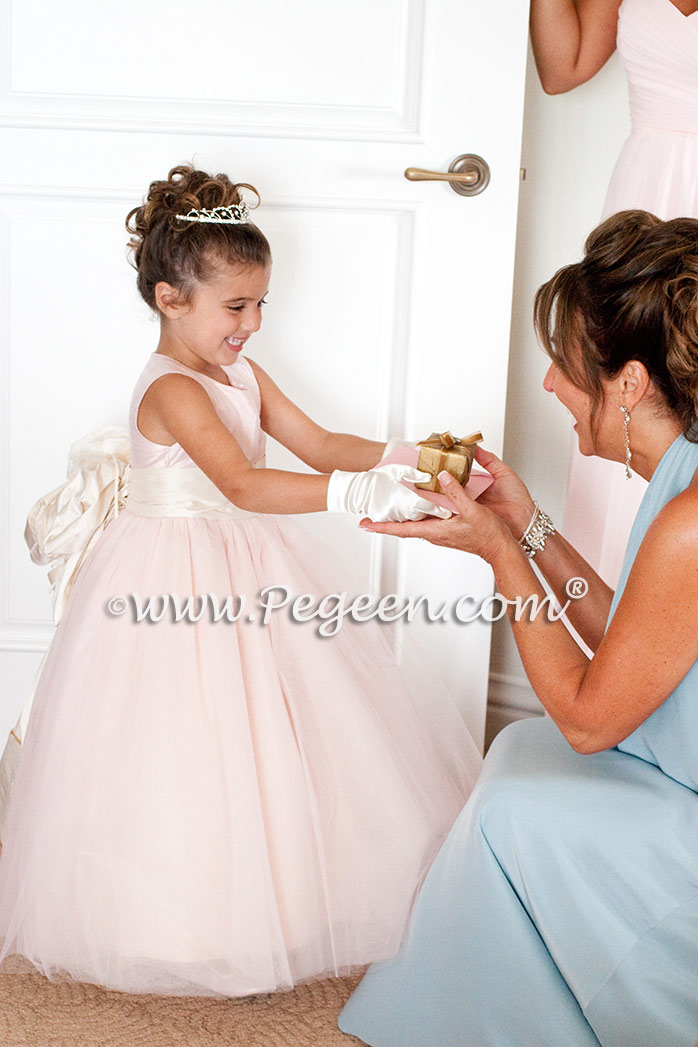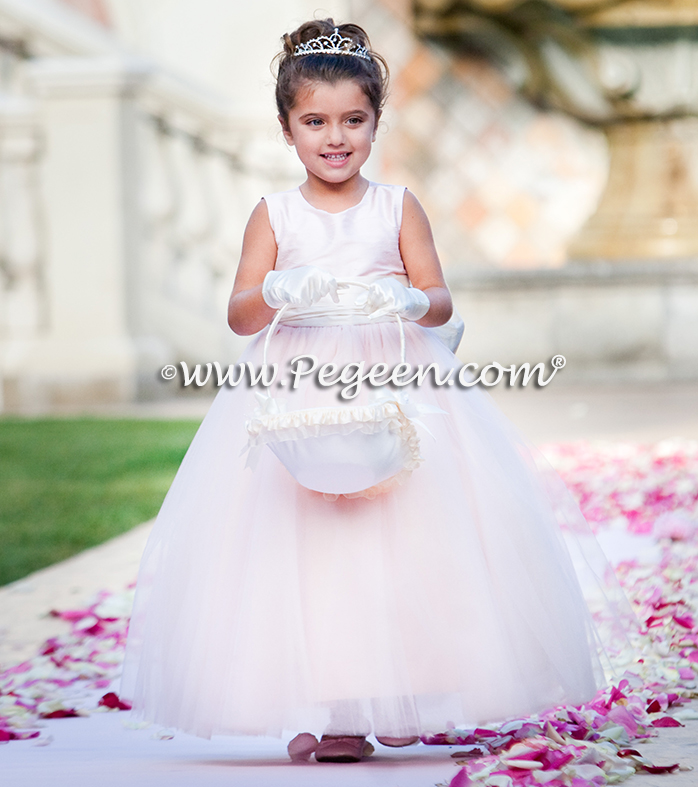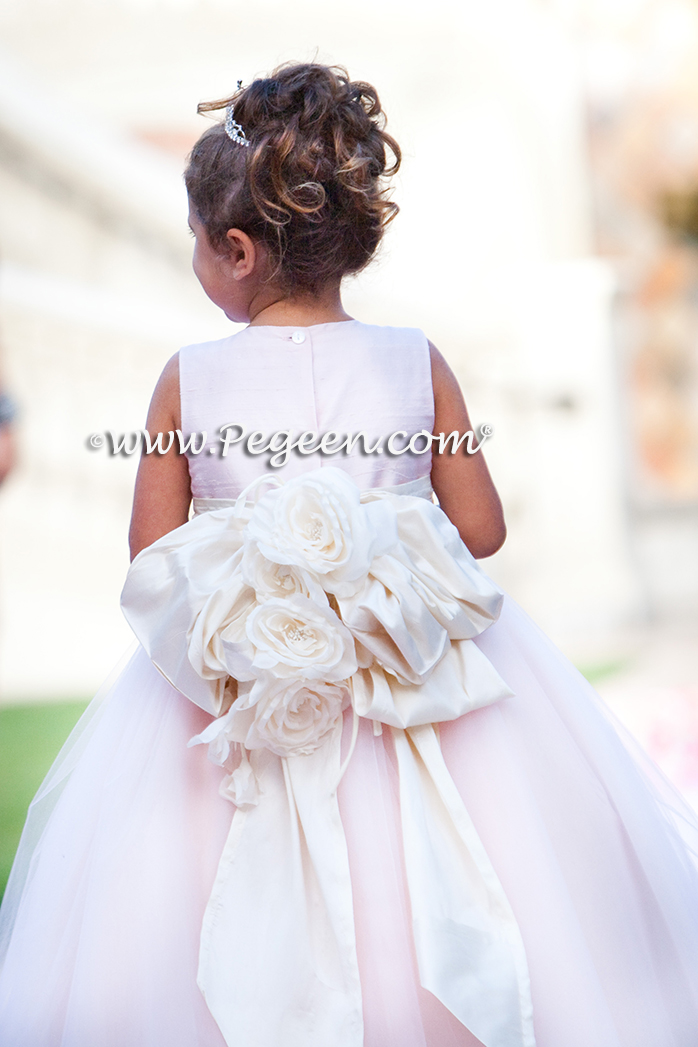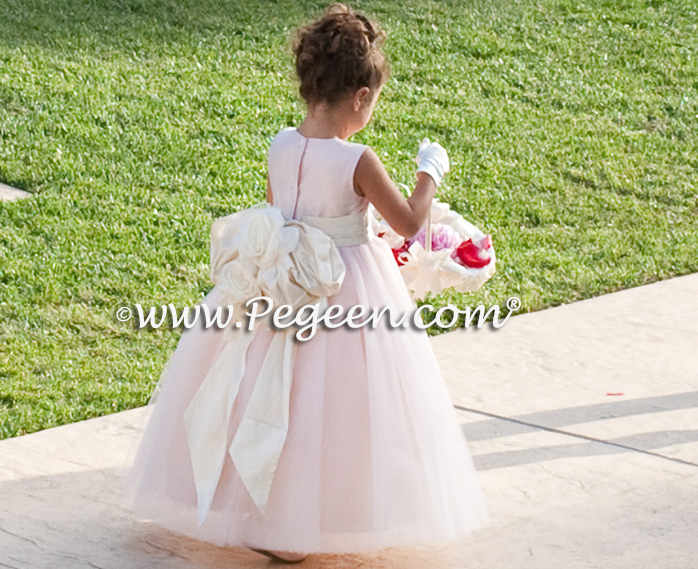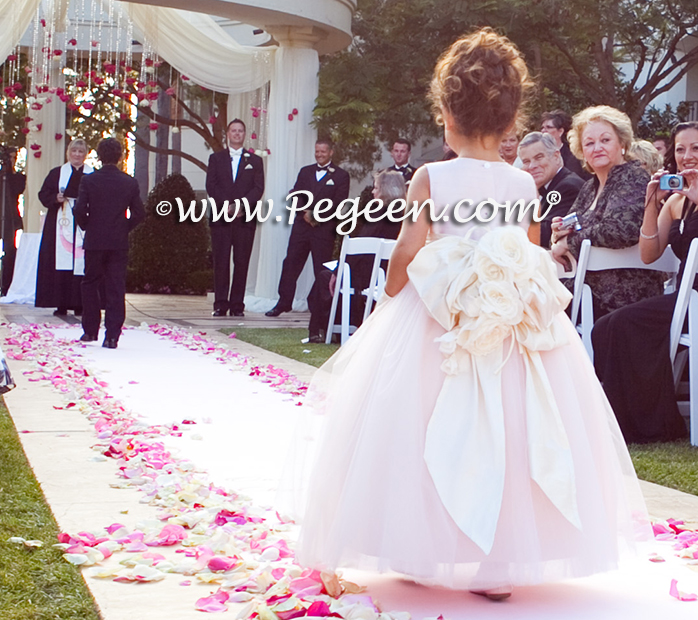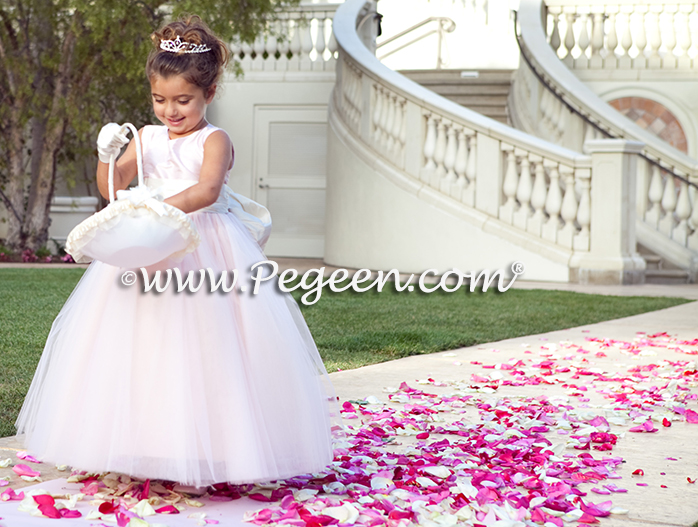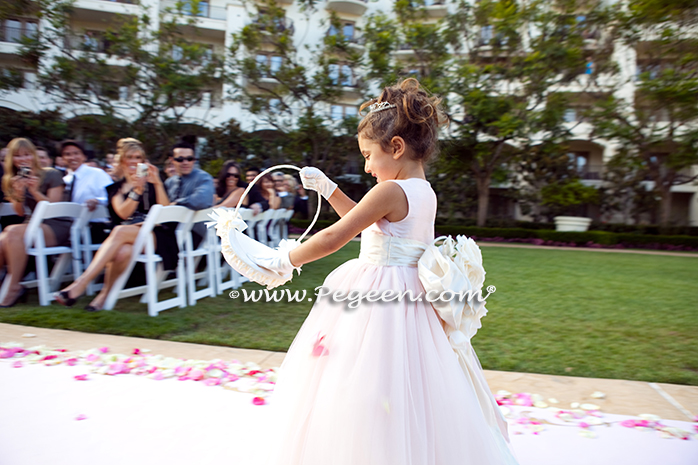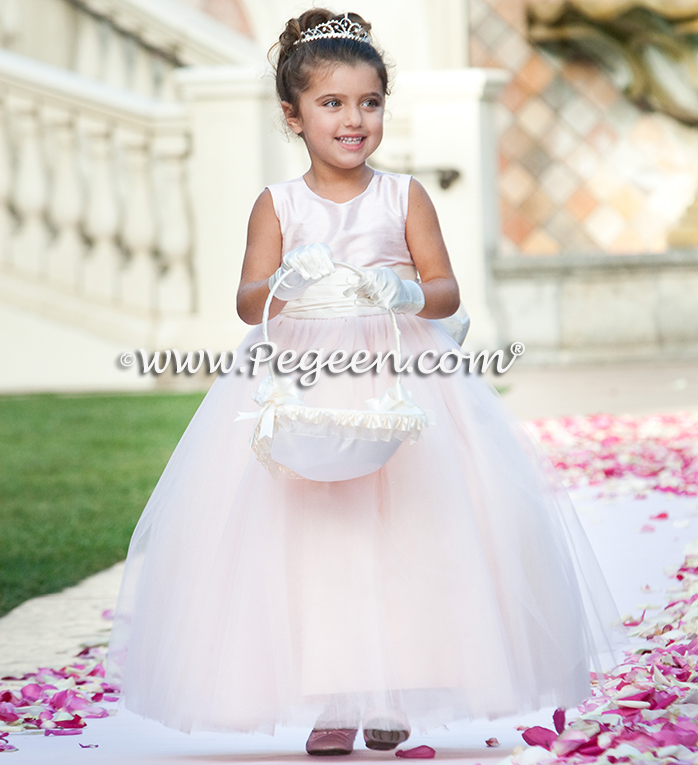 Degas Style Tulle Flower Girl Dress Style 402 with Pegeen Signature Bustle which includes 2 Trailing Roses in Ballet Pink Silk, Bisque silk and Layered tulle and Crystal Tulle. Submit photos of your wedding wearing our Pegeen dresses or suits and your wedding could be selected as the Wedding of the Year (ends Dec. 31, 2011), or one of our 2011 Weddings of the Month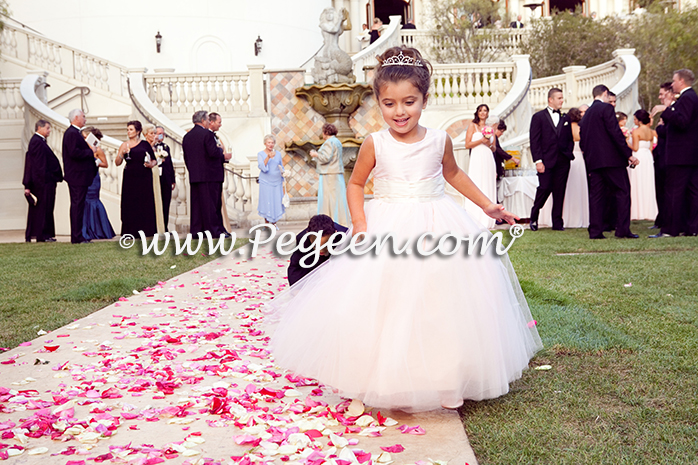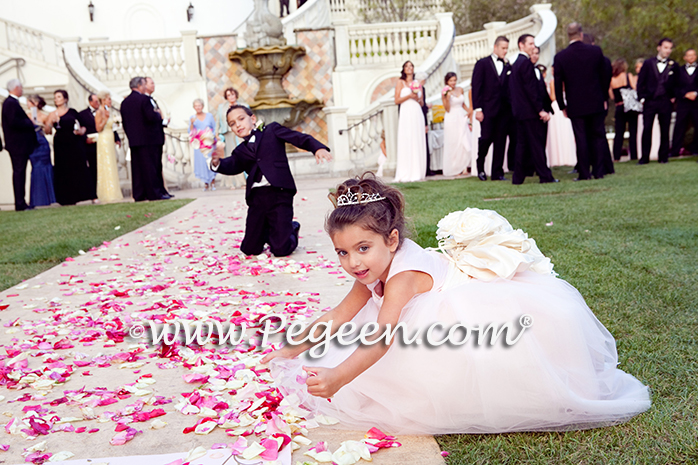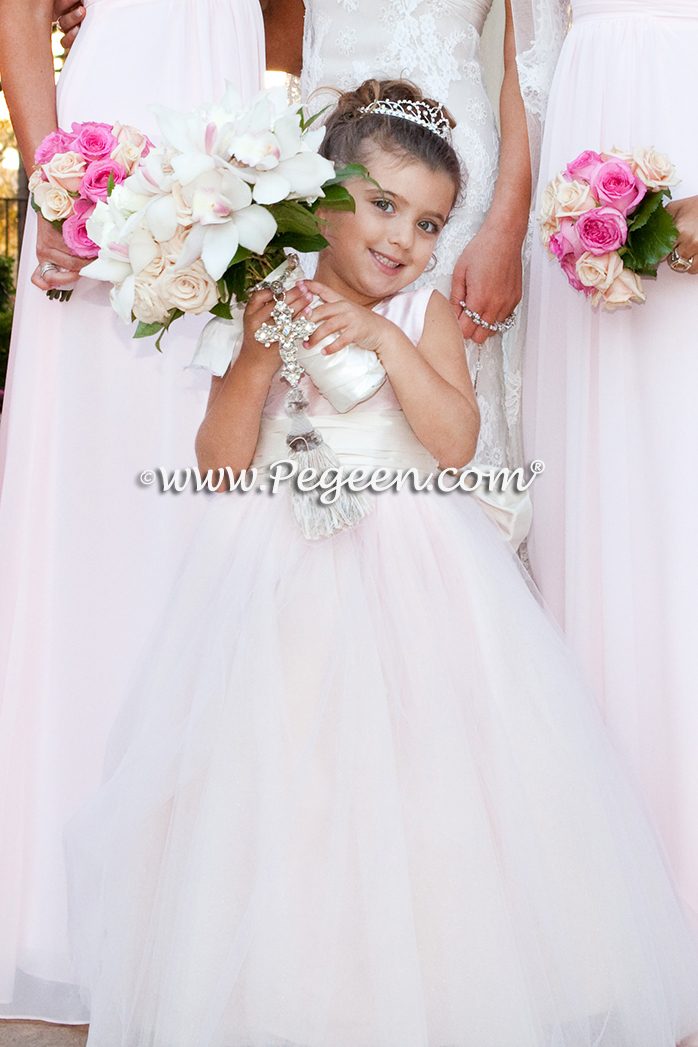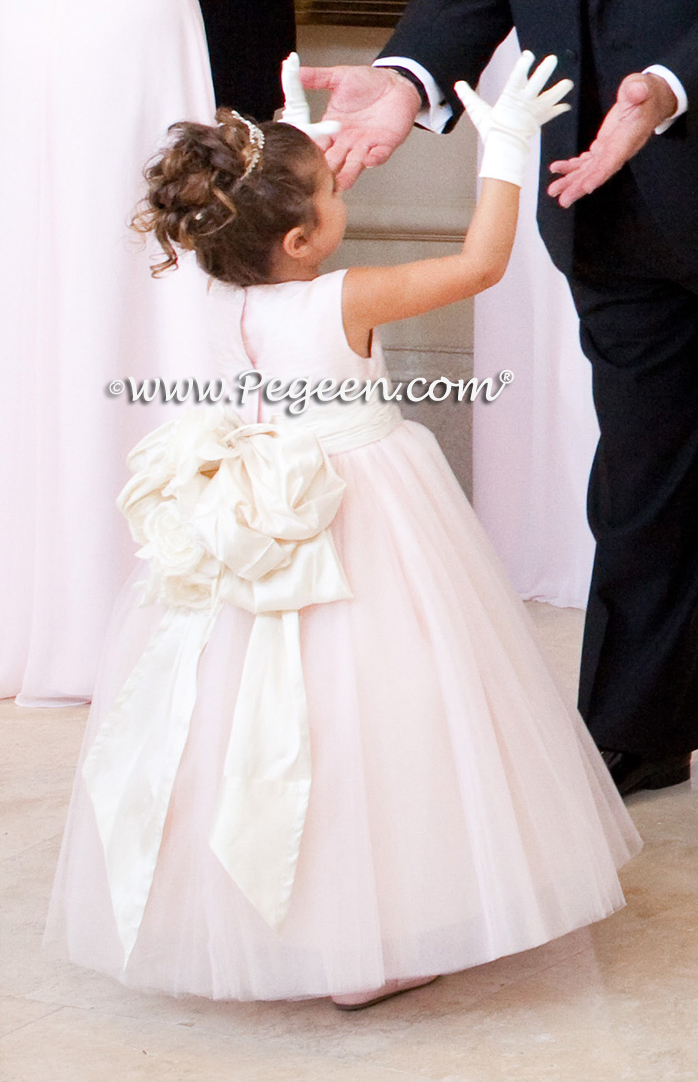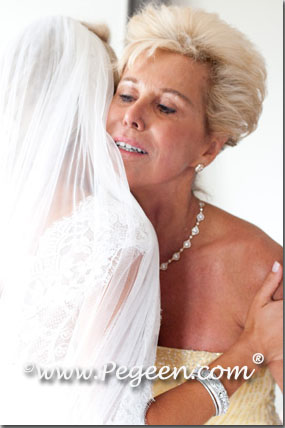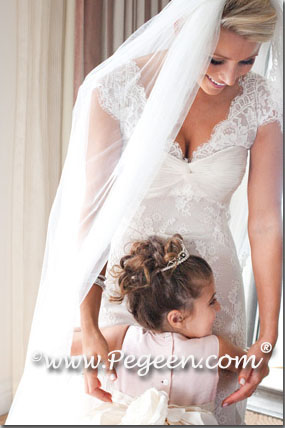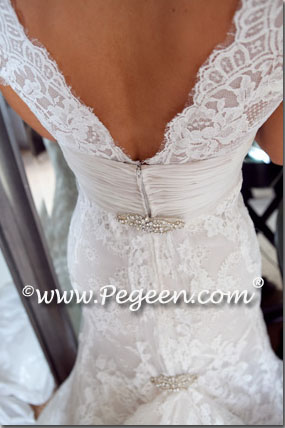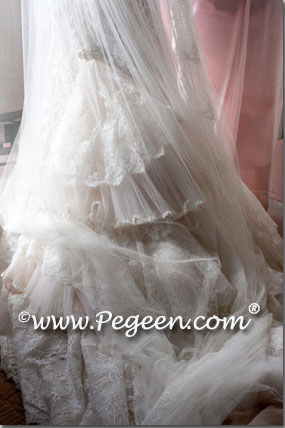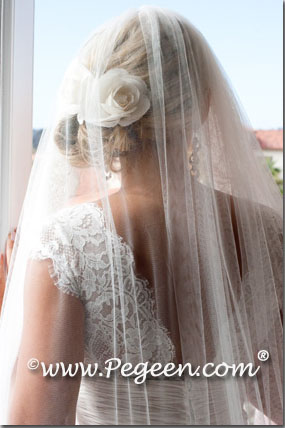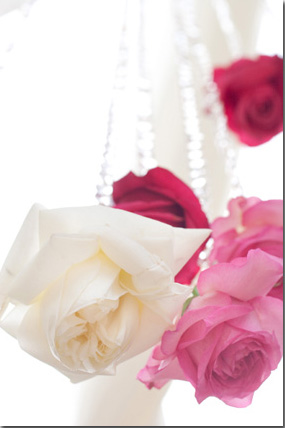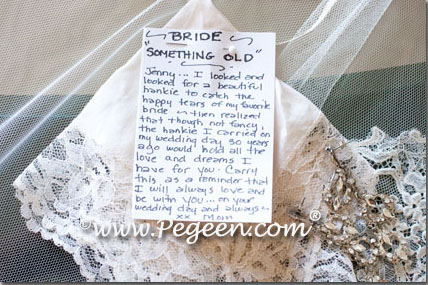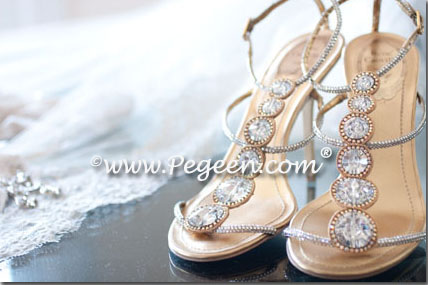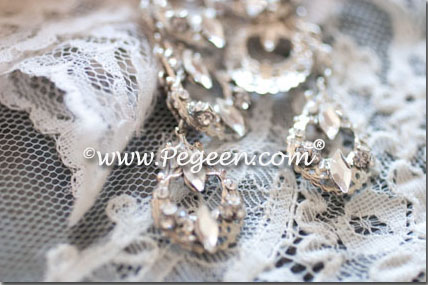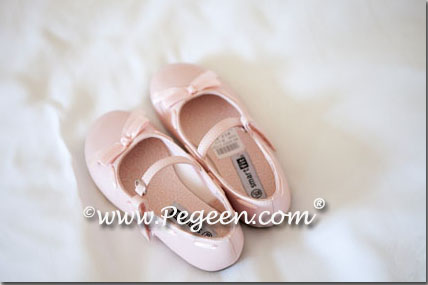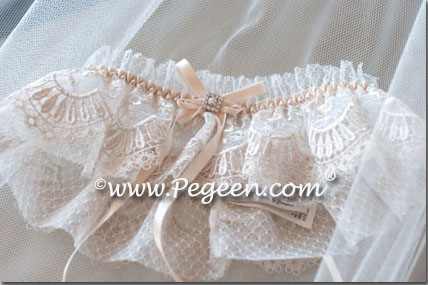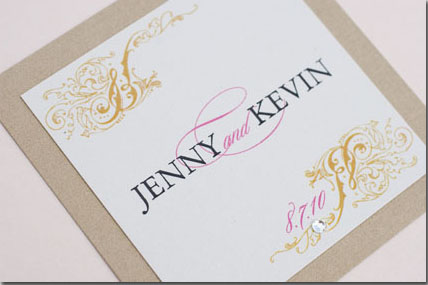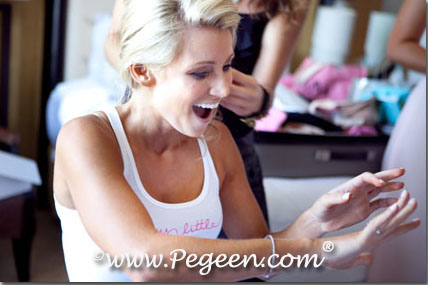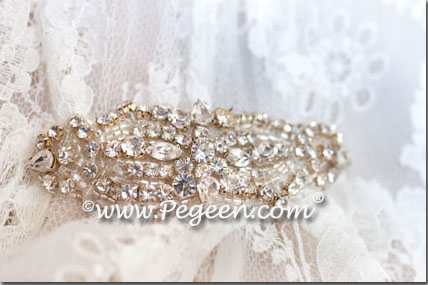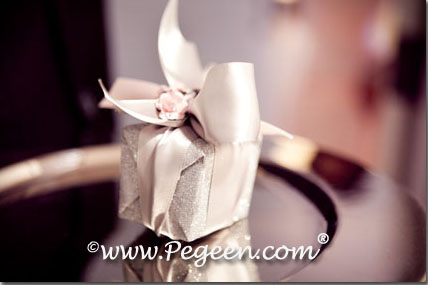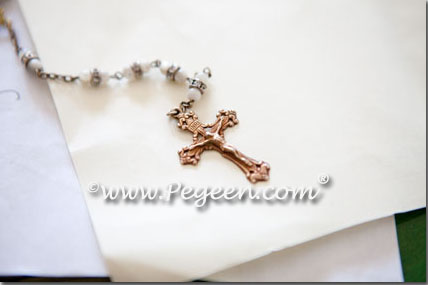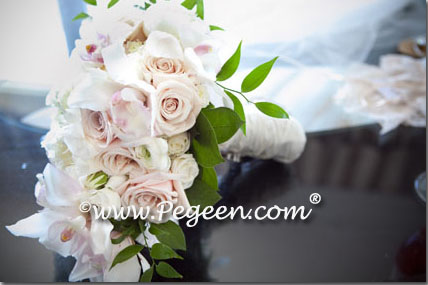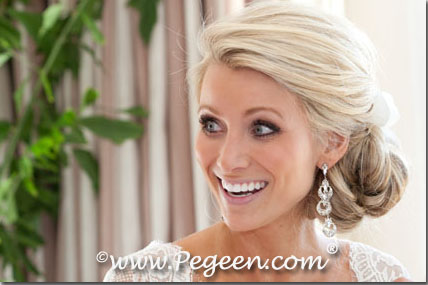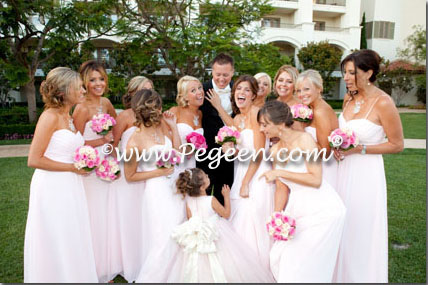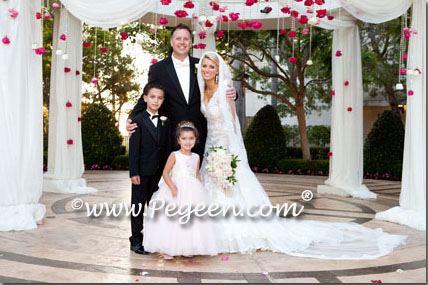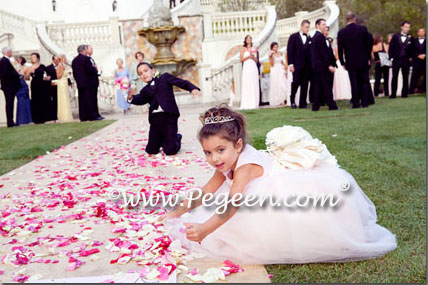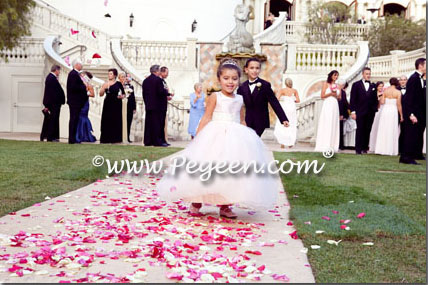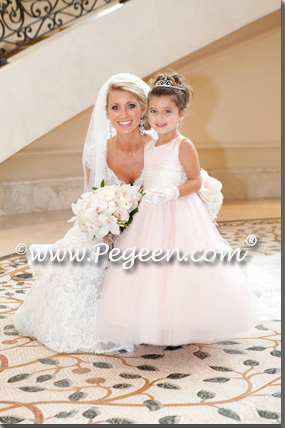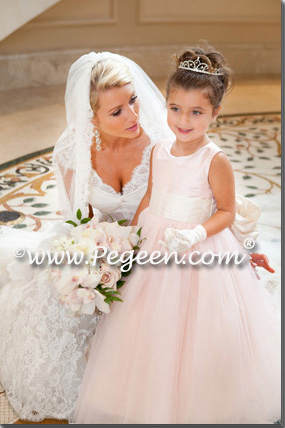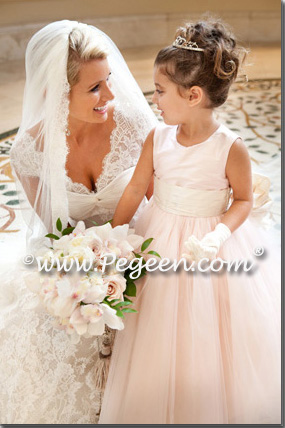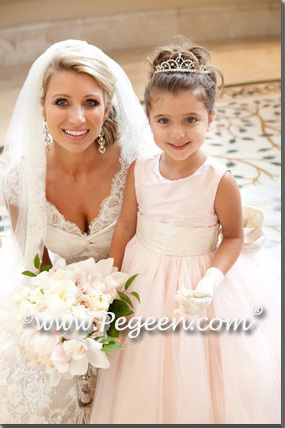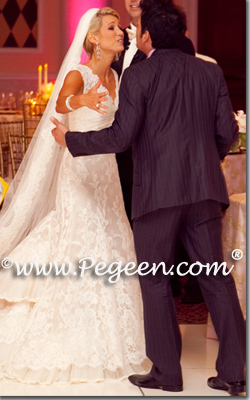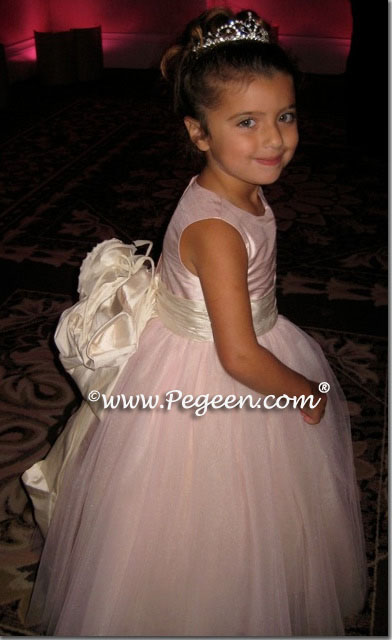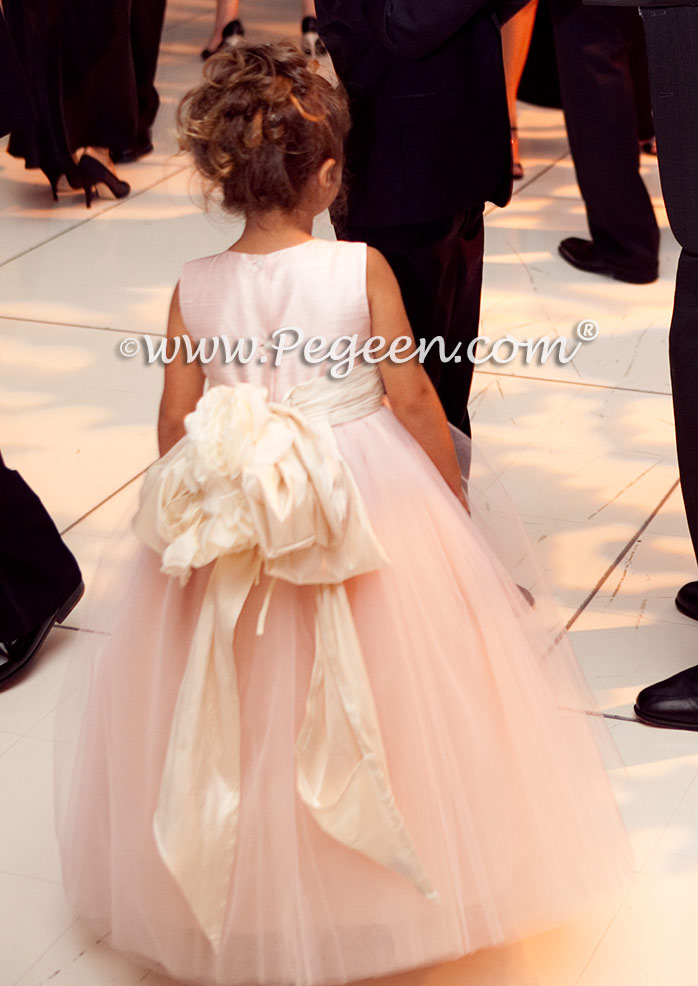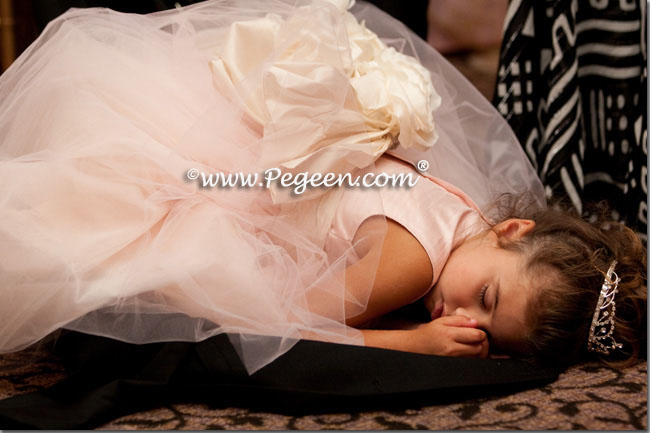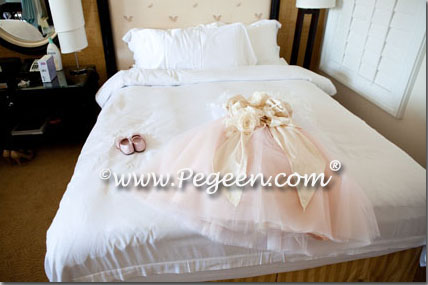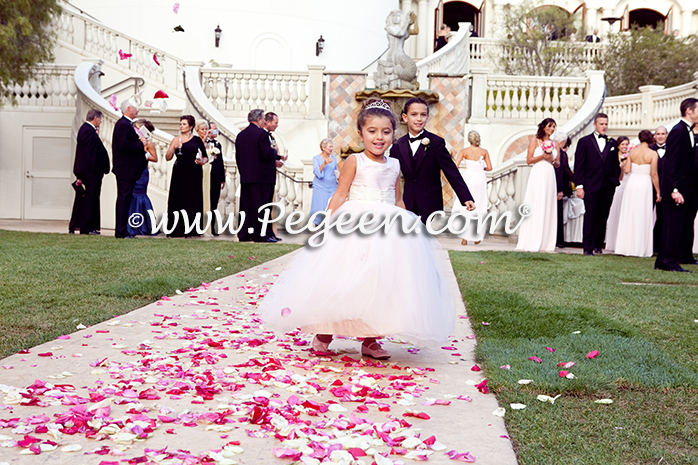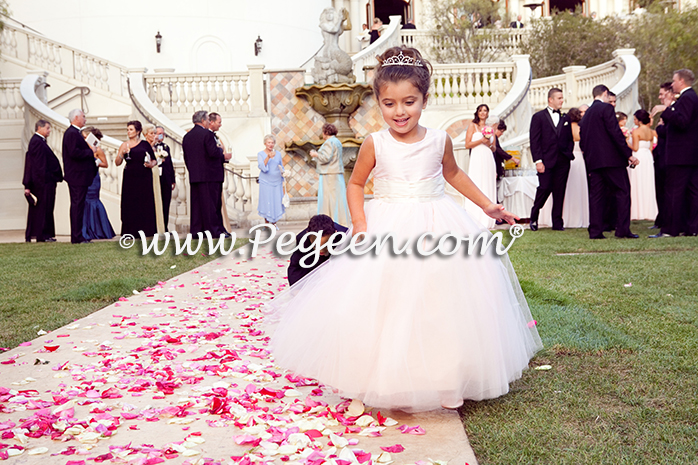 The Wedding Planner - David Tutera Hiring a highly qualified wedding planner is the best way to ensure your wedding wishes come true. The right wedding planner can eliminate the guess work, provide almost stress-free planning and unlimited creativity. Truly, one of the best event and wedding planners in the industry is David Tutera. When you watch his show, My Fair Wedding with David Tutera on WEtv), his creativity is boundless. Jenny and her mom, Debbie, worked with Mr. Tutera and his expertise is reflected in every detail of this wedding. When I recently asked the bride about her aisle runner, she simply responded, "David took care of it." And he does. David Tutera weddings and events is our top choice for wedding planning (DT Studios, Inc.). From his web site (www.davidtutera.com), "David Tutera, Inc. is an award winning company built from experience, dedication, and Tutera's natural talent for transforming the ordinary into the extraordinary. His name has become synonymous with style, elegance, creativity and vision." We certainly couldn't agree more!

VENDOR LIST Location: St. Regis Monarch Beach, (Dana Point, CA) Wedding Planner: David Tutera Invitations, menus, name cards, paper goods: Nidas Boutique (Laguna Beach, CA) Floral: David Turera Weddings Photography: Lars Withers Wanberg Video: Ashley Video Hair/makeup: Hair Comes the Bride/Ashley Turner Wedding gown: Manuel Moto for Pronovios Bridal salon: R Mine Bridal (Studio City, CA) Bridesmaid dresses: Mary Me Bridal, Orange, CA Music (opera singers, electric violinists, band, choir, entertainment): West Coast Music Cake: St. Regis Grooms cake: Christopher Garrens, Let Them Eat Cake Carls Jr. Fast Food Truck: Carls Jr. About the bride

About the bride

"I (Jenny) have grown up in Southern California with a really big and fun family. I have always been surrounded by the BEST family and friends anyone has ever known! Family has always been a main priority in my life, and we are all very close and thankful for one another! I have been lucky enough to do what I love for a long while. . . school! I just graduated with my Master's in Speech Communication, and am now teaching at California State University, Fullerton. I just love school and am so happy that I get to go there and now get paid for it! :) I love being with my friends and family, traveling, my puppy Lola, cupcakes, coffee, and most of all being with my wonderful

About the groom

Kevin was born in Rochester, New York and raised in Houston, Texas. He has such a nice family: Mom, Dad, Deb, Steve, and now Amanda and little Kylie. Kevin went to Texas A&M, then he attended medical school in Dallas. As fate would have it, he matched residency at USC!!! A few years after moving to California, we met!!! He is now the best surgeon on the west coast, he loves sailing and golfing, loves his family and friends, our puppy Lola, and his new wife, of course! We say everyday, "We have the BEST lives EVER!!"

How we met

We met in Marina Del Ray on Kevin's sailboat on a perfect sunny day in October of 2007. My best friend, Carly, is dating one of Kevin's work friend's, Jeff. Kevin invited Carly, Jeff, and friends to go sailing . . . and some other friends and I were among the sailors! After Kevin and I talked for hours while sailing, all of us went out later that night to Union Cattle Company Restaurant in Hermosa Beach. That is where the magic began, and although I thought Kevin was soooo cute and Kevin really liked me, neither of us knew how the other felt at that point because we were both too shy! It was not until a few weeks later that Kevin came over to my family's home for Thanksgiving. He survived the chaotic family gathering that we call "the holidays!" That night we took a detour on the way to a friend's house and went to Pechanga Casino and laughed and gambled the night away! When he took me back to my parents' house after our late night out, I knew I was head over heels. Kevin called the next day, and asked me to go dinner and to see "The Bee Movie," and we have been so happy together ever since! Since our first "real date" was on Thanksgiving, it would be an understatement to say that we are "Thankful" for each other! :) Date of event 8-12-2010

How we got engaged

"Kevin had bought our dream house the day before we got engaged. We were 'going to dinner to celebrate the house,' so he said. We went to dinner at The Studio Restaurant at the Montage Resort in Laguna Beach. We had the most beautiful dinner overlooking the ocean cliffs. Afterward, it was only fitting that we took a romantic walk along the beach. After wishing we could stay at the resort that night, somehow we ended up in front of a room at the Montage. When he opened the door it was the most beautiful and romantic sight - pink everywhere (I am obsessed with pink!). Kevin had candles EVERYWHERE, pink balloons, and rose petals covering every surface. The perfect music was playing and there was champagne! After he got a little emotional, he said that he had a "special dessert" for me. He brought over the most beautiful and most wonderful pink cupcake EVER, got on one knee, and with the most beautiful words, asked me to marry him. Of course, I said, YES!"

Pegeen Flower Girl Dress Company ~ 9147 State Rd 535 Orlando, FL 32836 ~ Shipping World Wide Since 1982