Flower Girl Dresses in Royal Purple and Apple Green Silk
2011 Wedding of the Year Honorable Mention
A Nigerian Family Wedding
About our Honorable Mention: A gorgeous celebration featuring the fabulous colors of royal purple and apple green. This bride, Stella, chose style 383 for her flower girl dresses in Royal Purple and Apple Green with purple back flowers. Her fourth and tiniest flower girl was in style 356 in white and amethyst silk and tulle. Her Junior Bridesmaid wore a knee length version of style 383 in Royal Purple with the Apple Green Sash.
---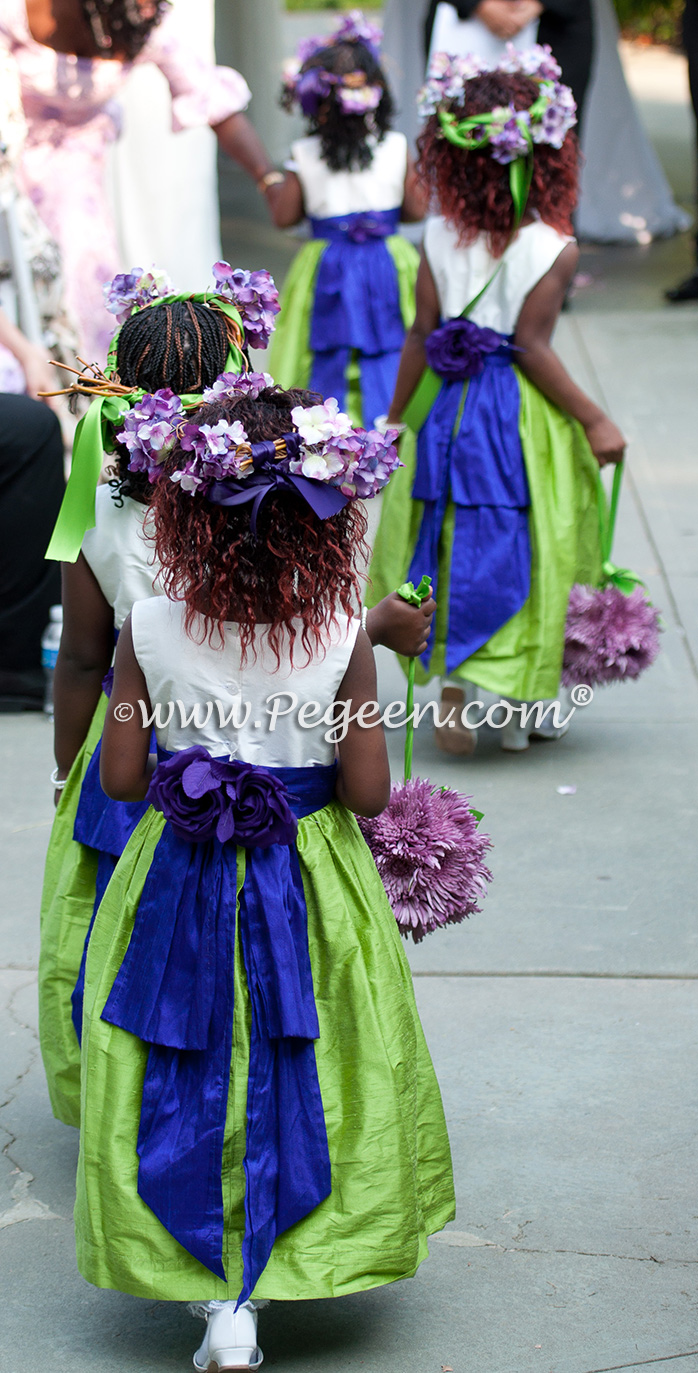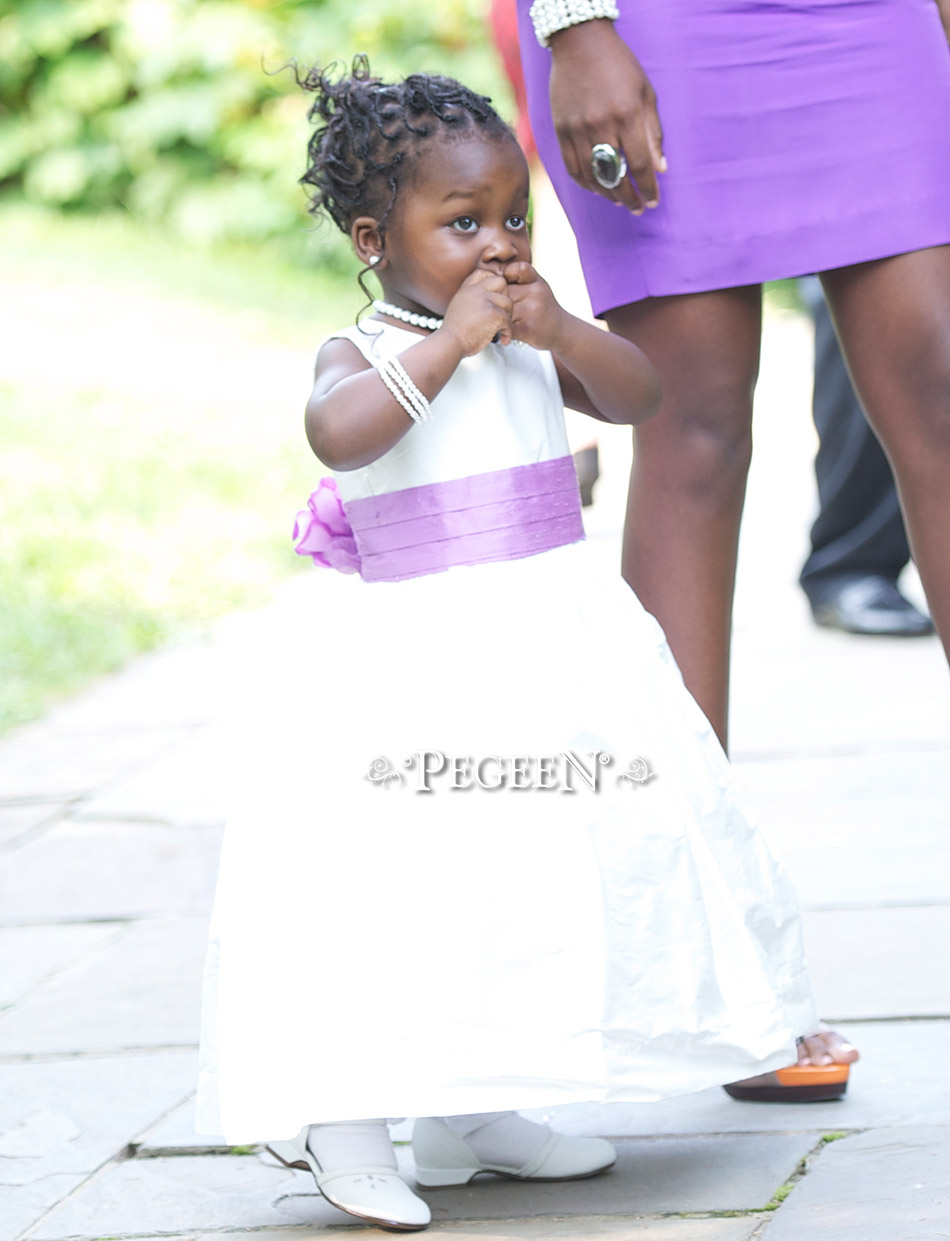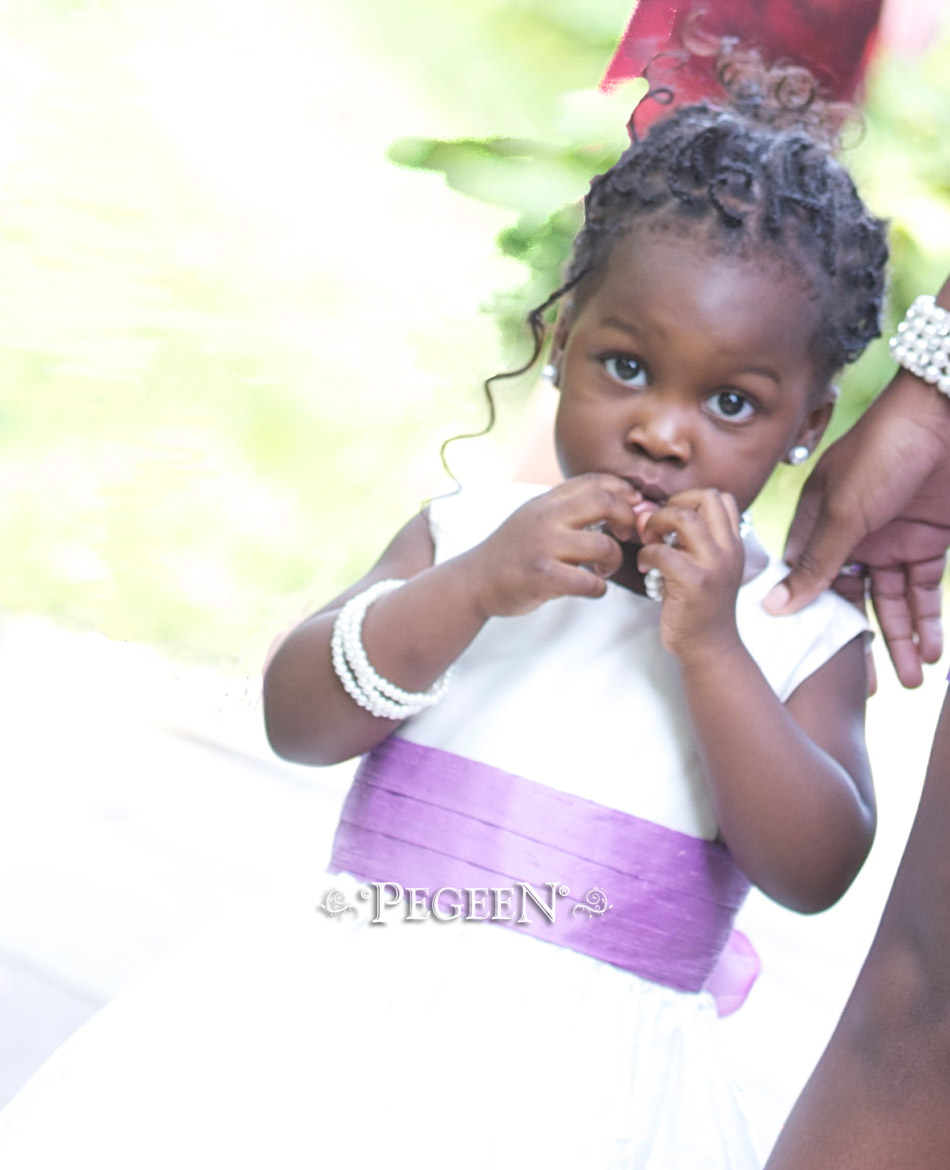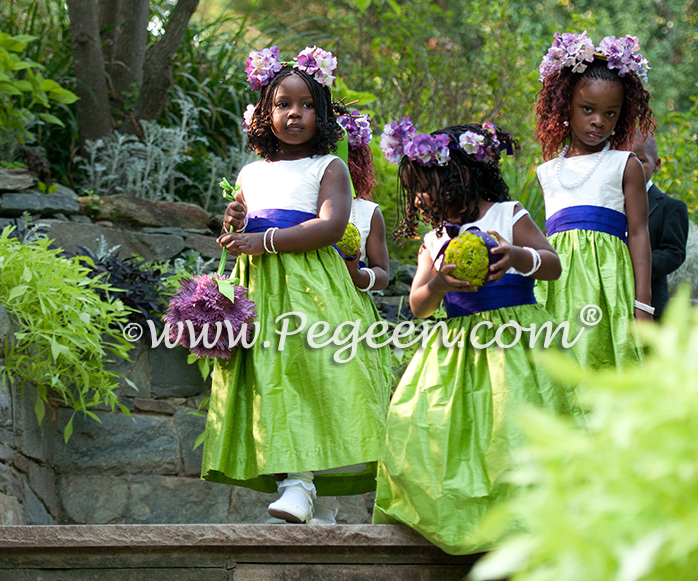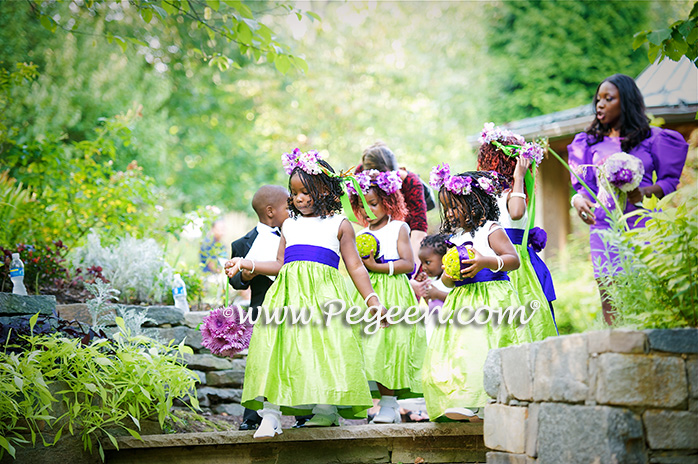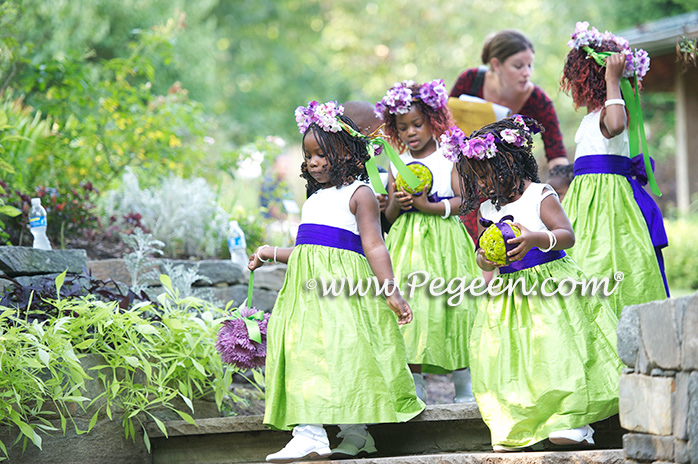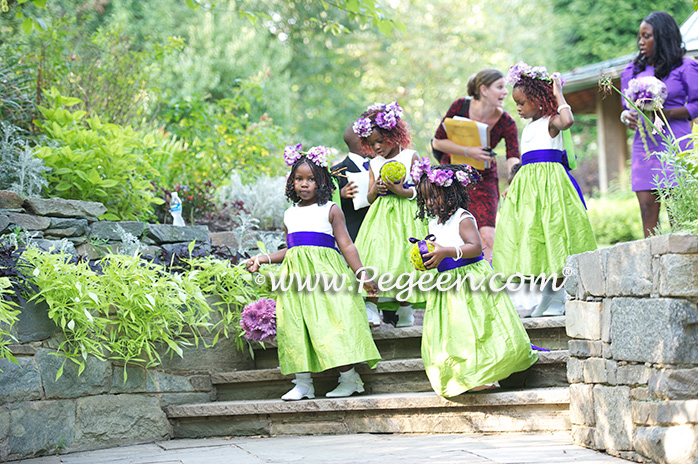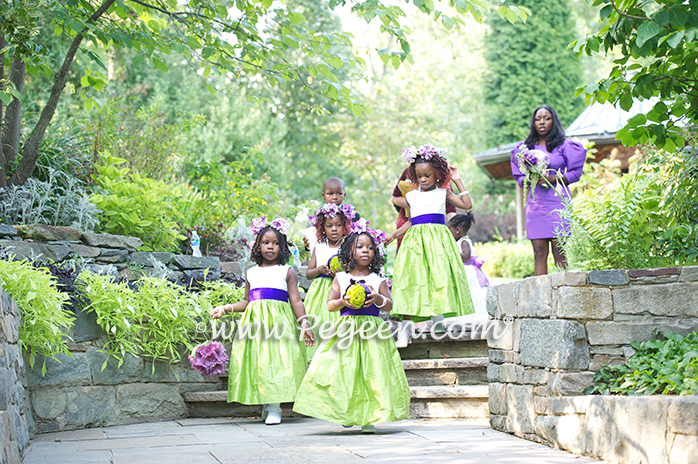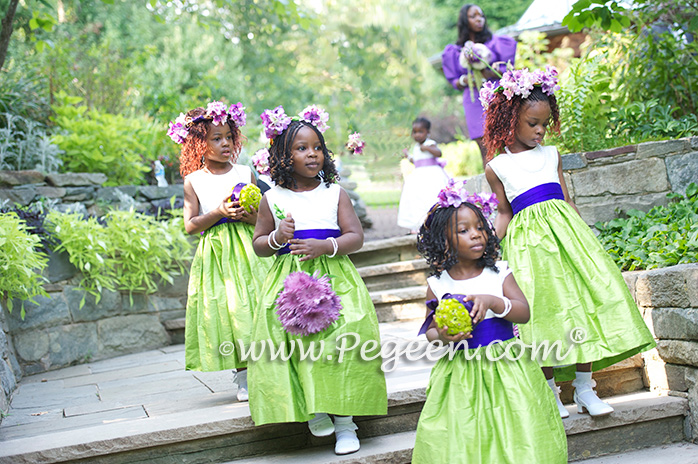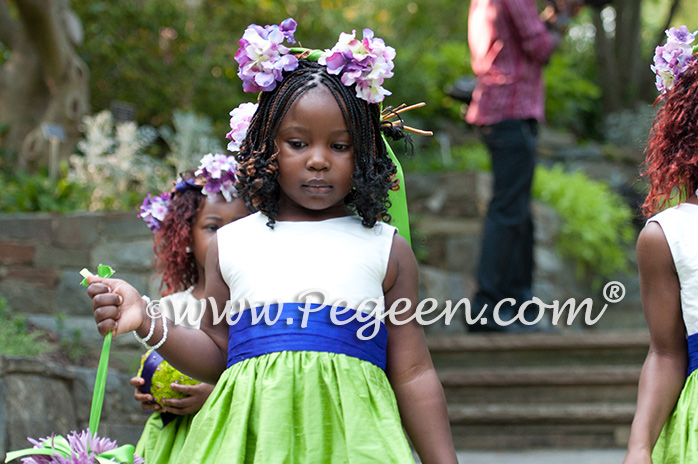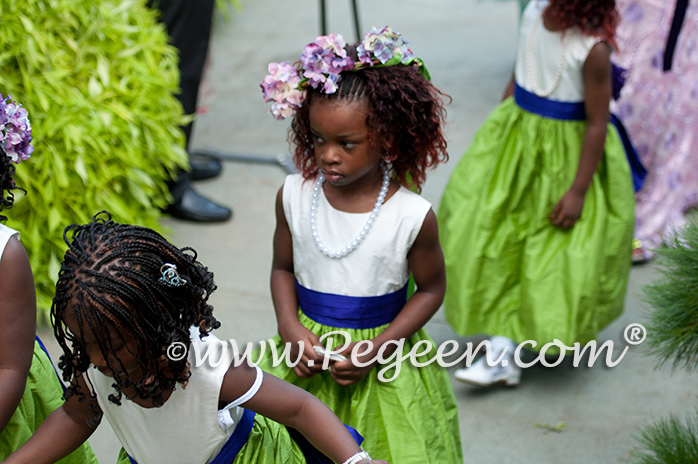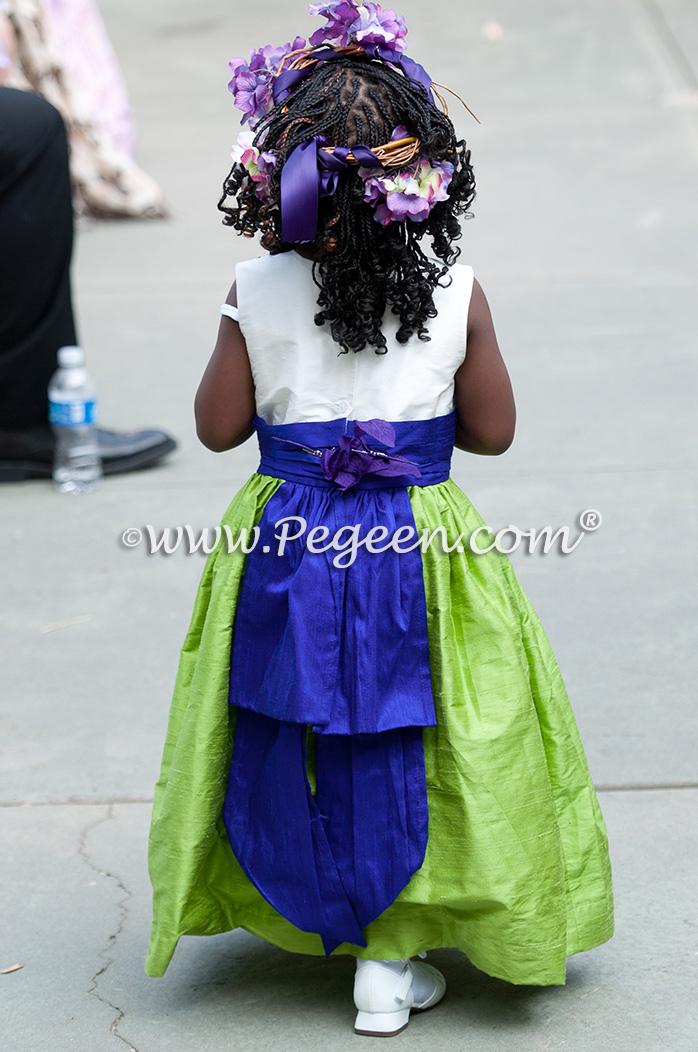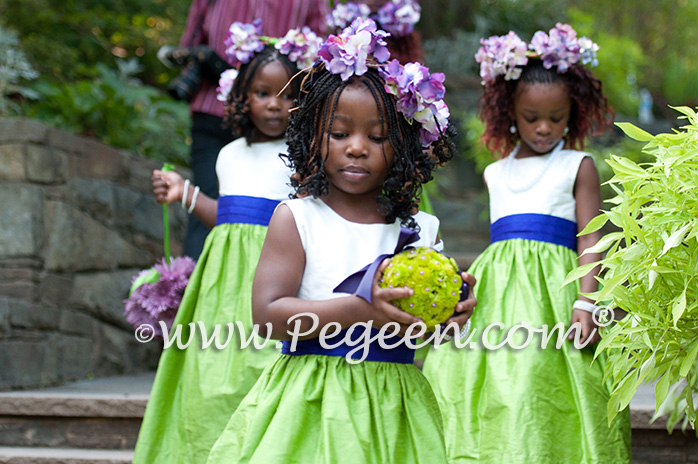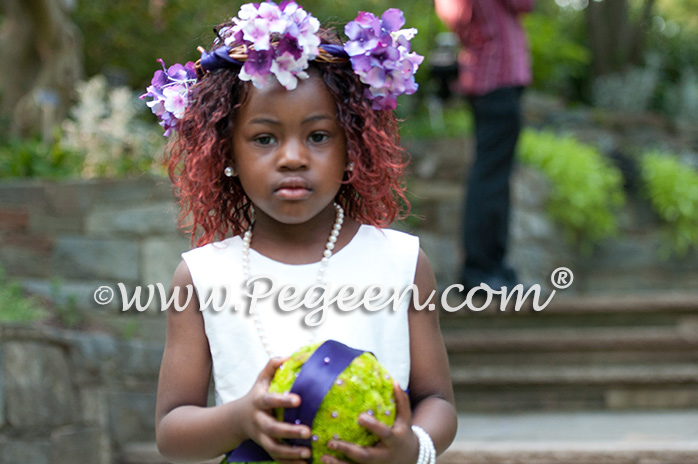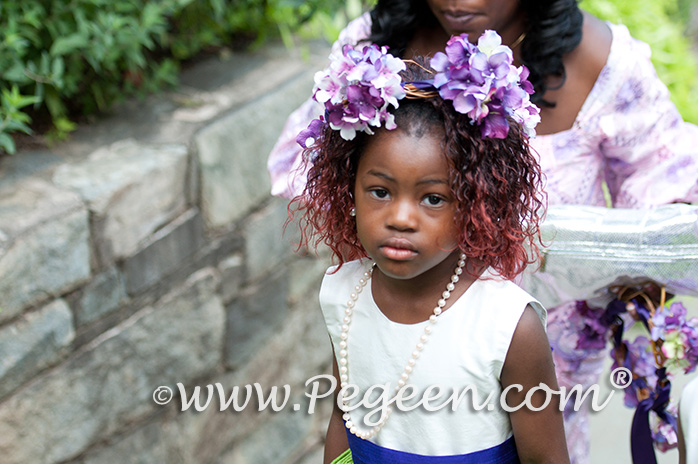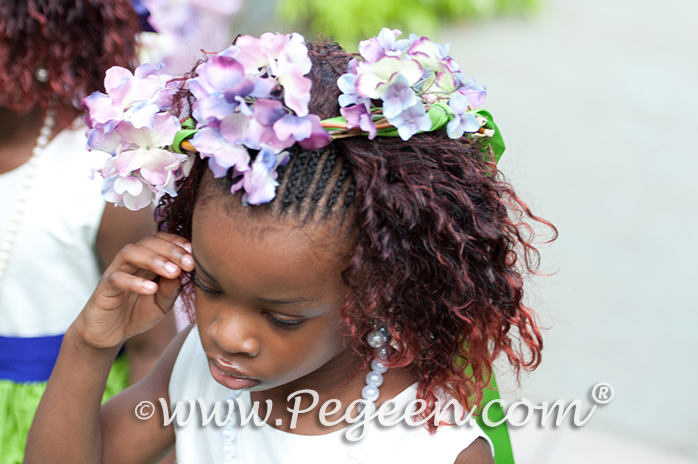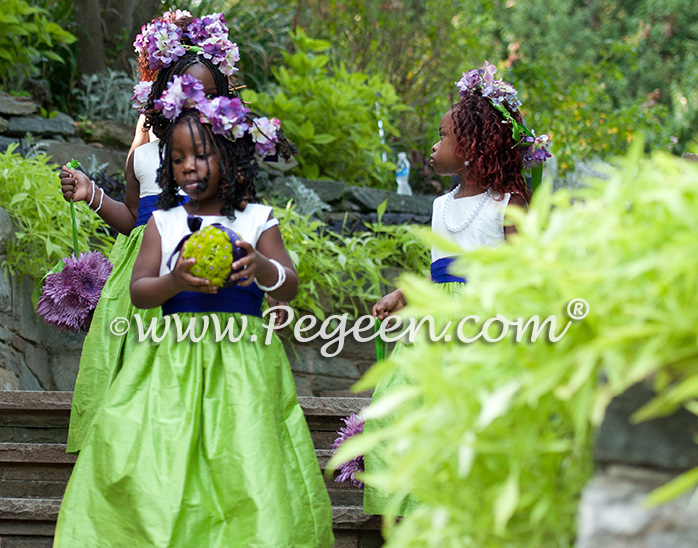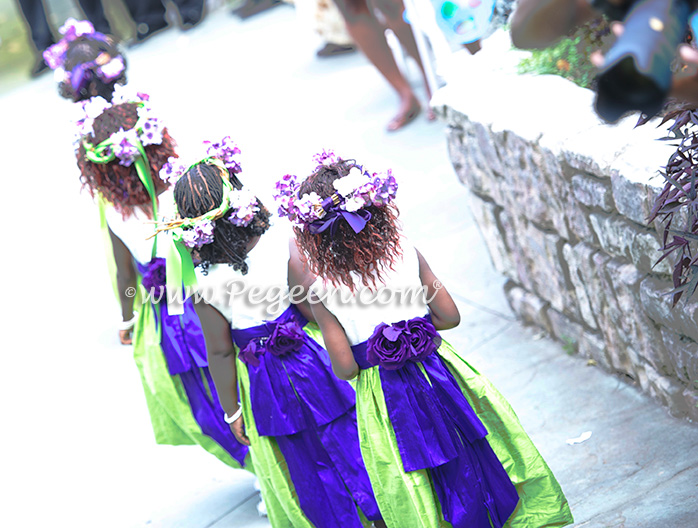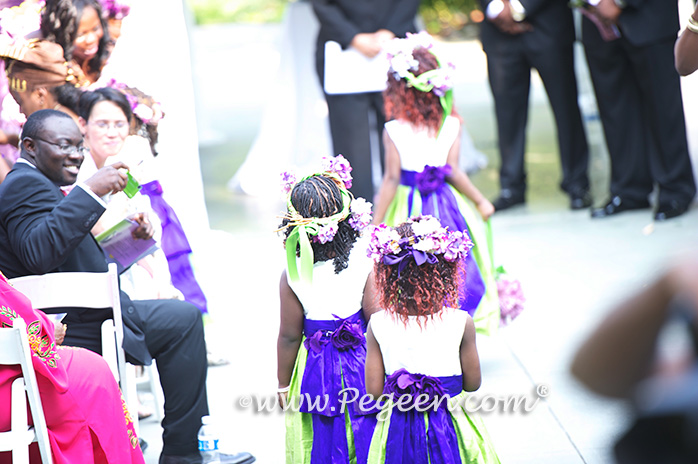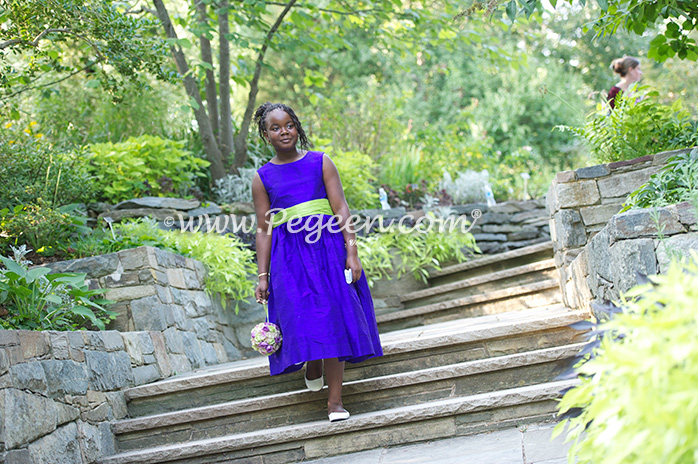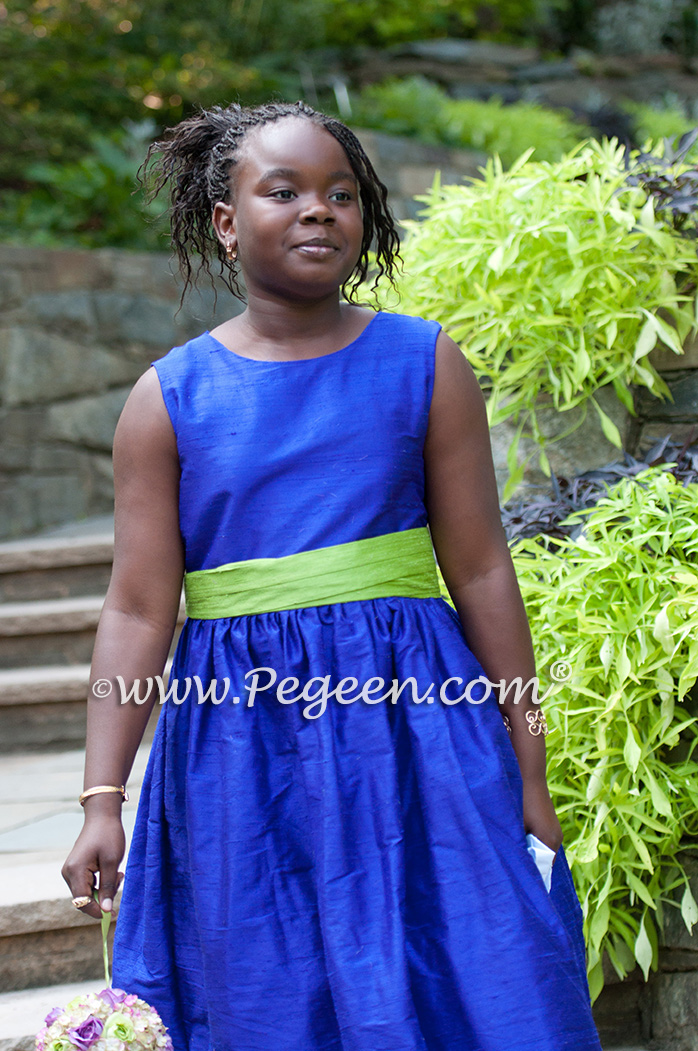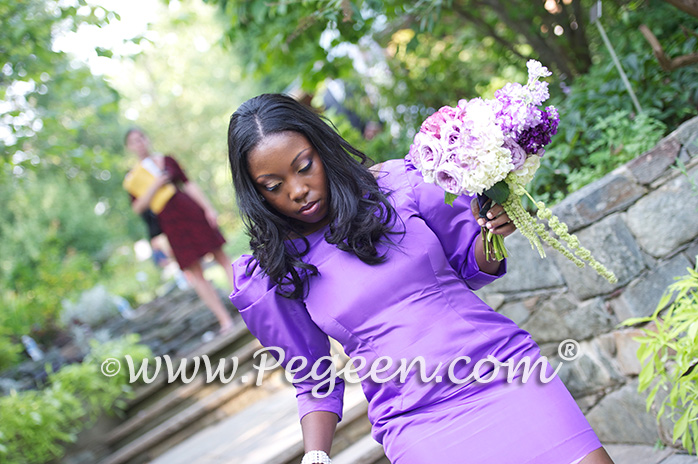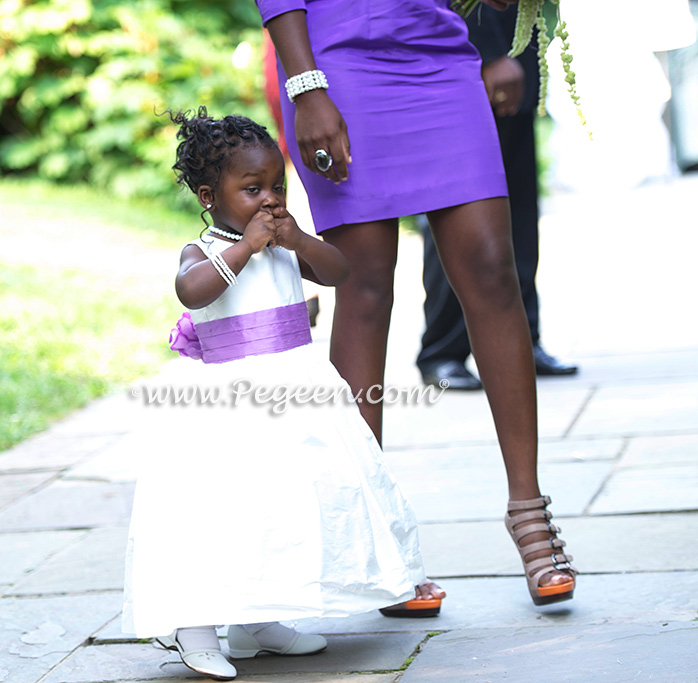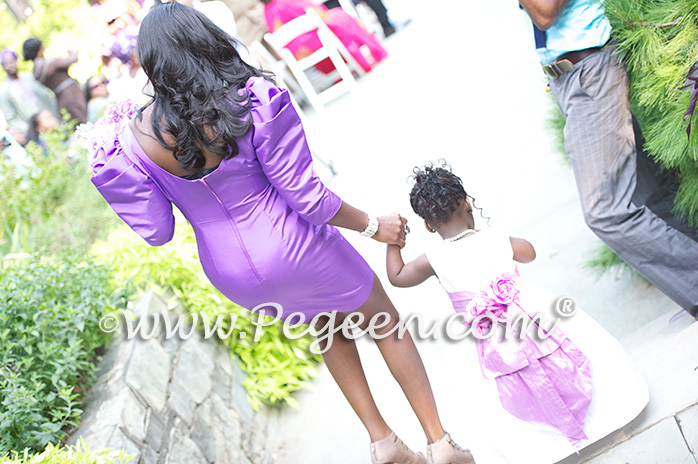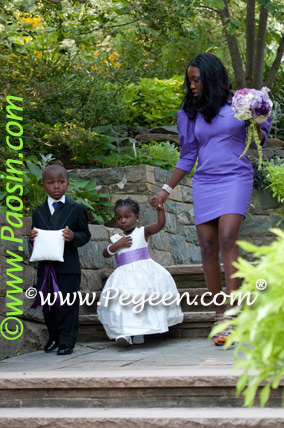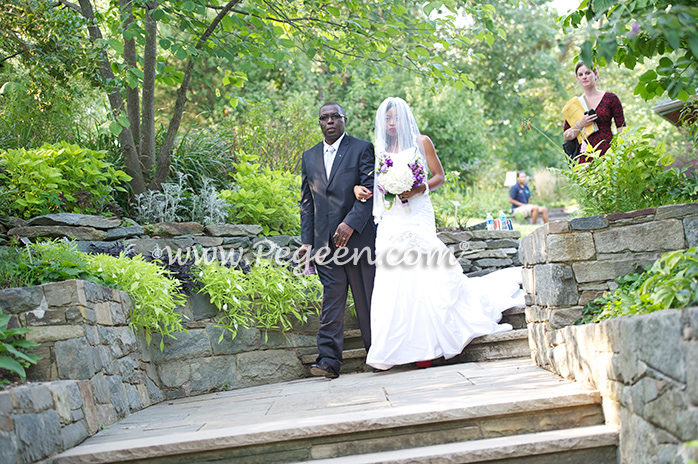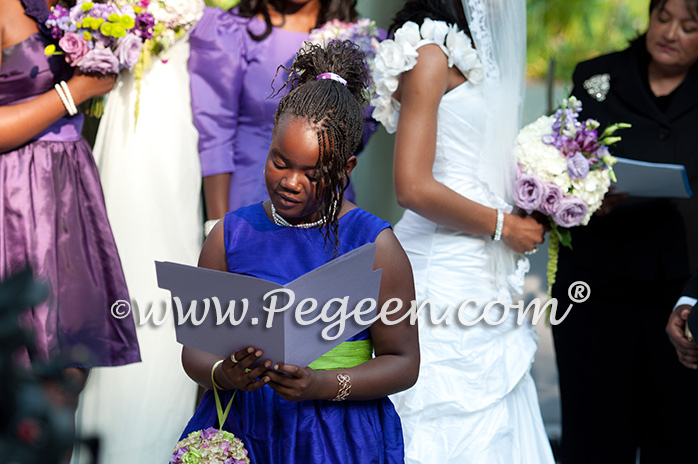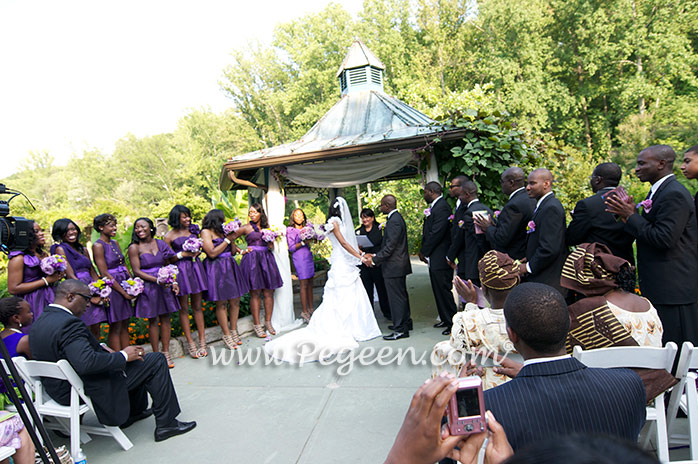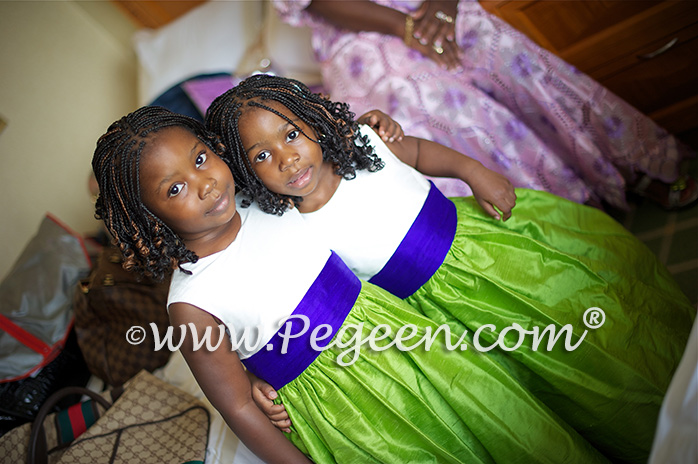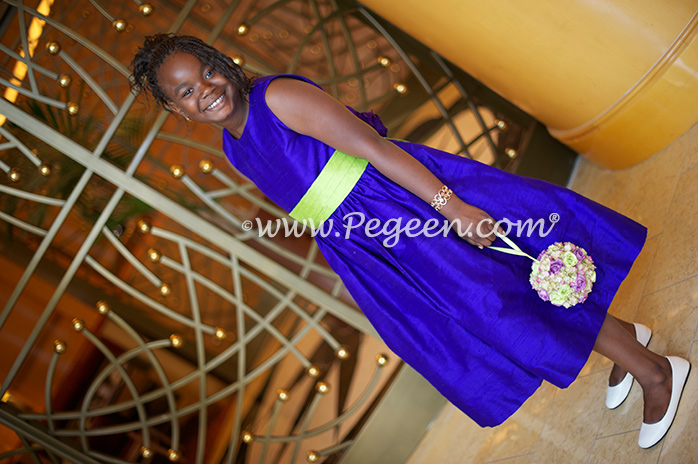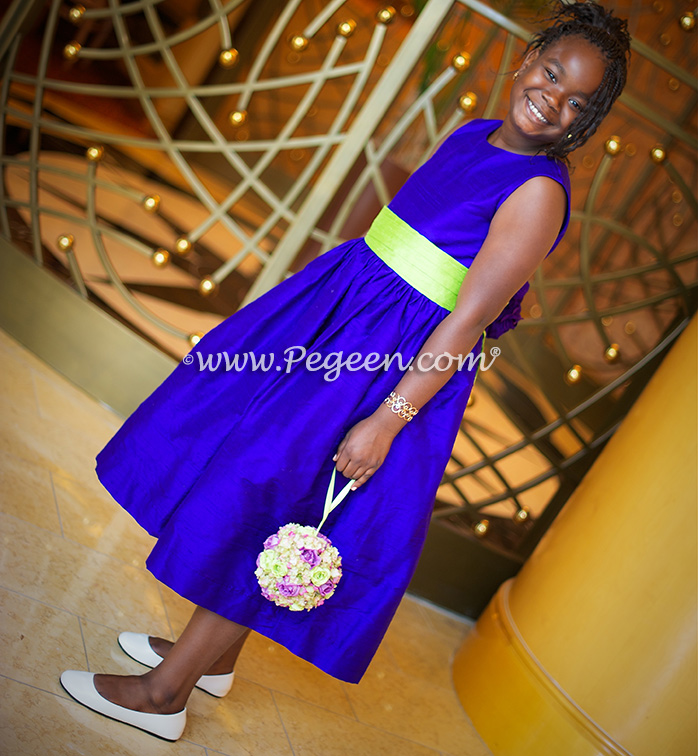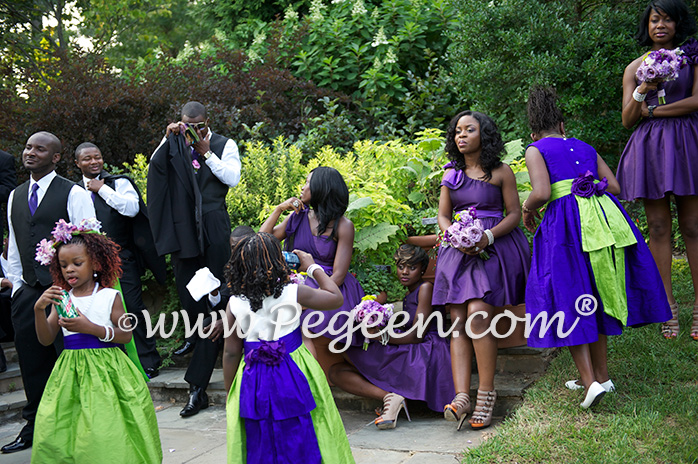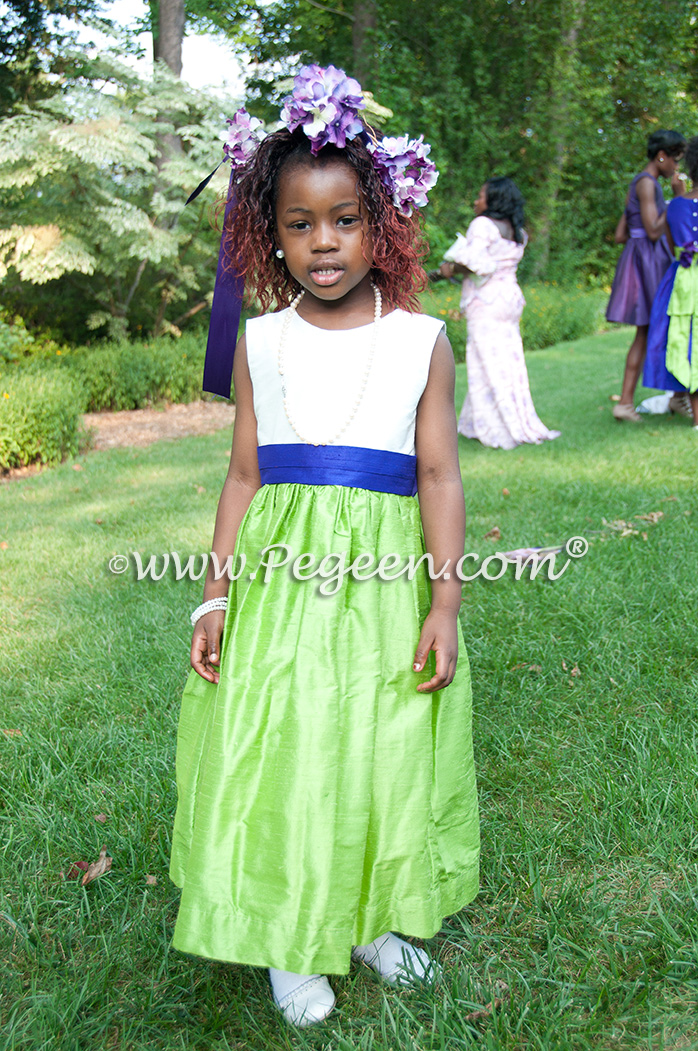 Flower girl dress DETAILS Little Tulle and Silk Flower Girl Dress in White DETAILS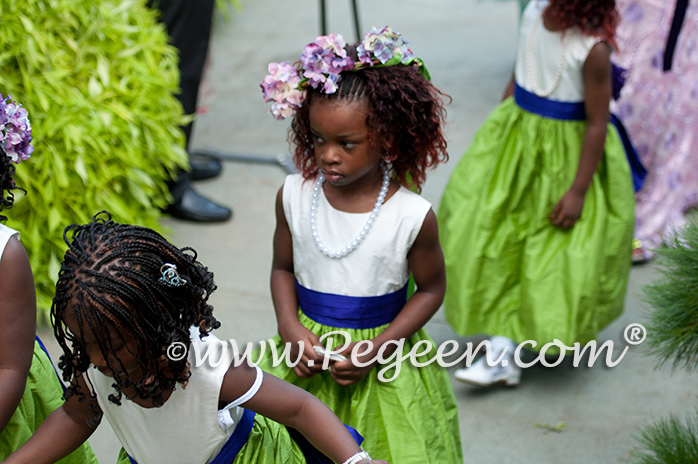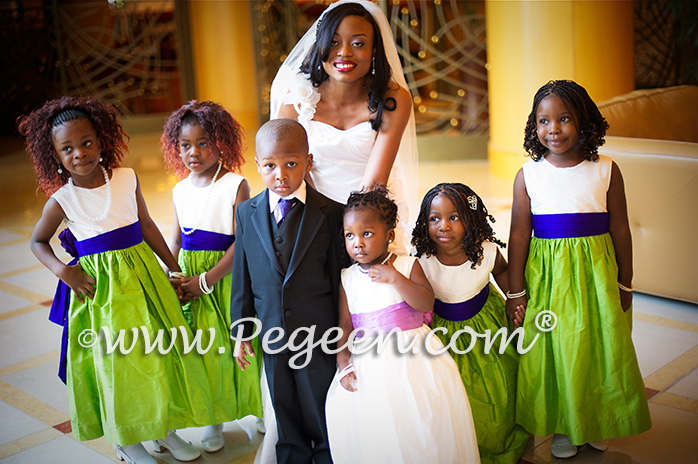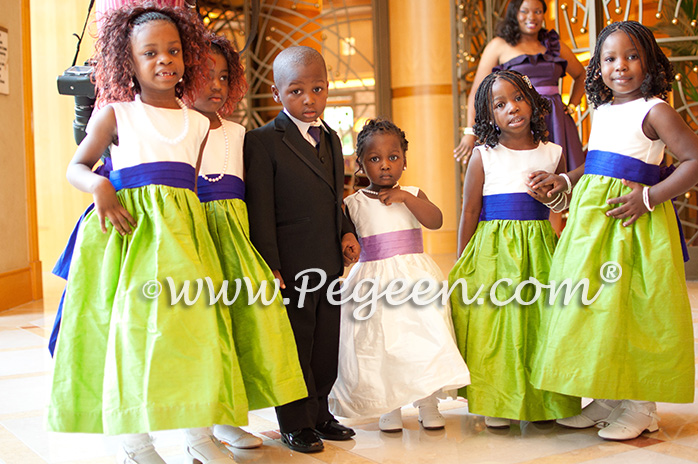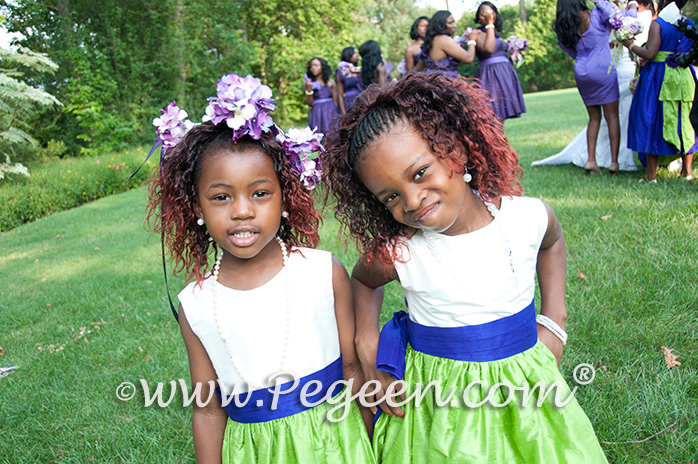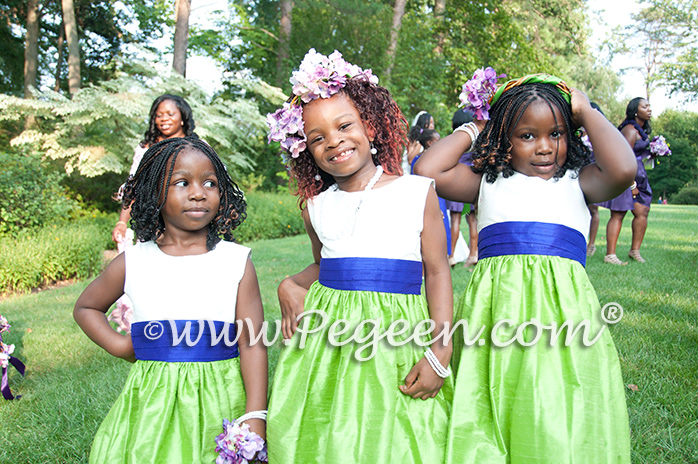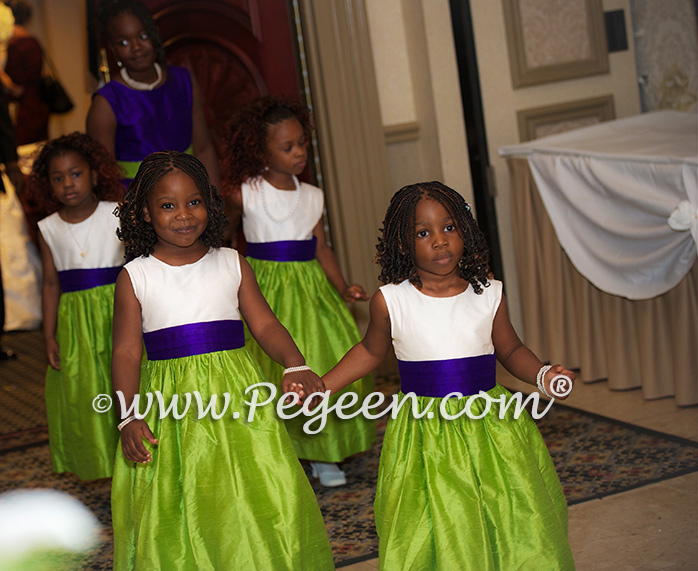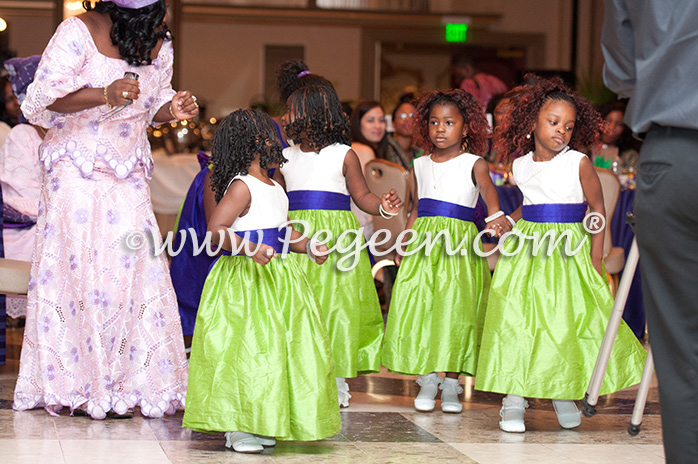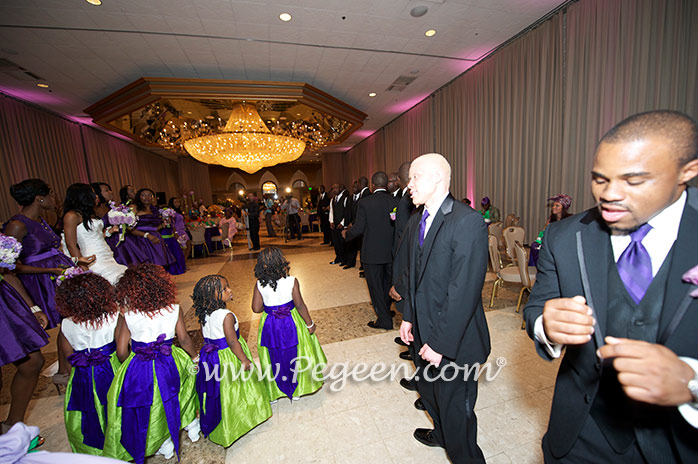 Flower Girls Apple Green and Royal Purple with White Pegeen Classic Style 383 - Jr Bridesmaids in all Royal Purple Style 383 and Toddler Flower Girl in Antique White Silk with Amethyst Sash Style 383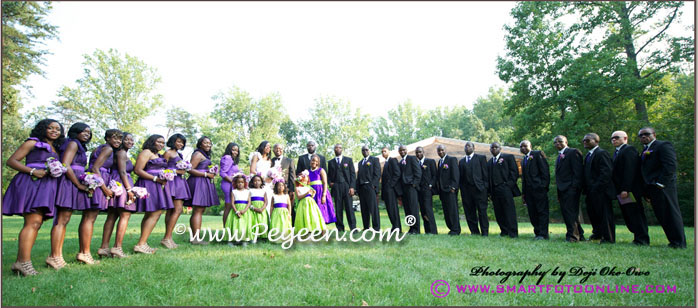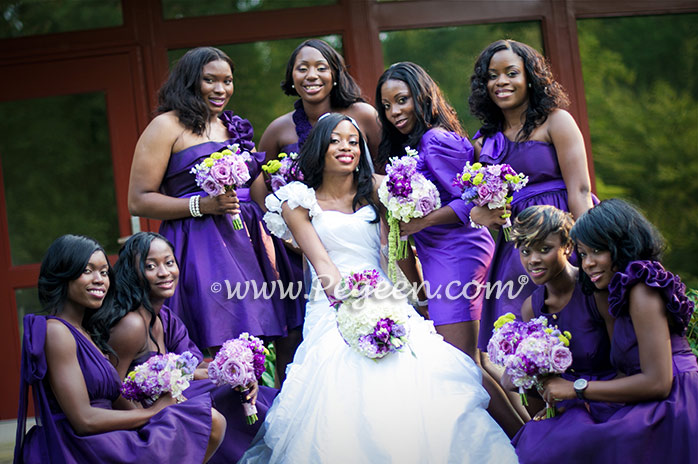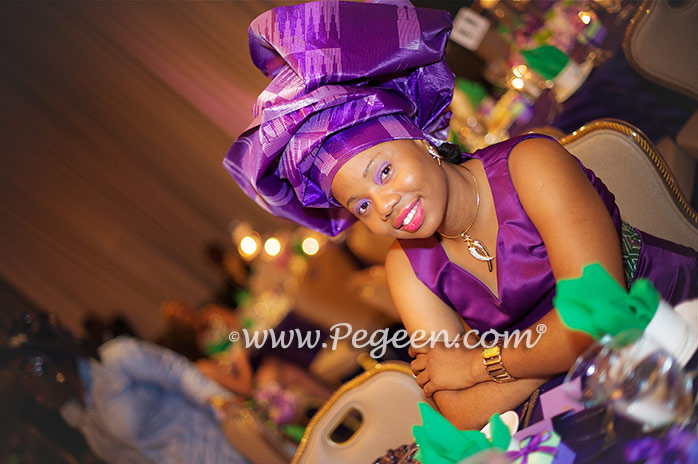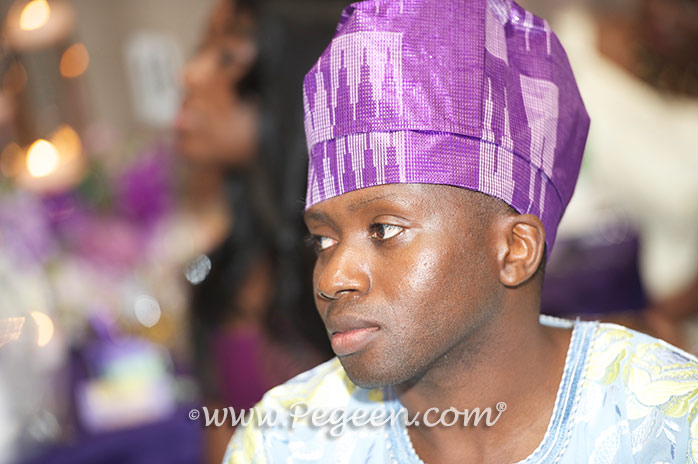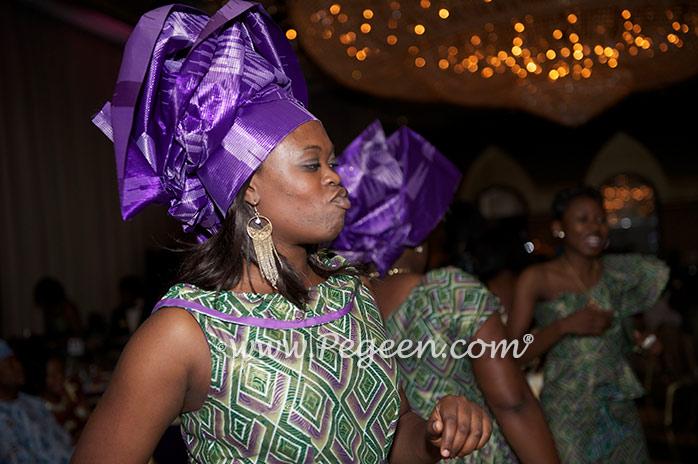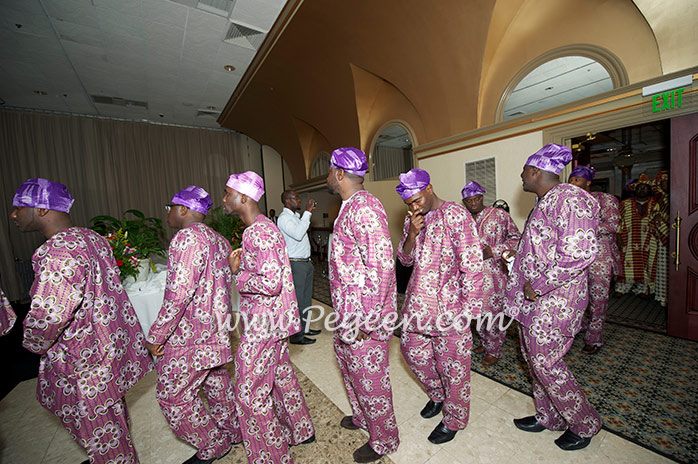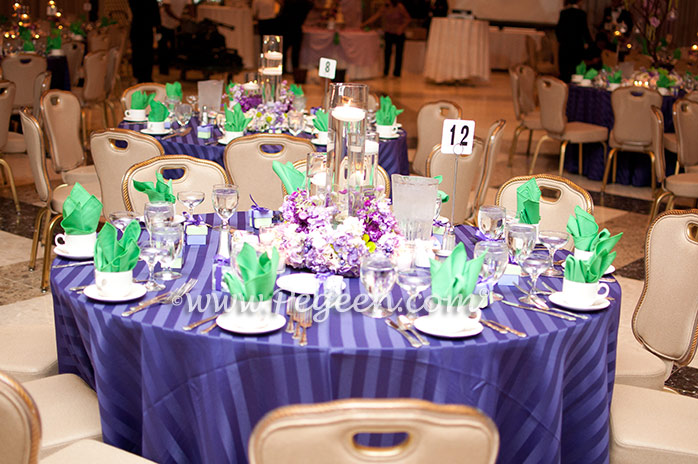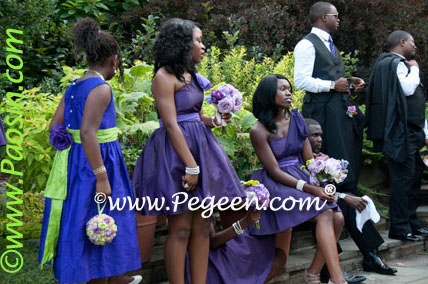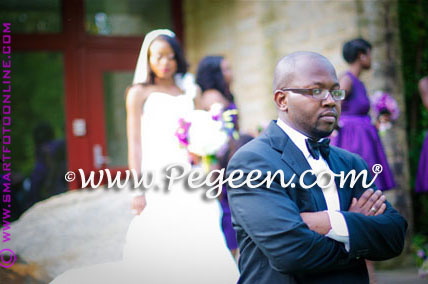 ... The Proposal "It was a Saturday evening and we were celebrating our anniversary. Olu had planned a trip to London, but he wanted us to lounge at the hotel to make an easy transition to the airport. Unknown to me, he had other plans. Before the evening was over, he dropped me off for a little shopping and left. I had no idea of the proposal because he is good at planning surprises, so I associated everything with our anniversary which we were celebrating. After he dropped me off, he went back to the hotel. When he picked me up and we both went back to the hotel, I was wondering why everyone seemed overly nice and friendly. As soon as I walked into the suite, which was lighted only with candles and with flower petals strewn everywhere, I was overwhelmed. As I was still admiring all he'd done, I realized he had Shania Twain's "From the Moment" playing. When I turned around, he was on his knees. I was speechless and filled with joy. The rest is history!"
Stella and Olu's story:
By the groom, Olu:
I met my beautiful Stella for the first time in 2003 at a friend's house in Baltimore. I remember that day vividly, especially her hairstyle, dress and how shy she was. I had to start a conversation because Stella could be quiet sometimes and it paid off that I was a live wire. We hit it off right away and became best friends. Over the years, we learned we had similar outlooks toward life and the Christian faith. Stella has been a strong source of support and motivation for me. She never gives up on dreams and I can honestly say she has played crucial and indispensable roles in some decisions I have made in my life. When my family met Stella, they fell in love with her and I find it so funny that Stella's mother once referred to me as Stella's brother when a friend asked who I was - we still had things under wraps then.
Stella, I am so grateful to God for bringing you into my life and I know this is just the beginning of good things to come. I love you beyond measure . . .
By the bride, Stella:
Ok, I think mine is the real story, so pay close attention. I met Olu in 2003 at a family friend's house. I remember walking in that evening after hanging out with friends. I saw Olu and my family friend seated in the living room. I walked by and said, "hello." Olu was quick to start a conversation with mostly political stories that didn't interest me. Lol! After realizing my lack of interest in politics, he asked if I read Hints Magazine. I remember because I wondered if people still read it. Trying to be nice, I answered in the affirmative and he gave me two copies of the magazine. Of course, I would have preferred Vogue or Elle . . . The last time I heard of Hints Magazine, I was 12. Lol! That was our first meeting. After several attempts to date me, I was just not interested. But we stayed friends.
But we stayed friends
Over the years, I found out that he was a man with great morals and faith. He knew what he wanted, had a vision and planned to achieve his goals. Olu is definitely a "go-getter" and a very, very persistent person. Anything anyone else says is impossible to achieve, he goes for and succeeds in it. He is the most caring person I ever met - always willing to help me. In my undergrad years, he was my source of strength beyond measure. Two year later, we gave it a try and then five (5) years later we said, "I do." I have definitely found my best friend, partner, and the love of my life. I love Olu beyond measure and it is amazing that his affection for me has not changed a bit. God definitely answered my prayers because I found the man of my dreams. I am forever grateful to have you in my life, Olu . . .
Details of the Wedding Date: August 8, 2010
Ceremony: Brookside Garden, Wheaton, MD
Reception: Martin's Crosswinds, Greenbelt, MD
Hair: Keisha of Take Time
Flowers/décor: BCG Events
Flower girl dresses by Pegeen
Photographers: Femi Osinowo at Paosin.com, and Deji Okeowo at smartfotoonline.com
Video editing: LynksDrivers
Bride's gown—Ivory mermaid dress with one shoulder flower design
Groom's suit—Kenneth Cole
Bridesmaids' dresses: Made by Kenia from designs by Jadore-Fashion.com
The bride picked the colors and styles for all the dresses. The lower part of all the ladies' dresses were the same, but the top portion was designed to fit each personality and individual's style. Stella wanted each style to be unique and different, but also to blend with the overall theme.
Pegeen Flower Girl Dress Company ~ 9147 State Rd 535 Orlando, FL 32836 ~ Shipping World Wide Since 1982
hidden
Back to Top