Hot Pink Weddings and Flower Girl Dresses
Hot Pink Flower Girl Dresses
Hot pink flower girl dresses can be an exceptional choice for weddings, injecting energy and vivacity into your special day. However, the suitability of this bold and lively color depends on your wedding theme and color scheme. Hot pink is especially fitting for spring or summer weddings, as it brings a playful and cheerful element to the celebration. Yet, it's vital to ensure that the hot pink hue harmonizes with the overall color palette of the wedding, preventing clashes with bridesmaids' dresses or other decorative elements.
Choosing the Perfect Hot Pink Dress
Selecting the ideal hot pink flower girl dress involves more than just choosing the right color. It's equally important to consider the style and comfort of the dress, especially for the little star of the show – your flower girl. The dress should be age-appropriate, ensuring that your flower girl not only looks adorable but also feels comfortable enough to participate enthusiastically in all the wedding activities.
Opting for a dress made from breathable and lightweight fabrics is particularly prudent, especially if your wedding falls during the warmer months. This ensures that your flower girl remains cool and comfortable throughout the day, allowing her to shine as she walks down the aisle and takes part in all the joyous festivities.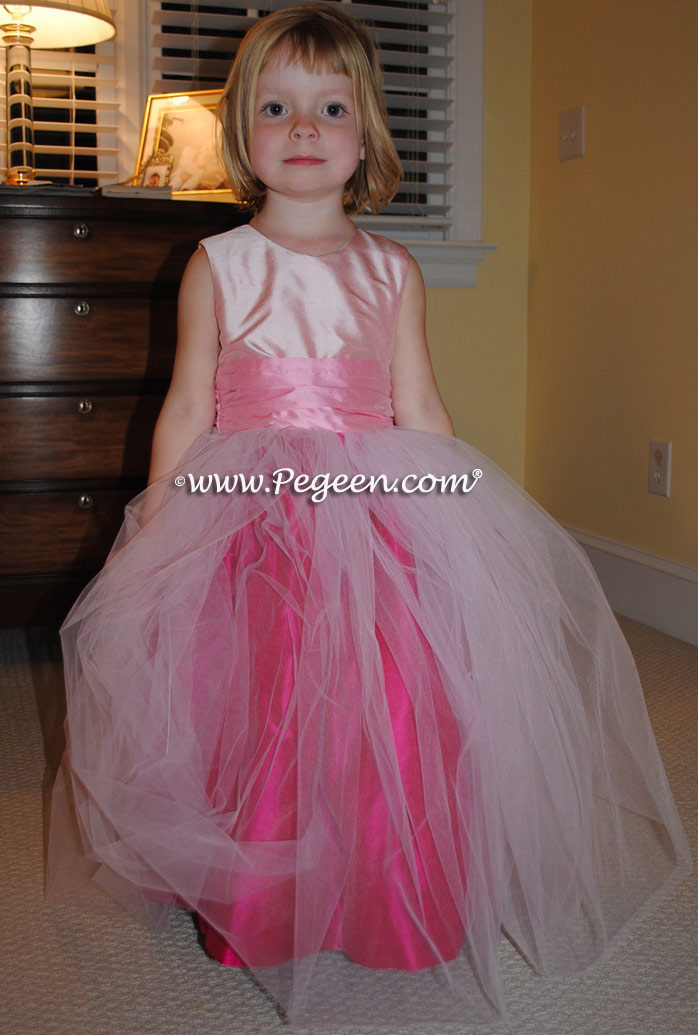 Customize Your Hot Pink Vision
Hot pink flower girl dresses can be customized to align perfectly with your wedding's theme and your flower girl's comfort. Consider various styles, from classic ball gowns to chic A-line dresses, to find the one that best complements your wedding's aesthetic. Accessorize with charming details like sashes, ribbons, or floral accents to create a unique look that will leave a lasting impression.
In the end, hot pink flower girl dresses have the potential to infuse your wedding with a vibrant and joyful atmosphere, making your big day even more memorable. So, embrace the boldness of hot pink and watch as it adds a splash of vivaciousness to your celebration of love.
Hot Pink flower girls, flower girl dresses and little girls flower girl dresses - Pegeen flower girl dresses, custom hot pink flower girl dresses, couture silk flower girl dresses in hot pink silk colors like cerise, shock, magenta, boing, flamingo
Shop Bright and Hot Pink Weddings: Hot Pink Flower Girl Dresses, Plus Size Flower Girl Dresses from Pegeen Flower Girl Dress Company

Pegeen Flower Girl Dress Company ~ 9147 State Rd 535 Orlando, FL 32836 ~ Shipping World Wide Since 1982