Navy Theme Weddings and Flower Girl Dresses
Navy Flower Girl Dresses
Navy Blue! See more about flower girls, flower girl dresses and little girls flower girl dresses - Pegeen flower girl dresses, custom navy flower girl dresses, couture silk flower girl dresses in navy, navy wedding themes - just about anything navy you can think of for a bride!
Navy flower girl dresses can be a stylish and sophisticated choice for weddings, especially for those looking for a classic and timeless color palette. Navy is a rich and elegant color that can complement a variety of color schemes, from pastel and muted colors to brighter and bolder hues.
Navy flower girl dresses can be worn in any season, but they are especially popular for fall and winter weddings when darker and more dramatic colors are often used. Navy can be paired with a variety of accent colors to create different wedding themes, such as gold or silver for a glamorous look or blush pink for a romantic and feminine feel. When choosing a navy flower girl dress, it's important to consider the overall style and formality of the wedding. Navy can work well in both formal and informal weddings, but the style and fabric of the dress should be appropriate for the wedding's level of formality. Additionally, it's important to choose a dress that is age-appropriate and comfortable for the flower girl to wear throughout the wedding day.
Navy Blue Theme Inspired Weddings: Navy Blue Flower Girl Dresses by Pegeen Flower Girl Dress Company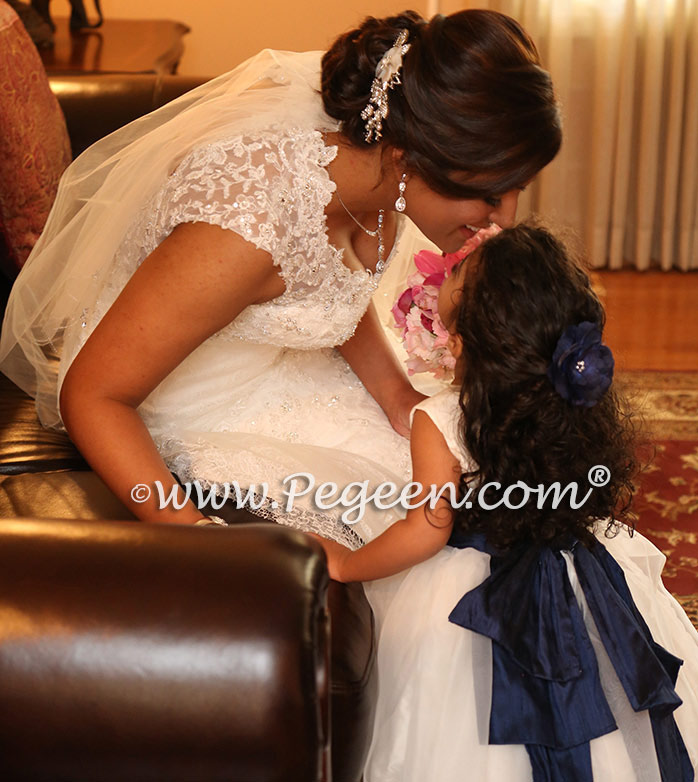 Pegeen Flower Girl Dress Company ~ 9147 State Rd 535 Orlando, FL 32836 ~ Shipping World Wide Since 1982