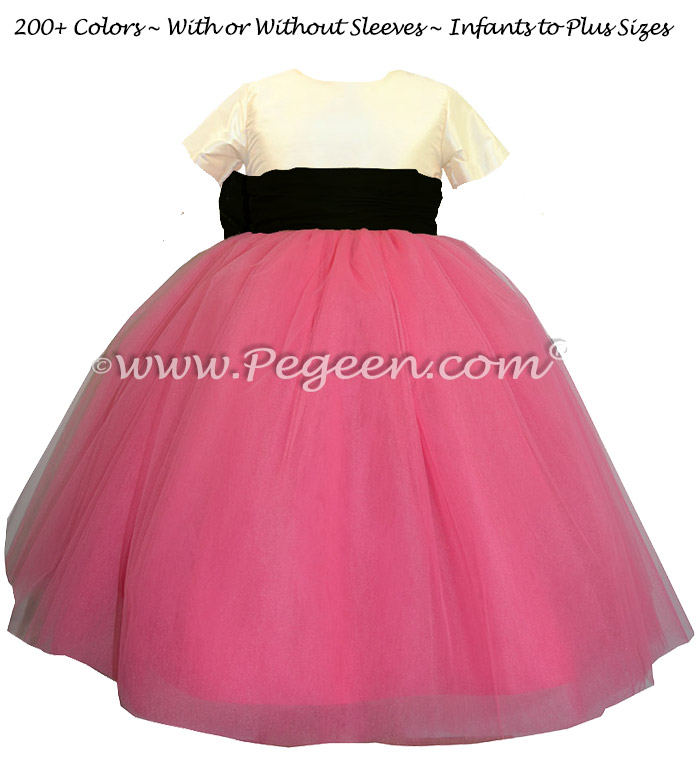 An adorable color combination for a flower girl dress goes with her personality
Hot Pink and Black Tulle Flower Girl Dress402-shock-black-flower-girl-dress hot,pink,shock,black,and,flower,girl,dress,style,402 Hot Pink and Black Tulle Flower Girl Dress https://pegeen.com/media/shopshark/blog/402-shock-black-flower-girl-dresses.jpg
In the world of weddings, it's not just the bride who gets to shine. Little flower girls play an essential role in adding charm and sweetness to the special day. One particular flower girl dress, a stunning combination of shock pink silk and tulle, with an exquisite black sash and an antique white bodice adorned with short sleeves, stole the show and left everyone enchanted. Let's dive into the delightful details of this Pegeen Dress Dreamer virtual closet Style 402 that made one little flower girl absolutely beam with excitement.
As the eagerly anticipated day approached, the shock pink silk and tulle skirt with its playful twirls brought a splash of vibrant color to the wedding ceremony. Paired with a striking black sash and an elegant antique white bodice featuring charming short sleeves, this dress was a true masterpiece of design and craftsmanship. The combination of colors exuded youthful exuberance while maintaining an air of sophistication, befitting the joyous occasion.
Upon receiving her special flower girl dress, the little girl's eyes lit up with excitement, and her face beamed with delight. The bride's joy in seeing the flower girl's reaction was heartwarming, capturing a truly candid moment of pure happiness. The choice of Pegeen Dress Dreamer virtual closet Style 402 proved to be a dream come true, as the dress perfectly complemented the young girl's radiant personality.
In the world of weddings, the tiniest details can create the most memorable moments. This shock pink silk and tulle flower girl dress, adorned with a black sash and antique white bodice, was undoubtedly one of those magical details that added an extra touch of enchantment to the special day. The little flower girl's excitement and joy showcased the true beauty of the dress and exemplified the happiness that comes with celebrating love and togetherness.Try our Dress Dreamer and create your own style! Just a reminder – although we sell exclusively online, if you are visiting Orlando, we are located just 1.25 miles from Disney World. Call to visit our factory or design studio. 407-928-2377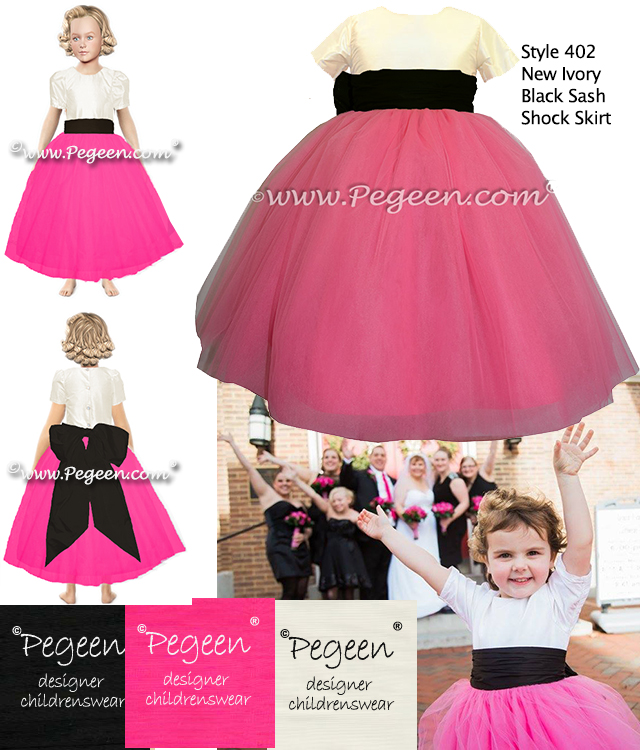 Pegeen Dress Dreamer virtual closet 100% Pure Silk. Try our Dress Dreamer and create your own style!
PEGEEN CLASSIC STYLE 402 Custom Silk Flower Girl Dress in hot pink called Shock and gathered silk sash in black with hot pink tulle, a new ivory bodice with sleeves and includes a petticoat. Choose up to 3 colors, for the bodice (top), skirt and sash which is available in 200+ Mix and Match Color choices and mother of pearl button closure. Dress has a full gathered skirt with a ruffled sash in front of the dress and a large sash that you tie in a back bow. All of our skirt lengths are ballet length, meaning just three or four inches above the ankle or you should include a "belly button to finished" custom length at no extra charge with your measurements. Includes your choice of short sleeves or sleeveless tank, other options available such as sash changes, longer sleeves at a slightly higher price. Available from Infant through Plus Sizes, attached crinoline/petticoat and lined with silk.