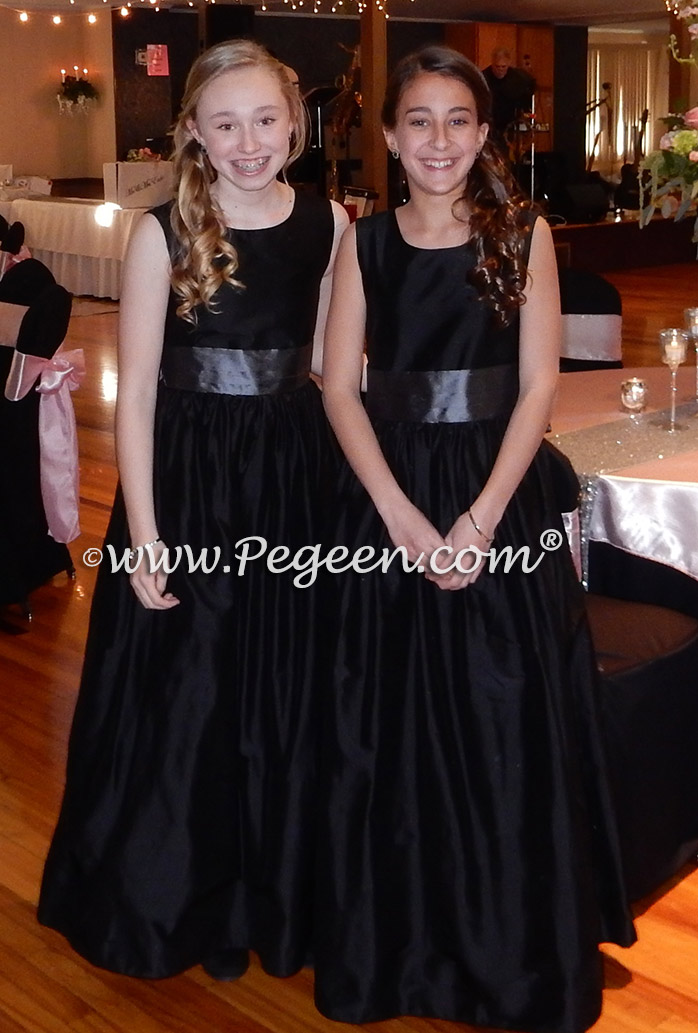 Navigating the choices for flower girl dresses, a concerned mother found herself pondering a common question: is black an appropriate color?
Wrestling with the traditional expectations of lighter hues for flower girls, she sought assurance and guidance on whether black could be a fitting choice. In this exploration of color, the mother delved into breaking away from conventional norms to embrace a more contemporary and sophisticated aesthetic for her flower girl ensemble.
To address the mother's concerns, it's essential to recognize that fashion rules are ever-evolving, and the notion that flower girls must exclusively wear light shades is becoming a thing of the past. Black, with its timeless elegance and versatility, can indeed make for a striking choice. The depth and richness of black can create a sense of sophistication, offering a modern and chic alternative to the traditional pastels. By embracing black for flower girl dresses, this mom embarked on a journey to redefine norms and infuse a touch of unconventional charm into her wedding celebration.
In choosing black for flower girl dresses, this mom not only challenged preconceived notions but also embraced a bold and fashion-forward approach to wedding aesthetics. The resulting ensemble likely showcased the inherent beauty and versatility of black, proving that unconventional choices can be both tasteful and memorable. This decision not only reflected a contemporary sense of style but also conveyed a message of empowerment, demonstrating that weddings are an ideal canvas for personal expression and the celebration of individuality.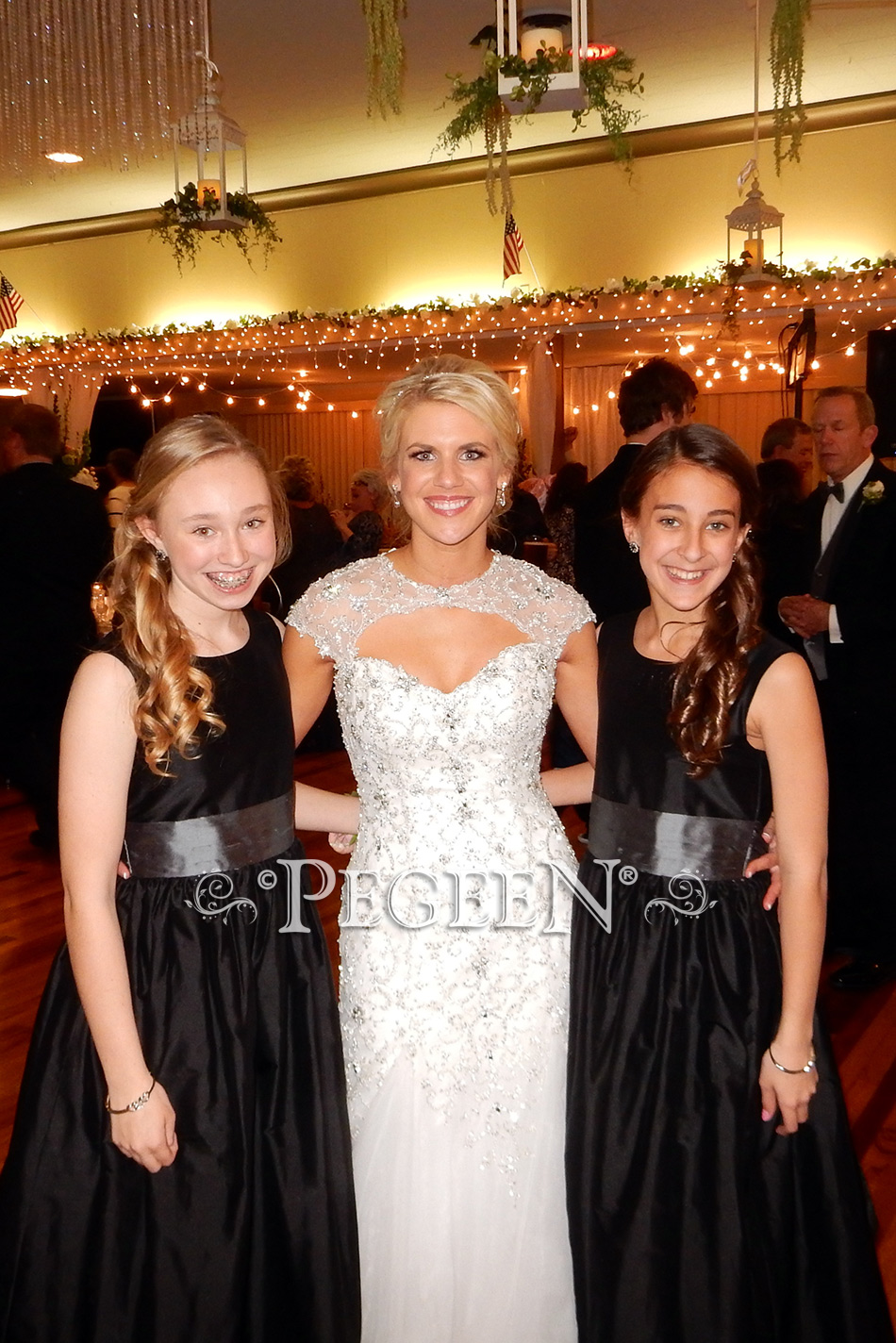 A mom was worried, is Black appropriate for my Jr. Bridesmaids Dresses? We showed her many examples and sent lots of free swatches to her in the mail. We finally decided on a lovely color called Arial Blue for the sash which has black silk going in the opposite direction (cross weave). Pegeen Dress Dreamer virtual closet Style 388 was used for two Jr. Bridesmaids where we added extra length to their dresses. 100% Pure Silk. Try our Dress Dreamer and create your own style!
This silk flower girl dress in black silk for two Jr Bridesmaids who attended their cousin's wedding.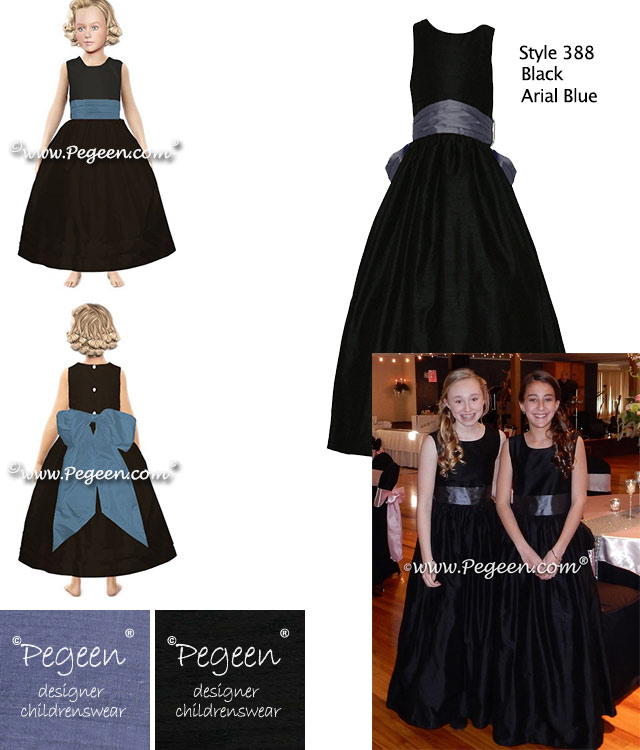 PEGEEN CLASSIC STYLE 398 Custom Silk Junior Bridesmaids Dress with exaggerated scoop. Comes with ruffled sash but you can add a pleated sash under options. Choose up to 3 colors, for the bodice (top), skirt and sash which is available in 200+ Mix and Match Color choices and mother of pearl button closure. Dress has a full gathered skirt with a ruffled sash in front of the dress and a large sash that you tie in a bow. All of our skirt lengths are ballet length, meaning just three or four inches above the ankle which can be customized as well. Includes your choice of short sleeves or sleeveless tank, other options available such as sash changes or flowers at a slightly higher price. See options below. Available from 4R through Plus Sizes, attached crinoline/petticoat and lined with silk.
black, blue, black and blue flower girl dresses, style 398, jr bridesmaids Black and arial blue silver Jr. Bridesmaids dresses