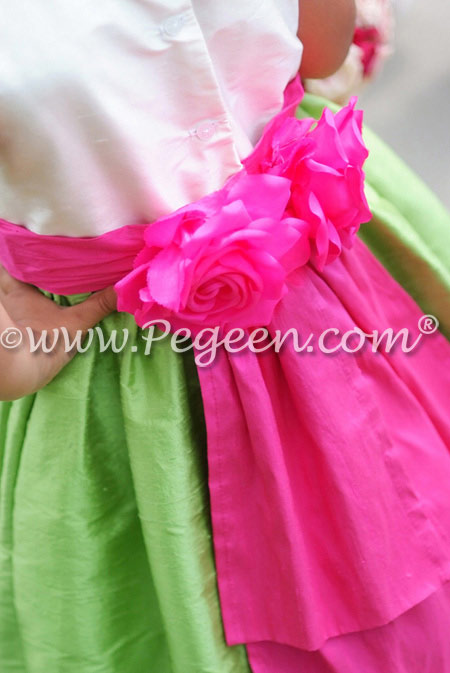 Create your flower girl dress using our Pegeen Dress Dreamer
In our collection, we proudly present a stunning flower girl dress in a captivating combination of hot pink, green, and light pink. This exquisite creation was brought to life in collaboration with one of our valued customers, using our innovative Pegeen Dress Dreamer. With the Dress Dreamer's virtual closet, our customer was able to unleash their creativity and style preferences to curate a truly unique and enchanting dress.
The dress features a delightful blend of colors that perfectly complement each other. The vibrant hot pink adds a pop of energy and playfulness, while the soothing green brings a touch of natural beauty. The light pink hue adds a soft and elegant touch, creating a harmonious balance in the overall design.
Crafted with meticulous attention to detail, this flower girl dress showcases the craftsmanship and expertise that Pegeen is renowned for. The Antique White accents add a touch of vintage charm, enhancing the dress's timeless appeal. The Boing shade injects a burst of lively energy, making the dress truly eye-catching. The Grass Green elements provide a fresh and nature-inspired vibe, reflecting the beauty of blooming gardens. Lastly, the Peony shade lends a touch of femininity and grace, completing the ensemble with a hint of delicate charm.
To add an extra element of allure, this dress features a V-back design. This elegant detail adds a touch of sophistication and creates a captivating silhouette. The V-back not only enhances the dress's visual appeal but also ensures a comfortable and secure fit for the little flower girl.
At Pegeen, we understand that each customer has their unique vision and desires when it comes to their dream dress. That's why we provide the Dress Dreamer virtual closet, allowing our customers to explore endless possibilities and bring their dream dress to life. We take great pride in offering a personalized experience and working closely with our customers to fulfill their dress dreams.
Whether it's for a wedding, a special occasion, or a memorable event, our hot pink, green, and light pink flower girl dress is sure to captivate hearts and turn heads. It's a testament to the beauty that can be achieved when creativity and craftsmanship merge. With Pegeen, every dress is a work of art, meticulously crafted to bring joy and delight to both the wearer and those who witness its beauty.
Experience the magic of the Pegeen Dress Dreamer and let us help you create a dress that reflects your unique style and vision. Step into a world of endless possibilities and let your imagination soar. Your dream dress awaits, waiting to be brought to life with Pegeen.

Style 383 includes a back bustle in boing made of silk, two peony flowers, a silk bodice in antique white with a v-back, and silk skirt in apple green.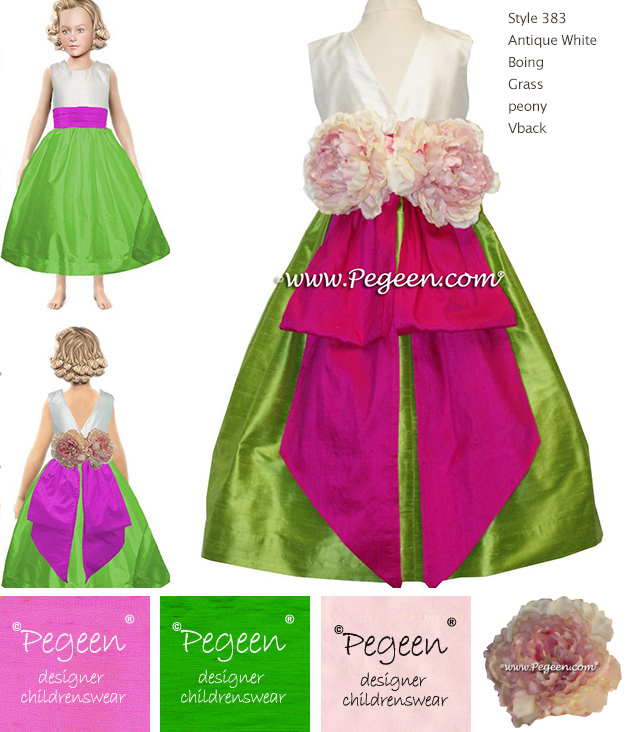 To order this dress exactly as it appears above click our CUSTOMIZE YOUR DRESS button and put those options as shown above in your cart. Flower girl dresses by Pegeen.com are made in 200+ colors of pure silk, in a choice up to three colors and completely lined in silk with its' own attached crinoline (petticoat). Various sleeve choices available including: sleeveless, short sleeve, sleeve cap, 3/4 sleeves and long sleeves.